10 Fun Facts About Day of the Dead in Mexico
---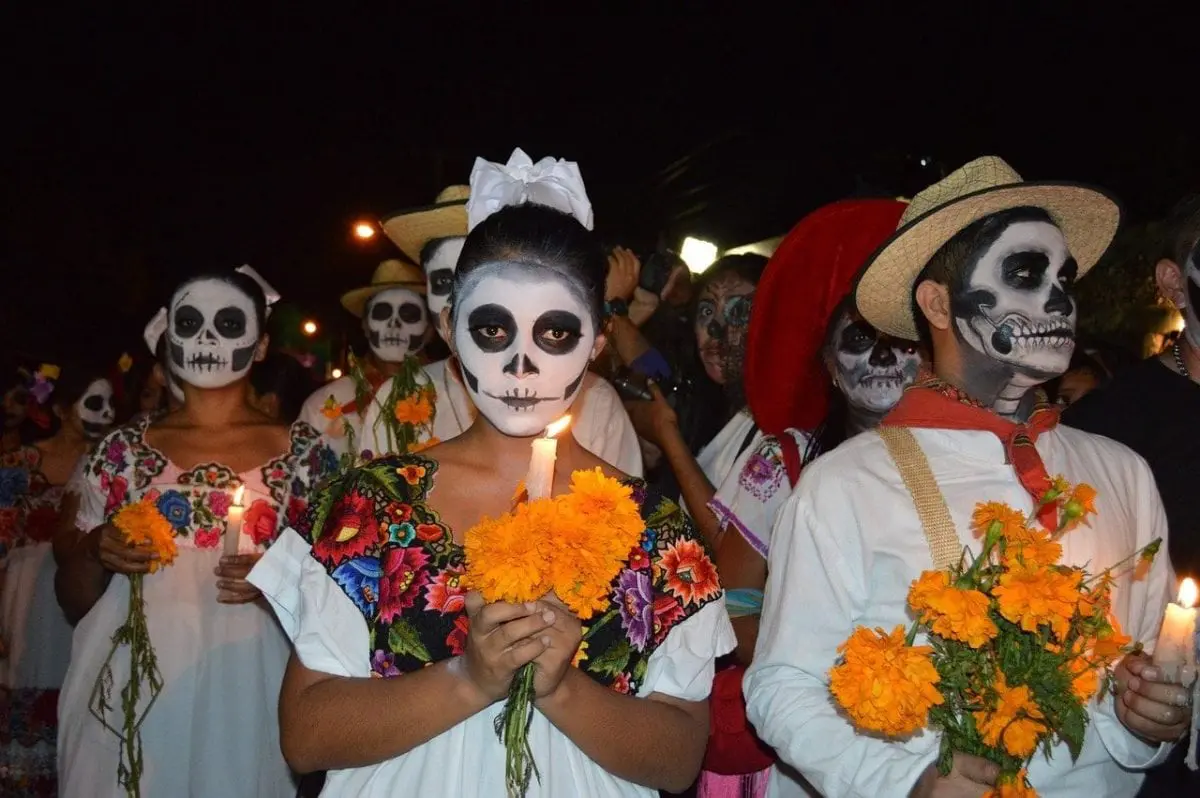 Are you familiar with Day of the Dead in Mexico?
It just so happens to be one of my favorite times of the year.
Coinciding with All Saint's Day, Day of the Dead is a synergy of indigenous, Spanish, and Catholic traditions.
Here are 10 fun facts about Day of the Dead in Mexico and why you should come to Playa del Carmen for this special occasion.
But to know what Dia de los Muertos or Day of the Dead is, you should first know what it isn't.
Note: We updated this post on October 23rd 2017 to include two Day of the Dead events in and around Playa del Carmen.
#1 It's Neither Scary Nor Halloween
There are no ghosts or goblins, no zombies. You won't see any Freddy Krugers, evil Chuckies or pirates with paws for that matter.
Likewise, forget trick-or-treating, pumpkin carving, or costume parties (although you can find all that too if it's Halloween you're looking for).
#2 Day of the Dead in Mexico Pre-Dates Colombus
Long before the first inhabitants of the Americas were given the poor choice of the cross or the sword, the peoples of Mesoamerica, which includes present-day Mexico, celebrated Day of the Dead.
In fact, the indigenous of southern Mexico have maintained these traditions for thousands of years.
For their part, the Aztecs held a month-long ritual in honor of Mictecacihuatl, Queen of Mictlan, a.k.a. the underworld.
#3 In the Yucatan Peninsula, It's Called Hanal Pixan
Same tradition, different name.
In the Yucatan Peninsula, Day of the Dead is celebrated as Hanal Pixan (pronounced Han-ALL Pea-SHAN).
Taken from Yucatec Maya, the name is derived from the fusion of two concepts: food (Hanal) and soul that gives life to the body (Pixan).
On Thursday, November 2, you can experience this profound cultural encounter with the living and deceased in a local Mayan village.
Organized by the amazing people of Paac Chen together with extremely talented and highly professional crew at Alltournative, you'll be able to observe this sacred moment from a unique and intimate perspective.
Here's the information: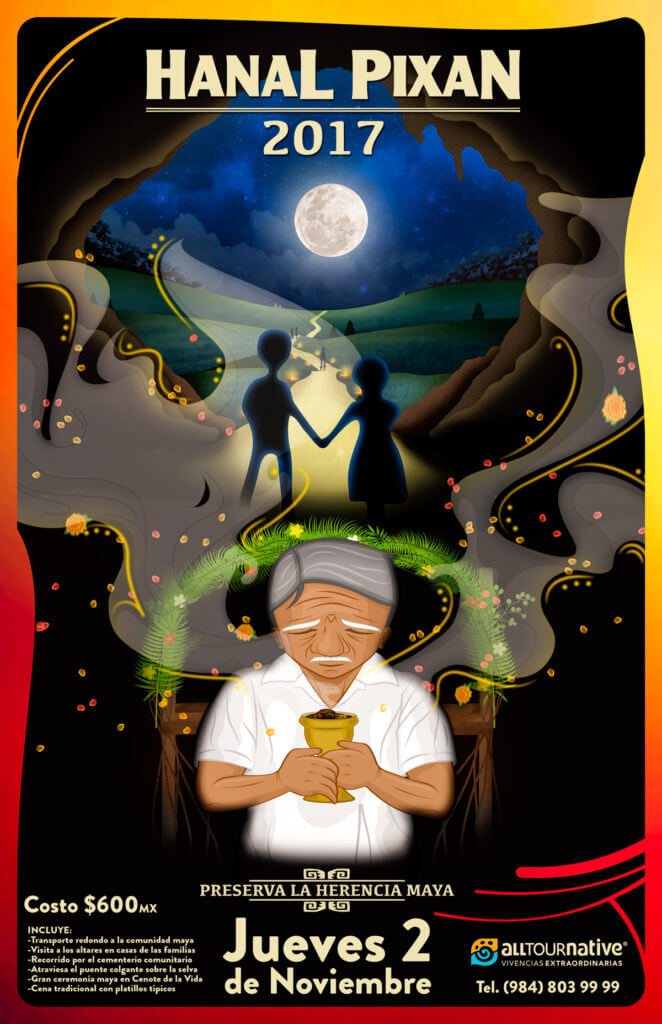 The cost is $600 MXN per person.
IT INCLUDES:
Guided visit to the altars in Mayan homes.
Guided tour of the community cemetery.
Guided hike over suspension bridge of the community.
Mayan ceremony to the deceased inside the magnificent Cenote of the Life.
Four-course dinner with delicious typical dishes.
Includes roundtrip transportation from Cancun or Playa del Carmen.
Expect to be back in Playa del Carmen around 10:00 p.m.
R.S.V.P. by sending an email to reservaciones@alltournative.com or call 984-803 9999.
Here's what you can expect:
#4 The Traditional Food in Yucatan is Mucbil Pollo
My god if you haven't tried this you don't know what you're missing.
Mucbil Pollo (pronounced MOOK-bill POY-yo) is an amazing dish served only during this time of year.
Similar to a tamal, the Mucbil Pollo has a mass made of cornmeal and whole beans and is filled with a chicken stew.
It is then wrapped in banana leaves and slow-cooked in an underground covered pit with hot rocks.
Delicious!
#5 La Calaca Catrina
Perhaps the most well-known Day of the Dead symbol of all time: La Calaca Catrina.
The famous Mexican illustrator Jose Guadalupe Posada created the image around 1910.
Catrina depicts an aristocratic skeleton in European clothes.
Posada's creation ridiculed those Mexicans who identified more with Europe and white culture than with their Mexican counterparts.
Luckily for you, and for us, you can witness a display of Catrinas and popular Day of the Dead parade in Playa del Carmen.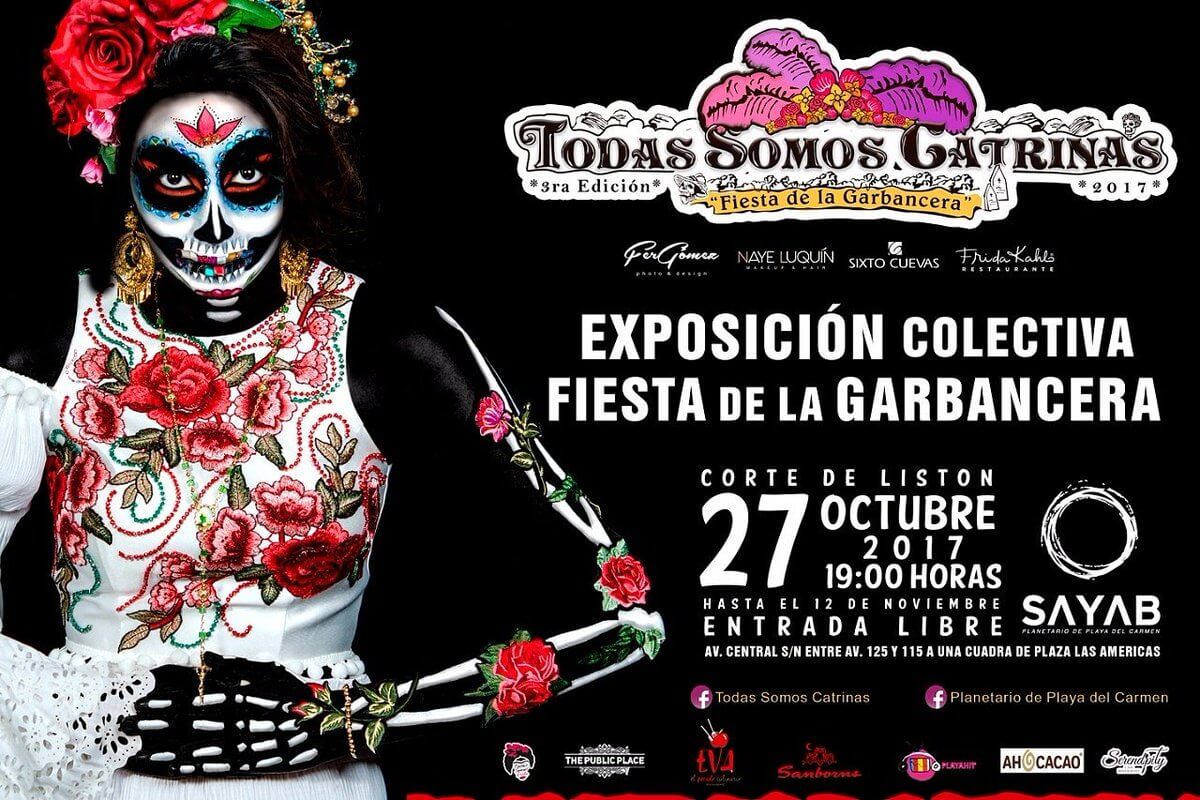 The Todas Somos Catrinas (We Are All Catrinas) parade will be held on October 27th beginning at 7:00 p.m. at Plaza Las Americas.
More information can be found on their Facebook page: Todas Somos Catrinas.
#6 Be Prepared for Altars
Altars are everywhere, and they are as colorful as they are creative.
Decked out with flowers, pictures, traditional decorations, candles, and some of the deceased favorite items.
These gifts are arranged in a sort of ofrenda or offering.
#7 There'll Be Bread for the Departed
We've all heard the phrase you are what you eat, right?
Well, for the Day of the Dead the departed return to their roots as loved ones serve them up a taste of their favorite food and drinks.
Think about it.
You die, go off to a mystical place called Mictlan, then return once a year for tequila and tacos.
It's also common to share a special bread called pan de muerto, or bread of the deceased.
#8 Sugar Skulls Are Everywhere

Another major symbol of Day of the Dead are the sugar skulls or calaveras you'll find at every market, supermarket, and altar.
These elaborated decorated sugar skulls are only for decoration.
Like many things in Mexico, these essential Day of the Dead elements resulted from the fusion of indigenous cultures (use of skulls as symbols) and Spanish traditions (forming sugar cane into edible shapes).
#9 Xcaret Park Celebrates the Festival of Life & Death
No place in the entire Riviera Maya puts on such an amazing tribute to Day of the Dead as Xcaret Park.
Their four-day festivities, called The Life & Death Festival, celebrates these ancient Mexican traditions in spectacular fashion.
Activities include theater, music, dance, food, exhibitions, and enough face paint to go around for everyone.
The festival runs from October 30 through November 2, 2017.
Tip: If you're looking for something more off-the-beaten-path, you should definitely check out Merida on November 1-2!
#10 You Don't Want to Miss It!
If you love culture, trying out new things, and are up for one of the more unique travel experiences you're likely to get so close to home, you should definitely take a few days off work and come down to Playa del Carmen for Day of the Dead.
This year's celebration falls on a Tuesday (November 1) and a Wednesday (November 2), so consider taking a couple of extra days off.
Think about it!
Where else can you combine face painting, tequila, white sand Caribbean beaches, and Mucbil Pollo all in one place?
I thought so!
Contact our talented travel specialists at 888-537-9797 and start planning your Day of the Dead adventure today!
---
Trending Now
You may also like