Catamaran from Cancun to Isla Mujeres
---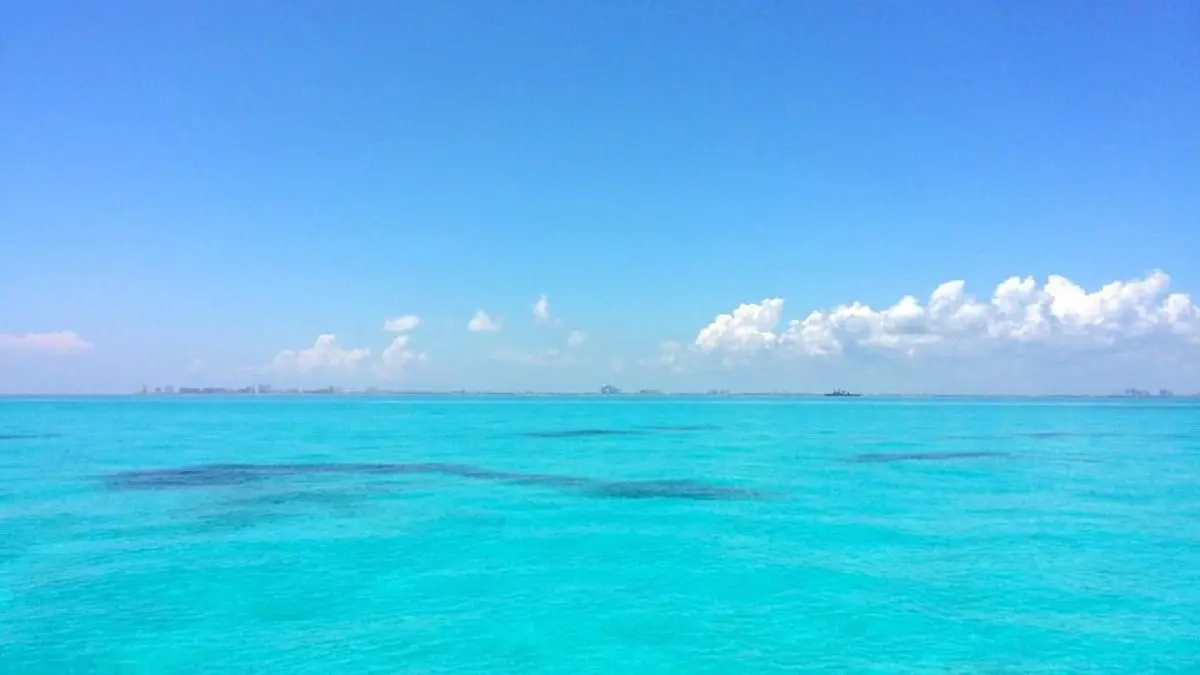 A cold drink, Latin music, and the hot Mexican sun warming you from head to toe. The breeze in your hair. Turquoise water in a shade so vivid it can't be real.  Sound like heaven? Well, heaven here is taking a catamaran from Cancun to Isla Mujeres.
The Sea Passion Catamaran is the easiest and best way to get to from Cancun, the Riviera Maya or Playa del Carmen to Isla Mujeres.
I've experienced almost all the Playa del Carmen tours but today i felt lucky, because i experienced this one with my family.
Here is my review of the Sea Passion Catamaran Tour.
CATAMARAN FROM CANCUN TO ISLA MUJERES
We made our way to Cancun and to the Chac Chi Marina, located in the famous Cancun hotel zone.
Once there, we checked in, paid our port tax and were on our way. We were thoroughly briefed not only before boarding, but also once on board in regards to safety, the do's and don't, and what to expect. Biodegradable sunscreen is a must, either bring it or you can buy some before embarking the catamaran.
The ride over was smooth and strangely enough, there was very little wind. The color of the water was breathtaking. Unbelievable. Stunning. I think you get my point. The crew immediately started handing out snorkeling equipment as the first stop was to snorkel right off Isla Mujeres.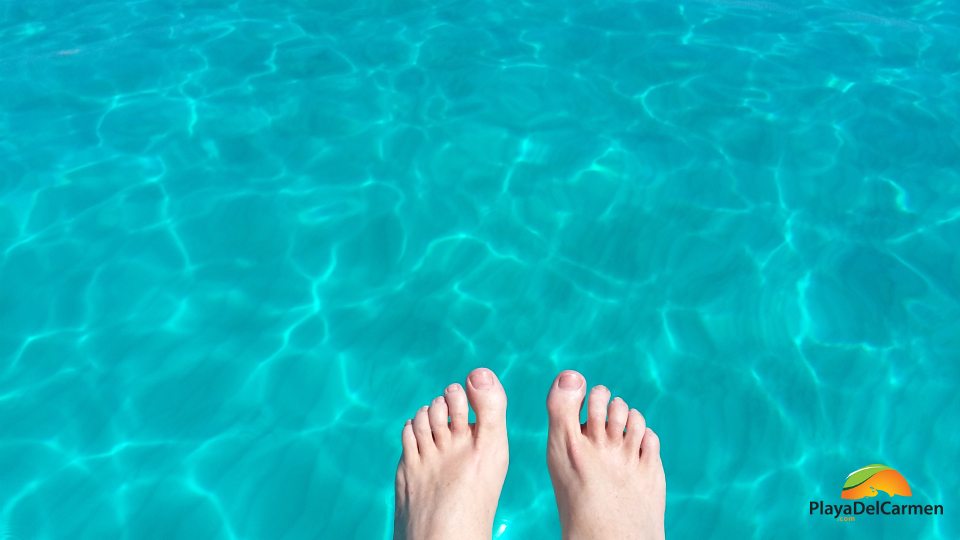 SNORKELLING
Lifejackets are mandatory. Once in the water with our life jackets, snorkeling equipment, and instructions, and we were off.
There were quite a few fish from the get-go and the coolest part for me was the underwater museum. This was the first time that I experienced the famous underwater sculptures at MUSA, the Museo Subacuatico de Arte (Subaquatic Art Museum). Really something else.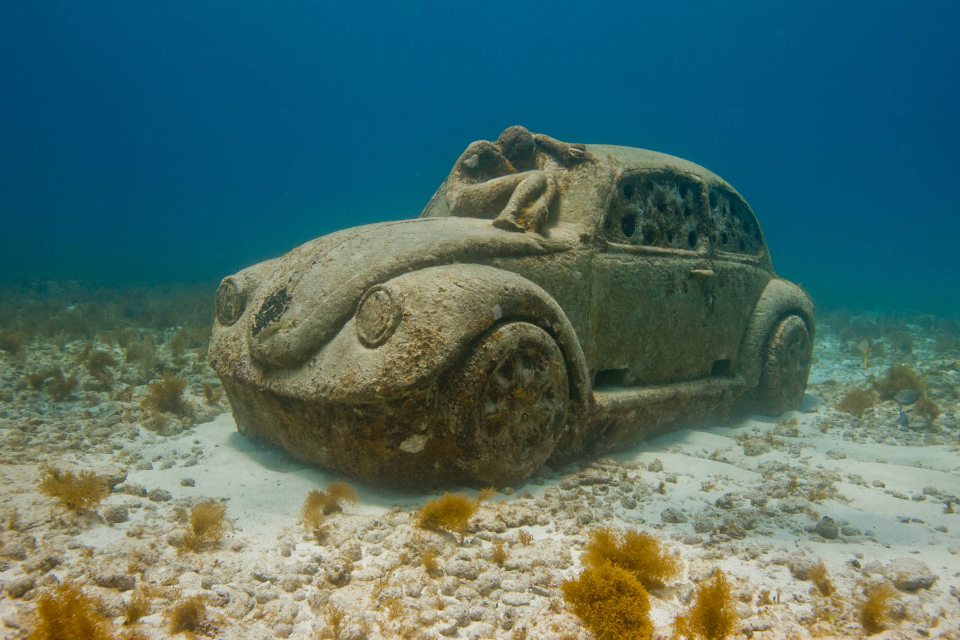 After about 45 in the water, we headed back to the catamaran for a well-deserved break.
At this point, they opened the bar, and we had a chance to relax before arriving to the island of Isla Mujeres. Once on the island, there was a beach club area where the lunch buffet was available. They did have a swimming pool, but who wants a pool when you can swim in the Caribbean? Check this out!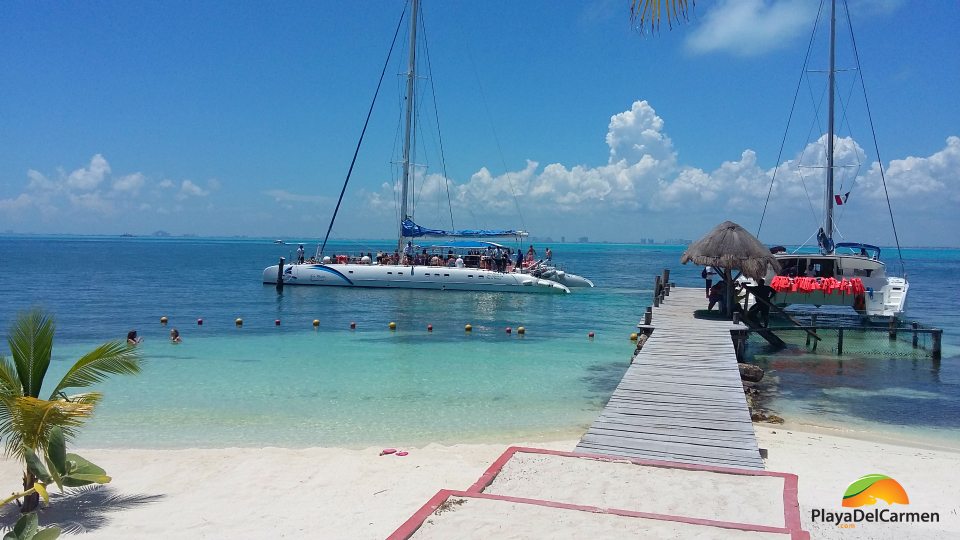 LUNCH AND FREE TIME
Lunch was simple but delicious. Tortillas with rice and beans, a choice of chicken or fish, a few salads, and of course totopos (nacho chips).
None of the food was spicy, but they did have some very tasty salsa you could add if you wanted to.
The bar was available for drinks, but they also had water and a selection of typical Mexican 'juices'. Horchata (similar to rice milk), Jamaica (Hibiscus flower tea), and tamarindo (can't describe it, just try it!).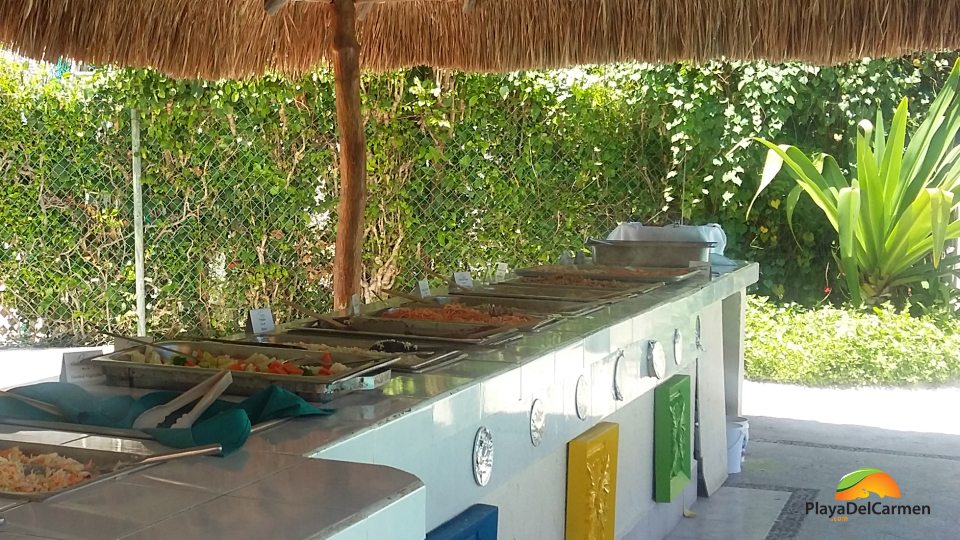 DON'T SWIM WITH THE NURSE SHARKS (PLEASE!)
Now they do have a pen here in the ocean with a few very sad nurse sharks. All I can say is think twice (or three or four times).
These poor things live in a tiny little pen, are very likely drugged and do not enjoy being manhandled for your selfie. If you really want some cool experiences with nature, check out our better than swimming with dolphins blog.
Remember, every penny you spend is a vote as to what you think is acceptable. Please don't waste money helping animals suffer.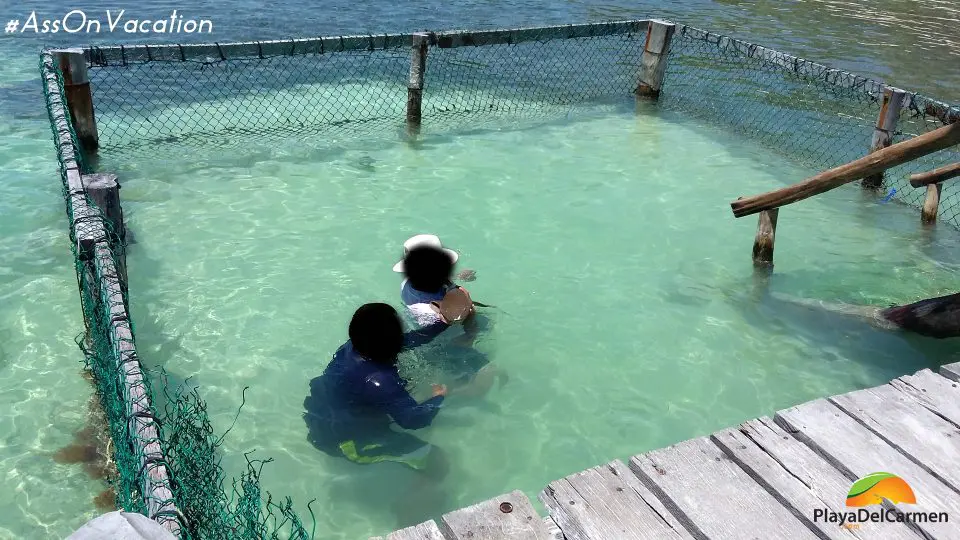 As for myself and our gang, we inhaled our food and head out for a swim. The sand was soft, the water was extremely refreshing and we were very relaxed.
Our fabulous tour guide Pepe called us back to the catamaran and from there, we headed to the main dock on the island. We had about 2 hours spare time and decided it was best spent renting a golf cart and touring the island.
GOLF CART TOUR ON ISLA MUJERES
The 1 hour rental (which is a little tight but enough time) was 200 pesos (roughly $11US). The loop around the island is simple to follow, you get a great breeze while on the golf cart, and you also get stunning views and a chance for some great photos.  It really is a lovely time and a great way to see Isla Mujeres.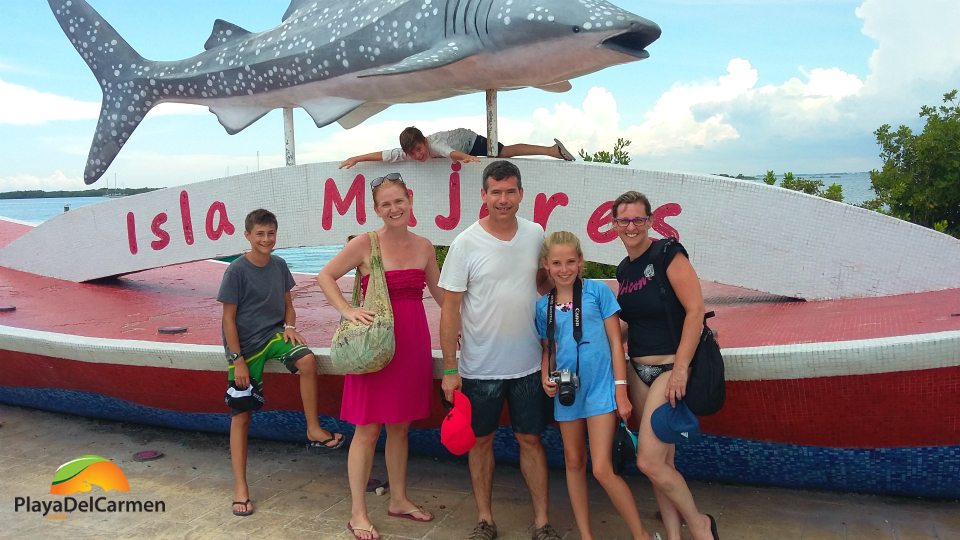 Once back in the main town, the next priority was gelato. A day off is not a day off without it. We grabbed some chocolate mint and enjoyed every bite of it.
We skipped the souvenirs, but again, think twice about what you buy. Don't encourage the merchants selling seashells, coral, starfish or other items they stole from the sea. Encourage the local artists instead.
CATAMARAN FROM ISLA MUJERES TO CANCUN
Once back on the catamaran, I was quite happy with the few clouds that were covering the sky at this point. I had had my share of sun for the day. Most everyone was chilling out, thoroughly relaxed with the Latin music playing and the tequila was a-flowin'….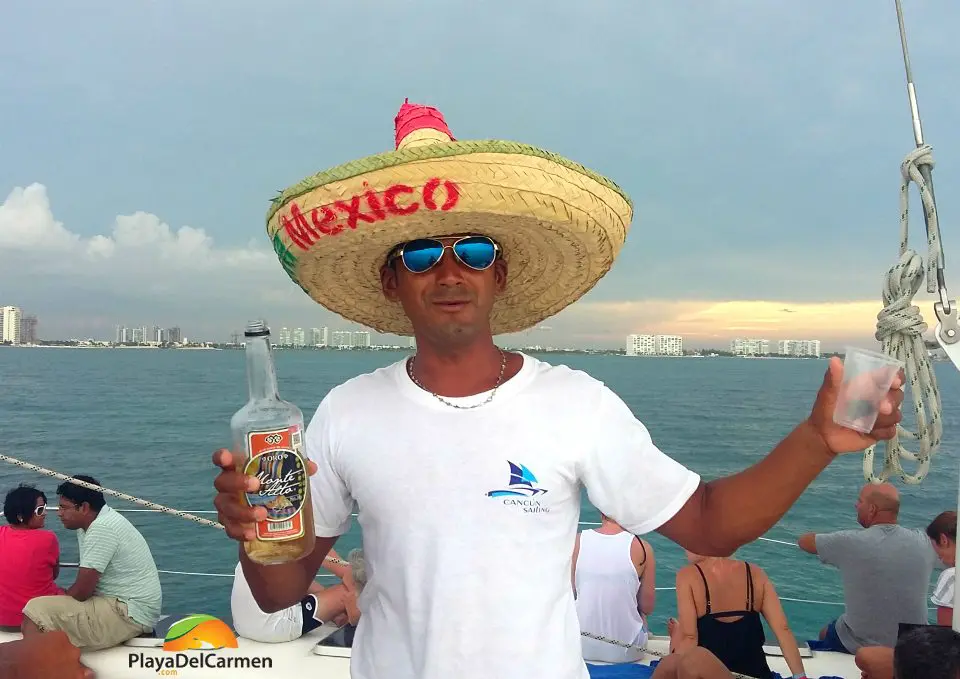 On the way back, the friendly photographer did come around with the pictures of the day.
Honestly, I can't remember ever having purchased the pictures on a tour. BUT, I did for this one. The images were stunning. It was $15US for one, or $10 for more than one and then there was also a price for the package. Totally worth it. Check out the super-models 😀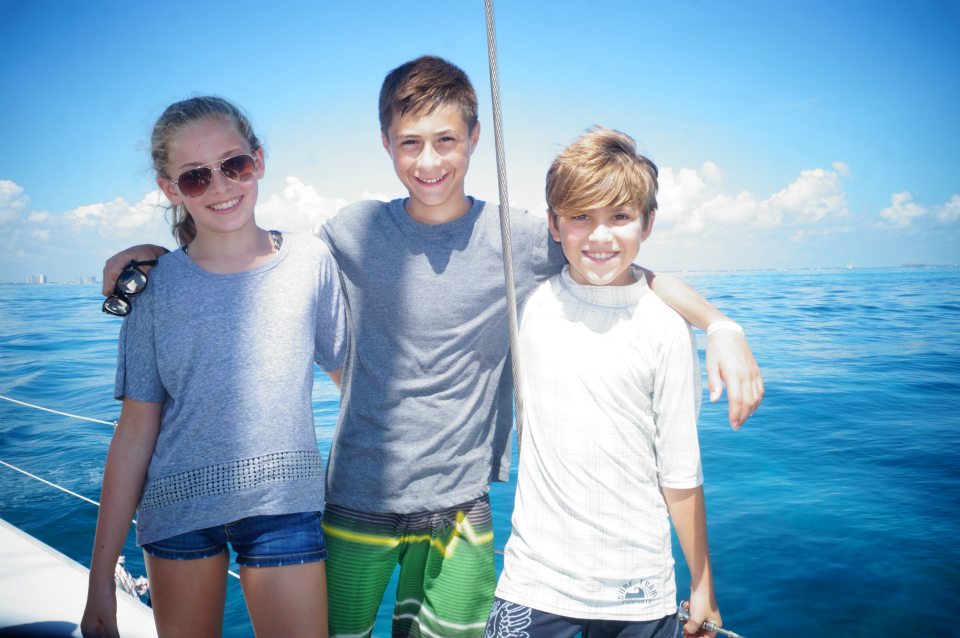 CONCLUSION
All in all, a fabulous day. I want to go again (and again). Sea Passion Catamaran and crew, YOU ROCK!
ADDITIONAL DETAILS
The Sea Passion catamaran leaves from the Marina Chac Chi, located in the hotel zone in Cancun. They have several catamarans that operate daily to bring you to Isla Mujeres.
If you are staying in Cancun, you can easily book only the catamaran and make your way to the dock using the city bus. If you are staying at a hotel located in the Riviera Maya or in Playa del Carmen, you will want to add on the transportation.
Have questions for Travel Specialist Lisa?
Want to get a 15% discount on the Sea Passion Catamaran?
Have you done the Sea Passion Catamaran and have your own thoughts to share?
Please share in the comments below.
---
Trending Now
You may also like