My Honest Review of Mexico's First EVER Glamping Hotel Right Here in the Riviera Maya
---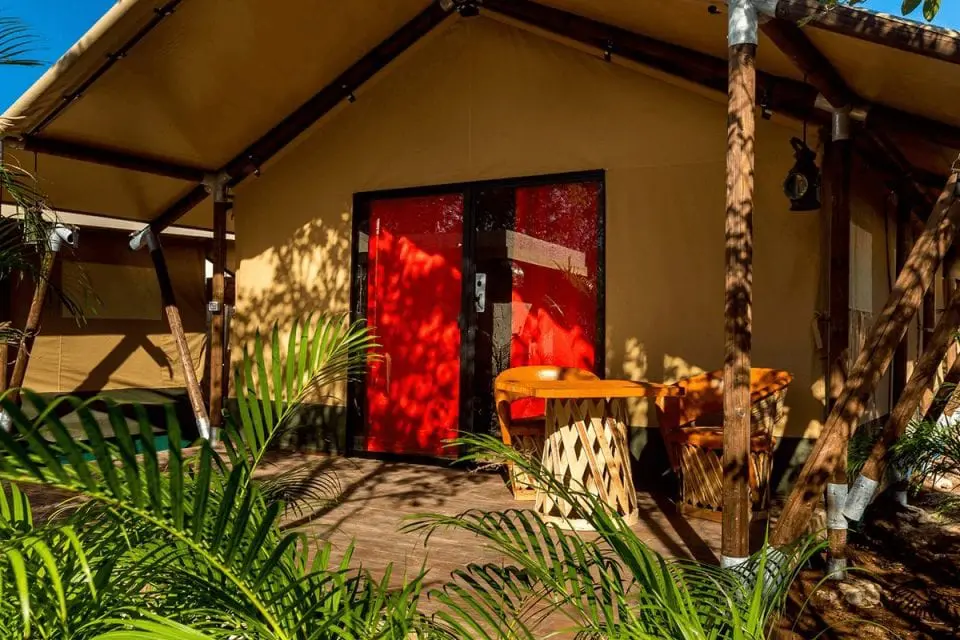 Discover Mexico's first EVER glamping hotel right here in the Riviera Maya!
Few things (in life, in my opinion) are more blissful than a lush tropical getaway. 
It's easy to become mesmerized by the tall, impressive, and striking resorts/hotels that dominate the coastline of Quintana Roo. I mean, who can blame you, most of them are spectacular to behold. However, there is an understated part of paradise that we feel deserves your attention.
Nestled away in the lush greenery of the Mayan tropical jungle, Serenity Eco Luxury Tented Camp by Xperience hotels is the first EVER glamping experience of its kind to grace the hospitality industry here in Mexico.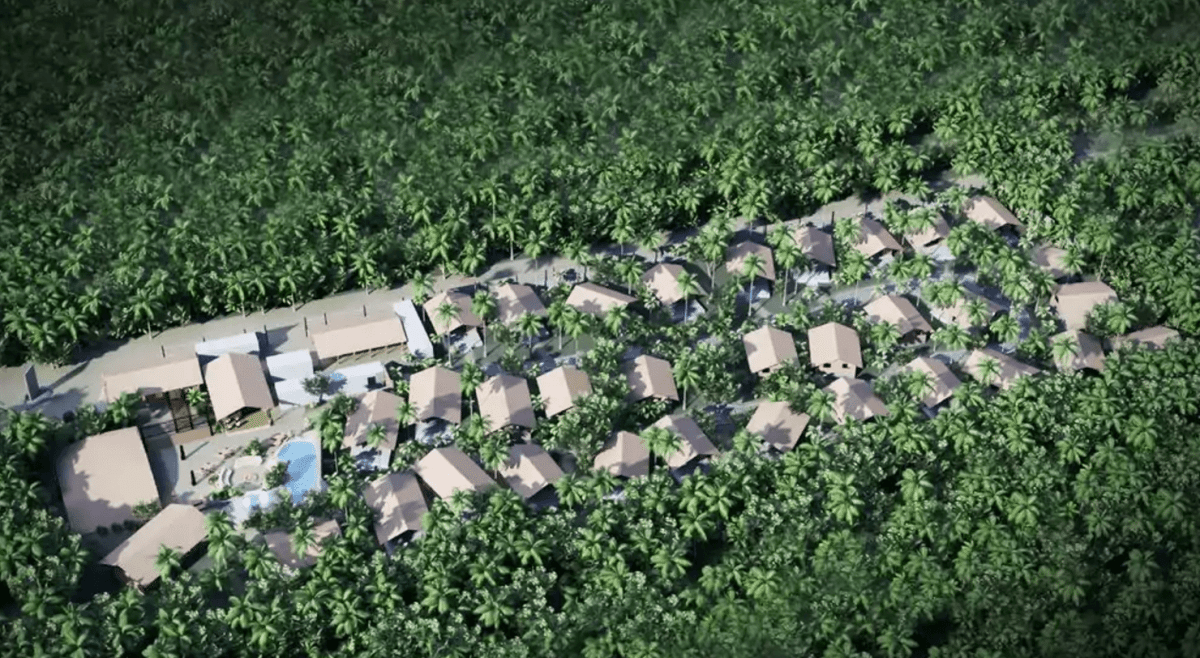 We know what you're thinking, why would you want to travel all the way to Mexico to stay in a tent, right?
But after experiencing this hotel for myself I can safely say that it definitely doesn't compromise on any of the luxury amenities we've become accustomed to on our vacations, it only exceeds them!
You can stay at a typical luxury 5-star hotel anywhere in the world.
Mexico is one of the most diverse, vibrant, and interesting landscapes I've ever had the pleasure of getting to know. You're only here for a short time, make the most of it,  explore the space beyond your traditional hotel walls,  venture past your comfort zone, because I promise you, what you will find definitely won't disappoint.
Picture This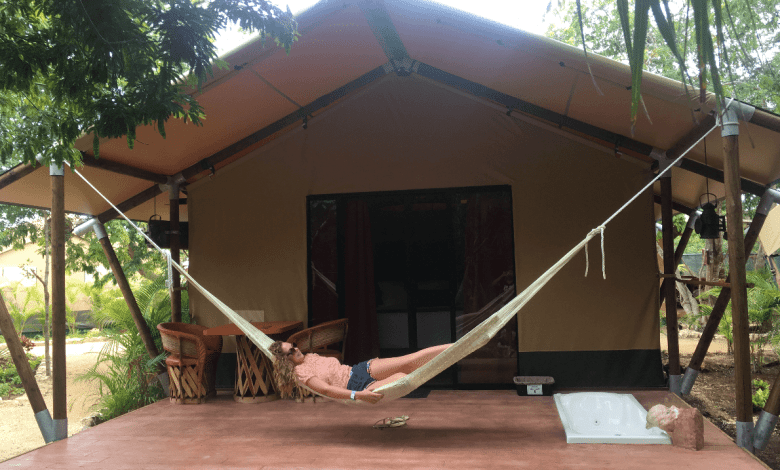 I'm swinging side to side in my hammock outside our room, watching the slow swish of the trees in the gentle breeze, and I can hear the bubbles from the tub as it starts to fill up. Surrounded by nothing but nature, I'm in heaven.
If this sounds or looks like something you're interested in experiencing for yourself, let me break it down for you.
As soon as you step foot into the camp time seems to slow down as you are plunged into the true rhythm of the tropics.

The Glamping Camp Site
Serenity Luxury Eco Tented Camp is situated in an excellent location.

18km south of Playa Del Carmen, it's close to popular towns such as Tulum and just minutes away from Cenote Azul. 
You've probably heard about glamping in your own countries. It's a way of experiencing the great outdoors without sacrificing a comfy bed.
Although you may be familiar with the concept, I don't think you will have ever seen anything quite like this. Despite glamping's rise in popularity worldwide, Serenity Eco Luxury Tented Camp is the first ever glamping hotel in the whole of Mexico, and we feel sorry for the hotels that follow suit,  because they sure have set the bar high.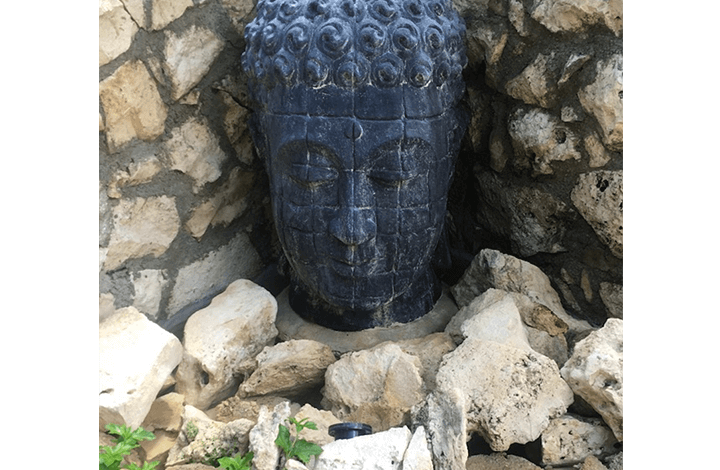 The layout of the camp is dotted around a series of jungle trails. As you navigate your way through the site you'll notice ornate water features, a fusion of African-Asian décor, and the aroma of Asian spices diffusing through the air.
As you enter the camp, you'll find the pool area, with the restaurant just a stone's throw away. During the day you can't help but get your zen on as you cool off in the turquoise pool, swimming beneath a giant golden Buddha, and (if you're anything like me) sipping on one of their awesomely refreshing Margaritas.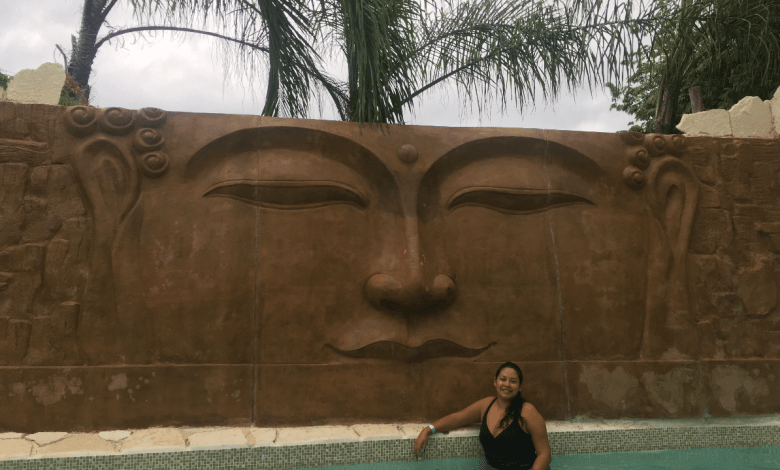 The one thing I will add is that during the rainy season there can be quite a lot of mosquitos so be sure to come equipped with some effective repellent to avoid any annoying itches during your stay.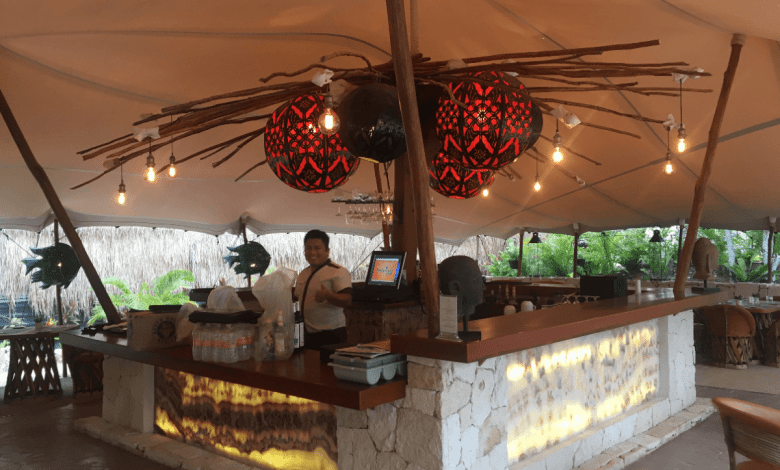 Unlike many of the hotels here in the Riviera Maya, Xperience hotels genuinely care for their locations in which they are based. Rather than destroy the jungle and its occupants they carefully constructed the structures of the camp out of recycled materials and with nature in mind.
Yoga & Spa
Onsite there is also a Yoga Tent and Serenity Spa.
At the Yoga Tent, you can either use the space to practice your own workout, or you can book a specially prepared class at the reception.
The Serenity Spa is the ultimate peak of relaxation at this place, below is a list of all the massages they offer, and if you book upon your arrival you can enjoy a 10% discount.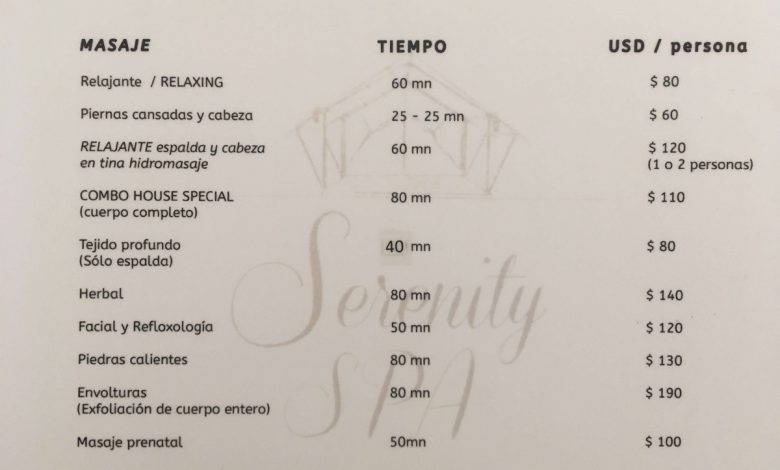 The Rooms & Tents
At the hotel there are just 30 rooms, service feels personalized and it makes for an intimate and quiet stay.  You don't have to worry about the site becoming crowded or noisy.
We stayed in one of the hotels 'Bliss' rooms which I would highly recommend for couples on a romantic getaway because it means you would have your own private jacuzzi on your terrace.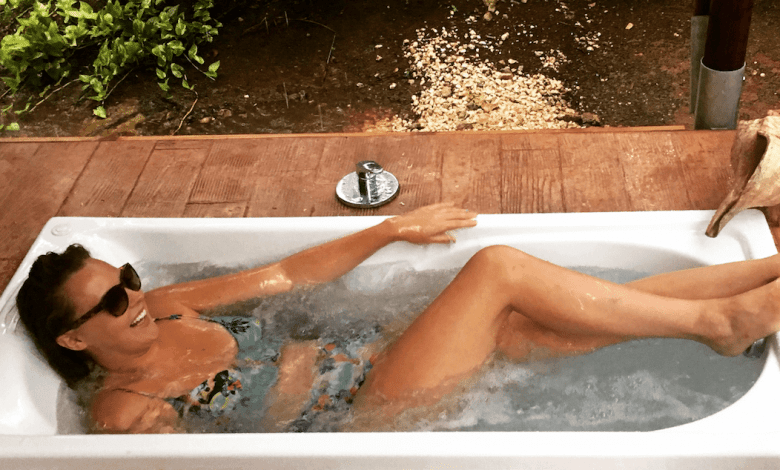 The tents have been beautifully decorated to match the African-Asian theme throughout the hotel and they feature an incredibly comfy bed that you will never want to get out of.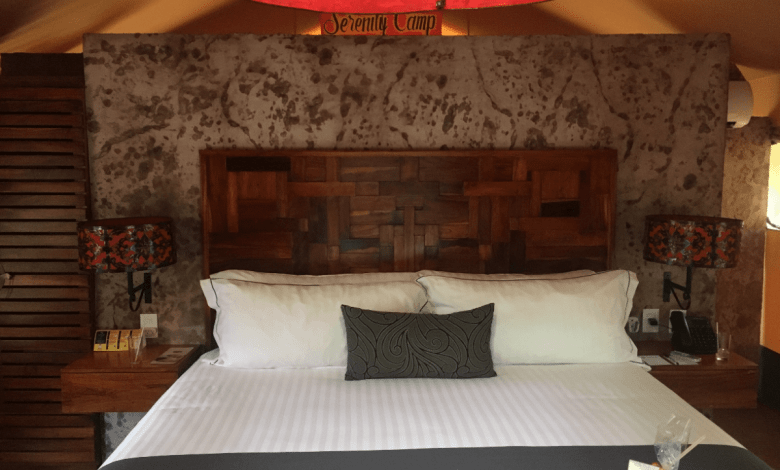 Other room amenities include:
Air-conditioning
Closet
Desk
Restroom
Shower
Safe
A private terrace
Hammock
Toiletries
I just want to add that the toiletries are to die for, everything is 100% eco-friendly and they smell/feel amazing. I'm never usually a fan of hotel toiletries but these were definitely an exception.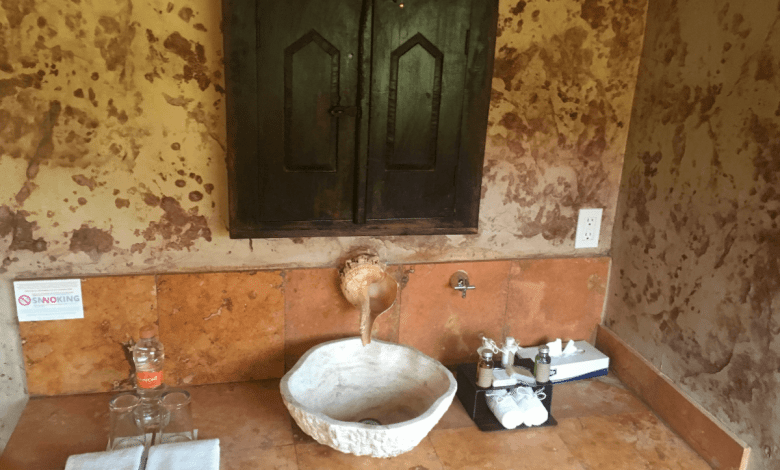 The Food
The hotel does offer room service, so if you don't feel like getting out of bed to have your morning coffee, they will bring it to you (and trust me, once you're in that bed, it's hard to get out of it).
We enjoyed a hearty Mexican breakfast in the morning, but there are also other continental dishes to choose from. Breakfast comes with complimentary juice, coffee, and fresh fruit.
It is VERY filling and we actually missed lunch out because we were SO full.
I would highly recommend spending your evenings at the restaurant and fire pit.
We enjoyed a beautiful 3-course meal, each of the dishes on the menu seemed to be infused with a Thai spin. The salmon with apricot puree was heavenly and if you are thinking about staying here you HAVE to try it.
Once you've satisfied your appetite it's time to make your way over to the fire pit and get comfy on the cozy cushions.
You will have noticed that upon arrival to your room there were marshmallows laid on your bed, for me this was a really nice touch because I'm a sucker for roasting marshmallows by the fire.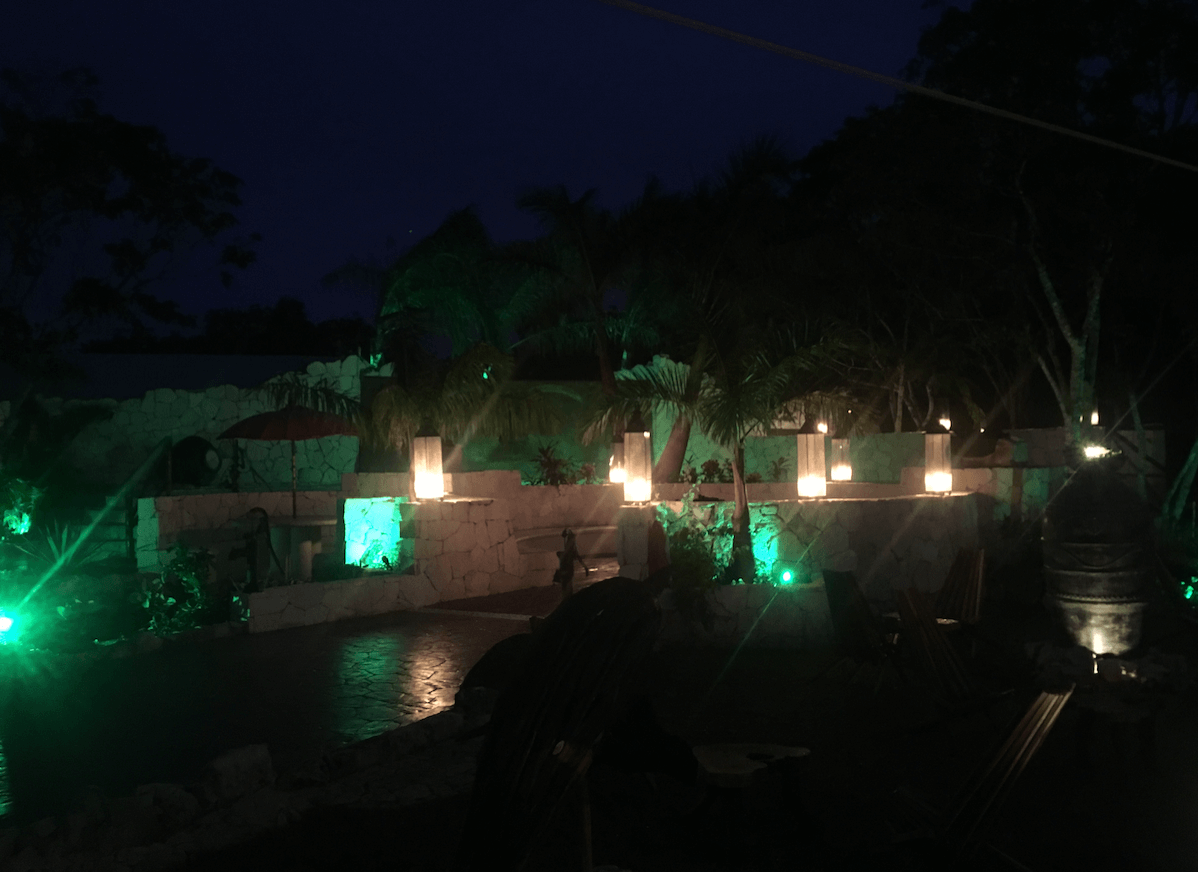 Simply a beautiful way to end your romantic day of glamping.
The Beach Club
The amazing location of Serenity Eco Luxury Tented Camp in Xpu-Ha means that you will have access to one of the most untouched stretches of beach in the area. Everything about it is simply stunning. The beach club itself may not look much but beneath the small tiki hut, they prepare some of the best cocktails I've tried since being here in the Riviera Maya.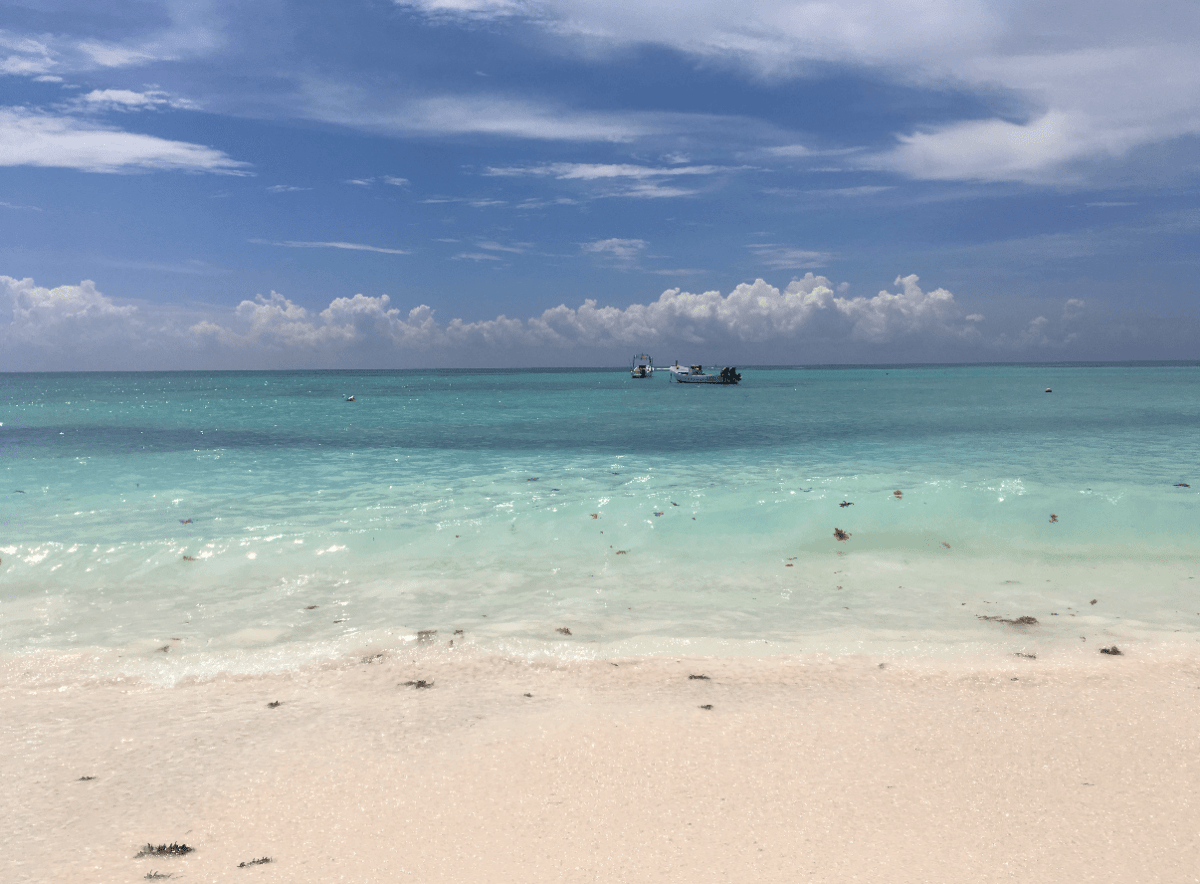 The beach club also includes:
Fresh towels
WiFi
Clean bathrooms
Sunbeds or loungers
Umbrellas
If you get a little peckish while soaking up the sun, there is a beach club menu that offers up dishes such as Aguachile, tacos, burgers, and burritos.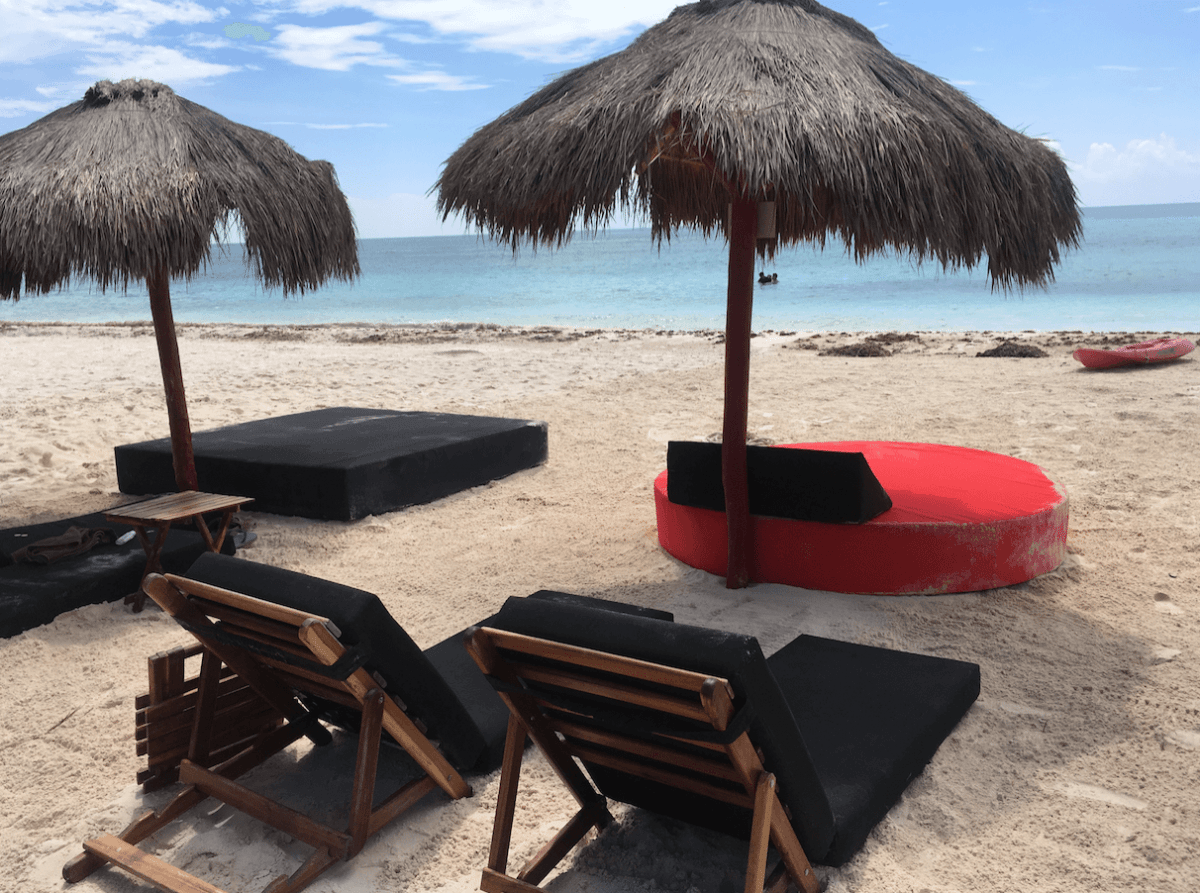 If you just wanted to visit the beach club without staying at the hotel the price of one of the beach beds is $500 pesos minimum consumption, but it's easily spent with all the delicious drinks and food choices on offer.
Overall, this hotel definitely gets the thumbs up of approval from me!
How To Book
If you are interested in hearing more or would like to book a stay at this hotel then please do get in touch.
You can call us on our toll-free number +1 888-537-9797
or
Alternatively, email us at customercare@playadelcamen.com
If you have any further questions feel free to leave them in the comments section or contact us we will be happy to answer them for you.
---
Trending Now