Carnival Playa del Carmen 2017 Set to Begin
---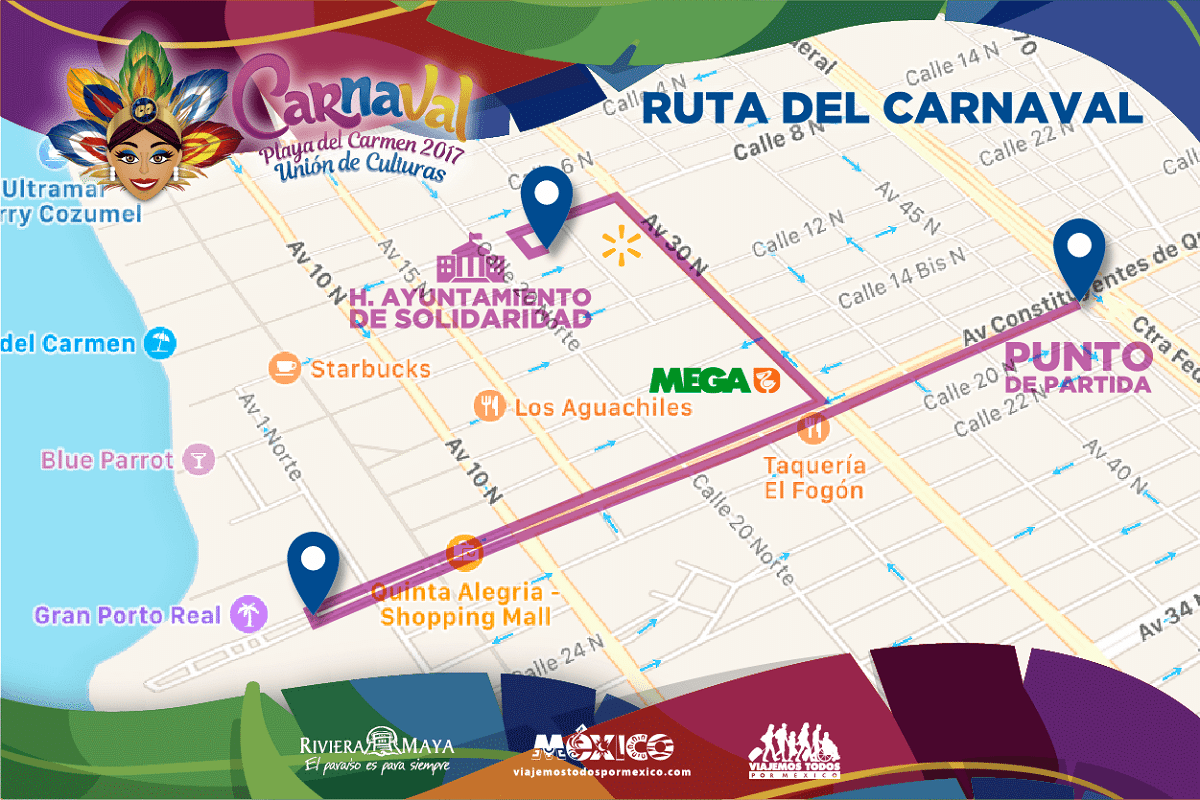 One of the most anticipated parties in Latin America is about to begin.
Yes, under the slogan "Union of Cultures", Carnival Playa del Carmen 2017 is just around the corner.
The mega-event will take place from February 22nd to March 1st.
Here's what's in store and how you can join in the fun.
Carnival Playa del Carmen 2017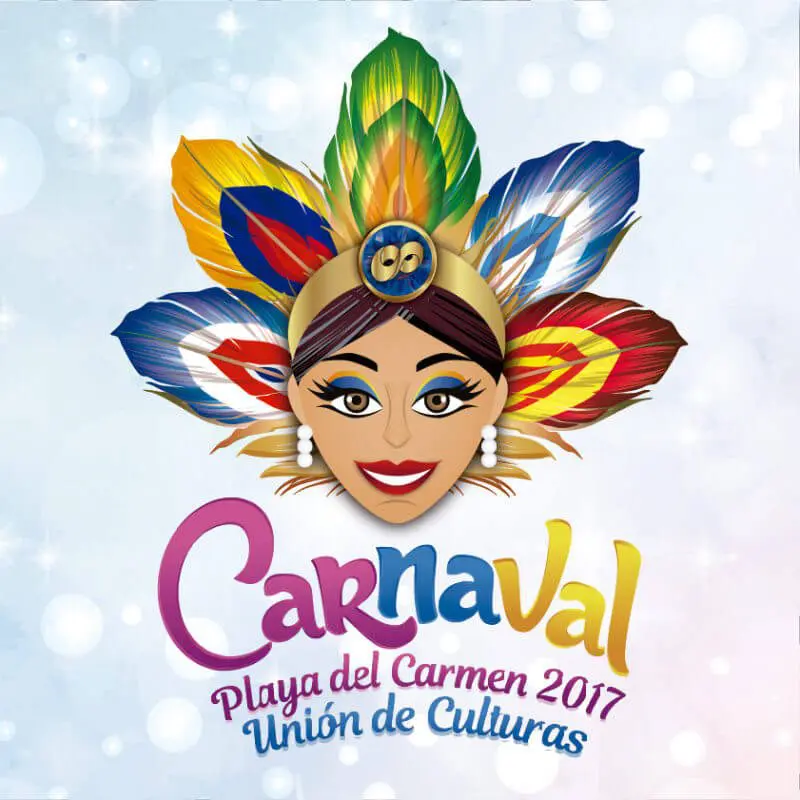 Yes, it's finally that time of year in Playa del Carmen.
The costumes have been sewn, the parade floats adorned, and the stage set for one big celebration.
Get ready for some loud music, outrageous costumes, and non-stop dancing.
And no, I'm not talking about an electronic music festival.
I'm talking some real, live, fun-filled days of carnival.
Carnival 2017 Program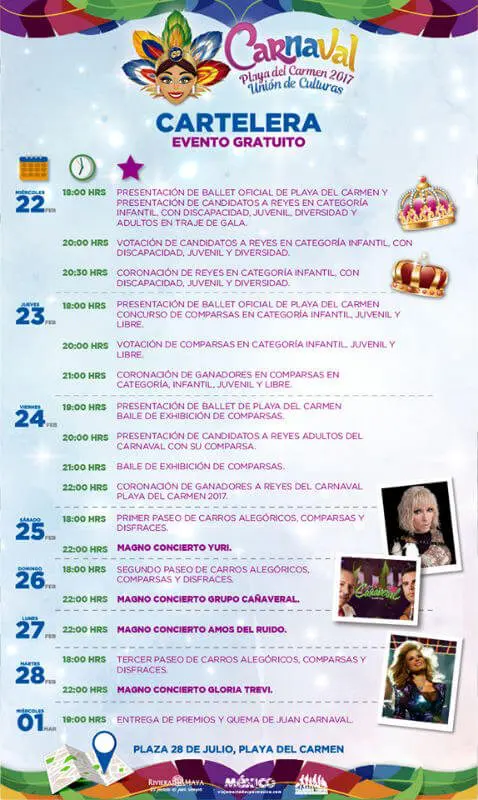 Kick-off of this mega-event is at 6:00 p.m. on Wednesday, February 22nd, with a presentation of the official ballet company of Playa del Carmen followed by the presentation, voting, and crowning of the kings and queens of carnival in the categories of children, LGBT, and people with disabilities.
Activities continue on Thursday at 6:00 p.m. with more ballet and the presentation, voting, and crowning of the best carnival troupes in Wednesday's categories.
Friday's activities begin at 7:00 p.m. with exhibition dances of the different carnival troupes followed by the presentation and respective crowning of the candidates for king and queen of Carnaval Playa del Carmen 2017.
Things start to heat up over the weekend, with parades of floats, troupes, and costumes beginning at 6:00 p.m. on both Saturday and Sunday.
But that's not all.
There will also be concerts at the Plaza 28 de Julio (Municipal Plaza) on Saturday by world-renown recording artists Yuri on Friday, and Grupo Cañaveral on Sunday.
Both concerts start at 10:00 p.m.
Following so many activities, Monday is more a day of rest; the only activity scheduled for this date is a concert at 10:00 p.m. by Amos del Ruido.
Then, the third and final parade will take place on Fat Tuesday at 6:00 p.m. followed by the closing concert of none other than Gloria Trevi.
Finally, Carnaval Playa del Carmen 2017 will come to a celebratory end at 7:00 p.m. with an award ceremony and a burning of Juan Carnaval.
Carnaval Playa del Carmen 2017 – Parade Route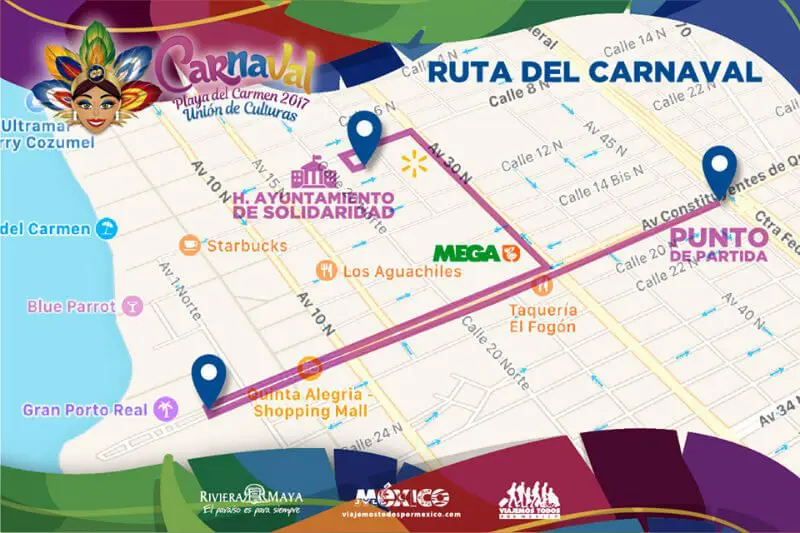 For those of you wanting to stake out a great place to watch the parade somewhere along the route, take a look at the map above.
Punto de partida means starting point in Spanish, and this is where the parade will begin on Saturday, Sunday, and Monday.
The route will start at Constituyentes and the Federal Highway and head west toward the beach just past 5th Avenue before heading back east and turning south on 30th Avenue.
The parades will end at Plaza 28 de julio, a.k.a. the Municipal Plaza.
Some of the places along the route include La Mega grocery store, Taquería el Fogon, Plaza Las Perlas, Quinta Alegria Shopping Mall, and Walmart, among others.
It may be too late to book a trip for carnival, but you can still visit us in sunny Playa del Carmen!
Our festive band of merry travel specialists can get you celebrating unbeatable travel deals in no time!
Call them today toll-free at 888-537-9797 and tell them how you would like them to dress up for this year's carnival!
---
Trending Now