5 Reasons Why You Should Visit The Coba Ruins
---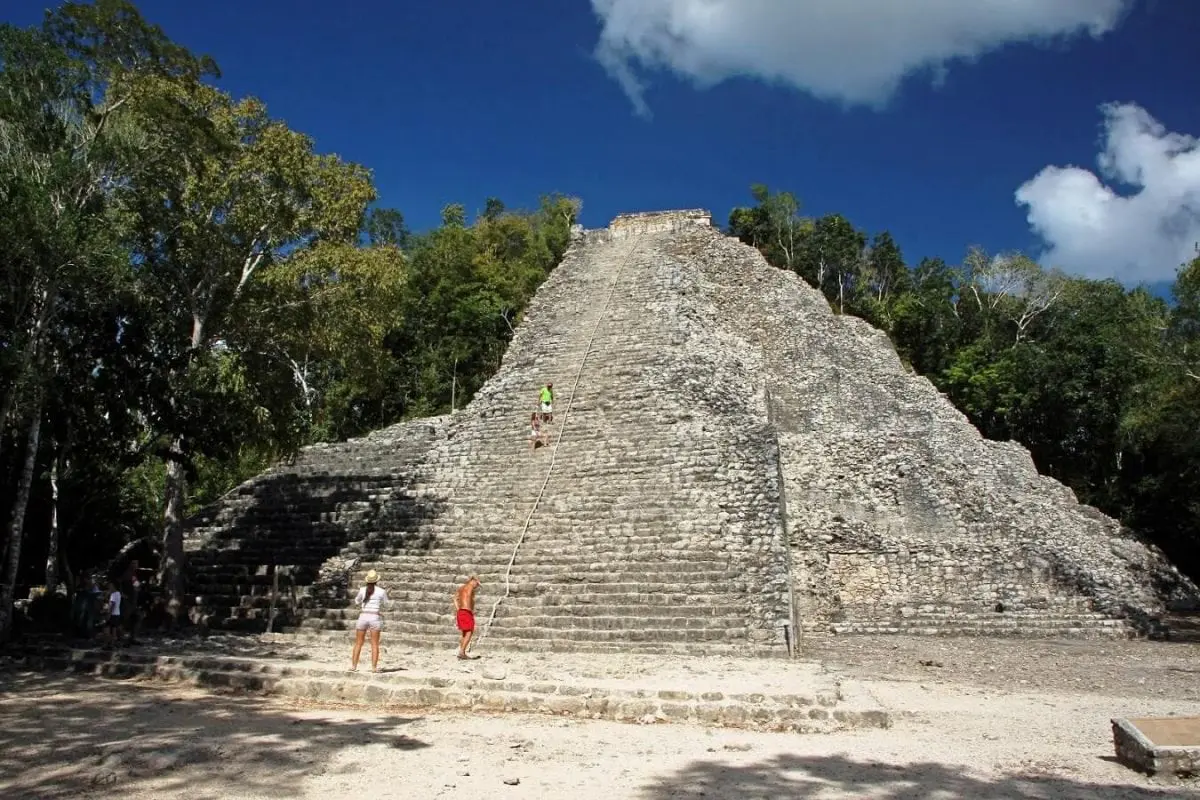 The Coba ruins are one of my favorite Mayan archaeological sites to visit.
Set in the jungle and boasting the tallest pyramid in the Yucatan Peninsula, which you can also still climb, a visit to Coba makes for a great Playa del Carmen tour.
These expansive ruins, once the home to over 50,000 people, played an important role in the history of the region.
In spite of receiving fewer visitors than say Chichen Itza or Tulum, they make a great alternative for those looking to add a little more adventure into their archaeological exploration.
Here's why.
#1 You Can Climb the Tallest Pyramid in the Yucatan Peninsula
Calle Nohoch Mul, meaning 'large hill' in Maya, this still climbable pyramid stands 137 tall and towers above the vibrant Riviera Maya jungle 120 steps below.
It is the tallest pyramid in the entire Yucatan Peninsula, including the world-famous Kukulkan pyramid of Chichen Itza.
The views from here are impressive, and the climb up the narrow steps is less of a challenge than it is getting back down them.
Tip: it's much easier to zig-zag your way up and down the pyramid than to try and go straight either way.
#2 You Can Take a Spin Around the Coba Ruins
Nothing says adventure on two wheels like a tour around the expansive Coba ruins onboard your own fancy flying machine.
Okay, so the bikes are more old beach cruisers, but you can still go fast if you have the right shoes on, and it's a great way to explore those winding jungle paths without getting them feet too tired.
And if you prefer the V.I.P. treatment, an army of local tricycle drivers stand ready to take you on a tarp-covered journey through the magical world of the ancient Maya.
Tip: Be generous and do exactly that!
#3 You Can Walk or Bike Ancient Trails
Known as Sacbe, or white paths, these ancient roads once connected the distant Mayan cities and ceremonial cities to one another.
The paths extended out from the main pyramid Nohoch Mul to the north, west, east, and south, with the longest Sacbe reaching the outskirts of Chichen Itza almost 62 miles away.
#4 You'll Learn About Ancient Mayan Culture
A guided tour of the Coba ruins is a great way to learn all about the amazing history of the Mayan people.
While Coba does have quite a few signs to help you better understand what you're looking at, nothing compares to having a professional guide to explain in detail the when, where, what, and why's of this highly advanced and intriguing culture.
#5 You Can Combine Coba Ruins with a Mayan Village Tour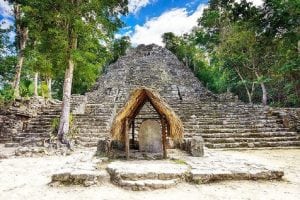 On the Coba Mayan Encounter you not only visit these fascinating ruins, but also go on a fun nature and adventure tour of the nearby Mayan village, Pac Chen.
Here you'll be able to kayak in a lagoon, descend into the depths of a sacred cenote, or even zip line through the jungle.
Looking for more information on those ancient pyramids? Be sure to check out our article on where the Mayan ruins are located.
Ready to book you some Playa del Carmen?
Our travel specialists are as wise as the ancient Mayan astronomers.
Call them today toll-free at 888-537-9797!
---
Trending Now
You may also like