Weddings at Generations Riviera Maya | Our Honest Review 2023
---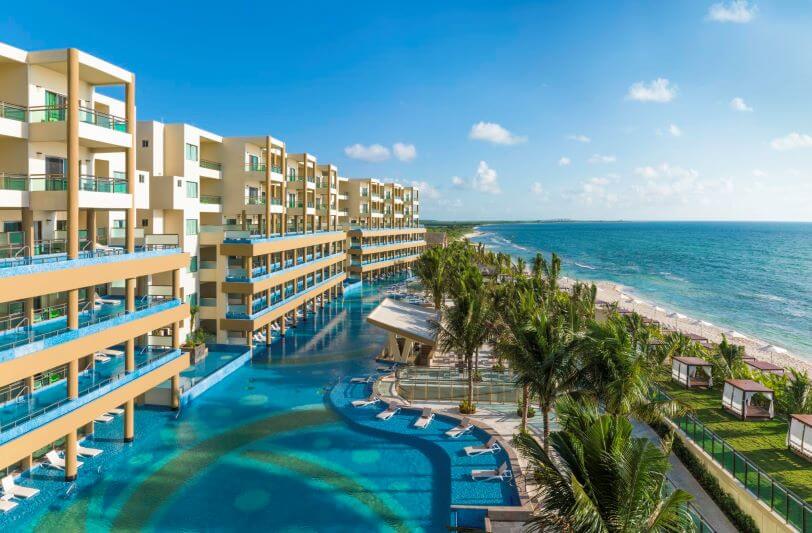 Heard about weddings at Generations Riviera Maya and want more info?
You're in the right place.
Our award-winning weddings team at PlayaDelCarmen.Com have organised many weddings for couples at this resort and knows it well.
I'm excited to share that knowledge with you.
I'll give you the lowdown on wedding packages and venues at Generations Riviera Maya.
And, you'll get to explore the luxury accommodation and amenities at the resort.
Ready to get started?
That's great news, just keep reading…
Weddings at Generations Riviera Maya | Your Ultimate Guide
---
1. Hotel Overview
★★★★★ | Family-friendly| Riviera Maya
Searching for a destination wedding resort that's perfect for guests traveling with children?
Generations Riviera Maya is a family-friendly destination with activities for all ages.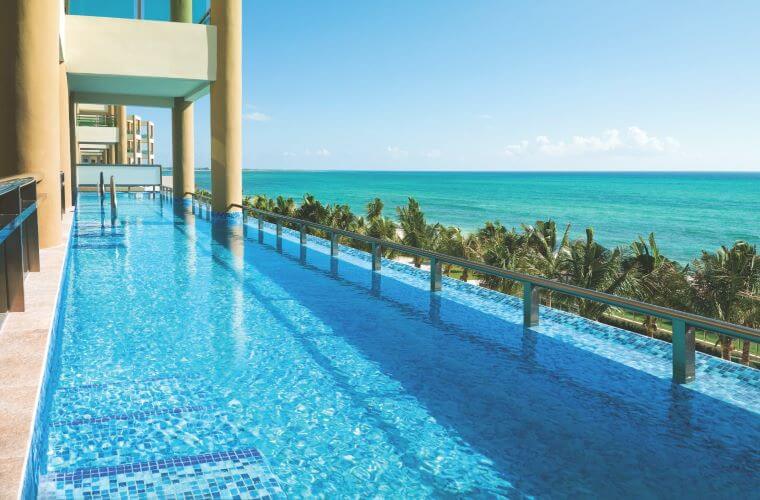 Adults can check out activities including fitness classes, Spanish lessons, and cookery classes.
Younger guests will love the Eko Kids Club and the dedicated kid's menu.
Is Generations Rivera Maya all-inclusive?
The Gourmet Inclusive® experience at Generations Riviera Maya includes à la carte dining options as well as 24-hour room service and concierge services.
Other 5★ features include:
Free WiFi
Aqua aerobics
Basketball
Beach volleyball
Ping pong
Tennis
Yoga classes
How far is Generations Riviera Maya from the airport?
The resort is around 28 minutes away from Cancun International.
We'll help you arrange transfers for you and your wedding guests so you don't have to worry about anything.
2. All-Inclusive Wedding Package Options
There are two competitively priced wedding packages at Generations Riviera Maya.
They both give you the idyllic romantic destination wedding you're dreaming of.
The Ultimate Memorable Moments Wedding Experience Package is a popular choice for couples we work with.
It costs $7,985.00 and you get everything you need for a memorable wedding in paradise.
Features of this package include:
Non-denominational minister or judge
Wedding certificate and filing of documents
Witnesses if required
Welcome drink
Onsite wedding coordinator and concierge
Groom's room with gourmet bites
Wedding website
Private four-course dinner on the beach
Gourmet honeymoon breakfast in bed
15% discount on spa services
Tropical flower arrangement in room along with romantic decorations
Always and Forever is the other wedding package at this resort.
It costs $950 or is FREE depending on certain booking conditions.
Call us at 888-537-9797 if you'd like to discuss wedding packages at this resort.
3. Ceremony & Reception Venues
There are ten exquisite wedding venues at Generations Riviera Maya.
They have a variety of capacities so the resort is ideal for both intimate and large wedding celebrations.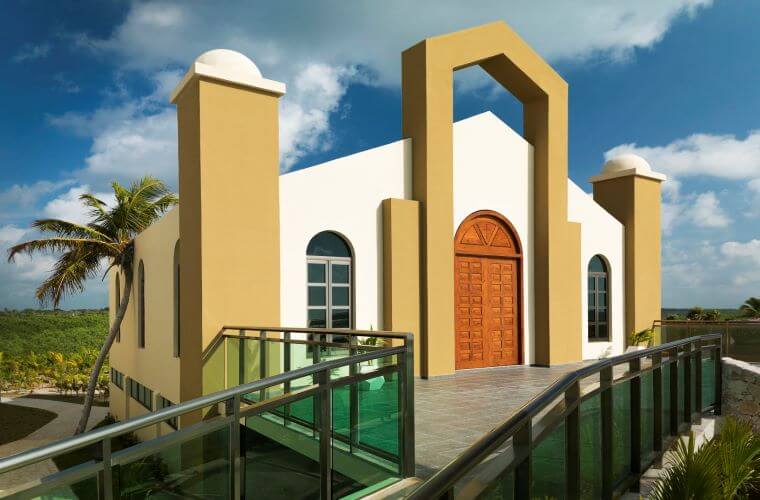 The wedding venues you can choose from at this resort are:
Sky Deck (maximum capacity of 200 guests)
Beach Gazebo (maximum capacity of 180 guests)
Poolside Deck (maximum capacity of 80 guests)
Chapel (maximum capacity of 150 guests)
Pier (maximum capacity of 150 guests)
Beachfront Palapa Ganesha (maximum capacity of 100 guests)
Buddha Lake Terrace (maximum capacity of 100 guests)
Amistar Terrace (maximum capacity of 50 guests)
*Additional charges apply for the Sky Deck and Chapel locations
The array of options you get when choosing a wedding venue is one reason why Generations Riviera Maya features in our blog post that you may like to read.
"10 Best Weddings Resorts for 50+ Guests in Mexico (2023)"
Call us at 888-537-9797 if you have any questions about wedding venues at this resort.
4. Gay Weddings at This Resort
The team at PlayaDelCarmen.Com is passionate about arranging romantic wedding experiences for couples.
So, we love planning gay wedding celebrations.
Many couples prefer to host a symbolic ceremony at the resort and leave the legal paperwork for back home.
But, legal same-sex weddings in Mexico are possible.
They just require some extra paperwork and planning.
Call us on 888-537-9797  for advice about how to make this happen.
5. Room Types
Accommodation at Generations Riviera Maya has a luxurious and fresh vibe.
And, you get the top-class amenities you'd expect from a 5★ resort.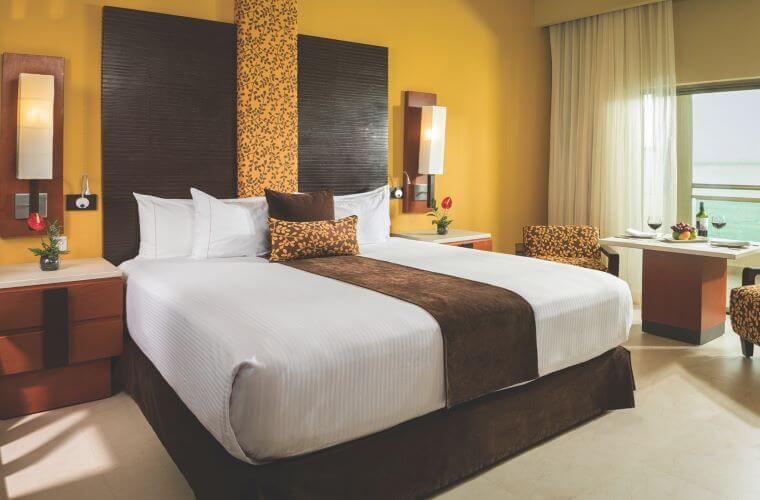 These accommodation amenities include:
Minibar
Smart TV
Relaxing hot tub
Electronic key access
Hairdryer
Safe-deposit box
Iron and ironing board
The exact amenities depend on which accommodation you stay in.
One-bedroom suites you can choose from are:
Oceanfront One-Bedroom Suite
And, an ideal suite for a romantic wedding stay…
 Oceanfront One-Bedroom Swim-Up Suite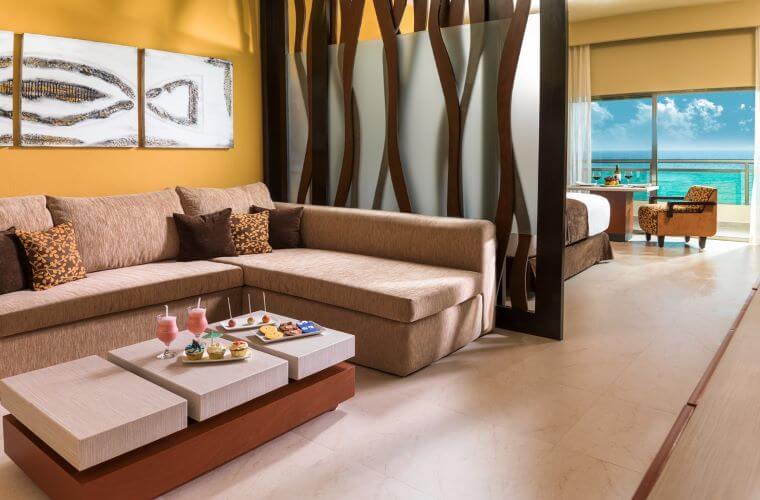 Choose this gorgeous space and you get direct access to an infinity pool as well as a premium minibar, indoor hot tub, and stunning views of the white sand beach.
What's not to love ❤?
Looking for more space in your accommodation?
No problem.
Take a look at these other accommodation options at the resort:
Oceanfront Two-Bedroom Suite
Oceanfront Two-Bedroom Swim-up Suite
Oceanfront Two-Bedroom Pool Swim-Up Suite
Oceanfront Three-Bedroom Suite
Oceanfront Three-Bedroom Swim-Up Suite
Oceanfront Royal Suite
And, for optimum space, if you have parties of guests traveling together…
Oceanfront Three-Bedroom Pool Swim-Up Suite
Guests who book this accommodation can expect a combination of three ocean-front one-bedroom swim-up suites.
Each space has its own contemporary bathroom and indoor hot tub.
How many rooms are there at Generations Riviera Maya?
There are 144 suites at this resort.
They all feature contemporary luxury amenities.
How much does it cost to stay at Generations Riviera Maya?
Accommodation at this resort costs an average of around  $280 to $370 per night.
The exact cost of your accommodation depends on when you stay at which accommodation you choose.
6. Beach
The white sand beach at Generations Riviera Maya is a pristine space with breathtaking views of the Caribbean Sea.
And the beach cabanas are perfect for hanging out with your bridal party.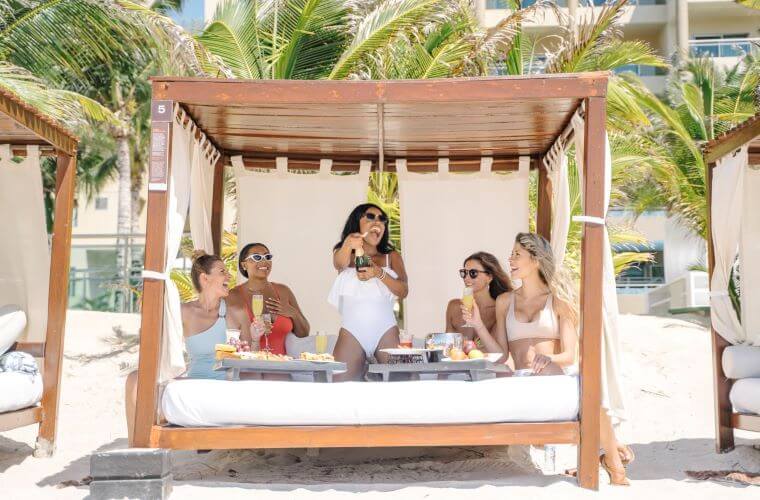 The beach is also a beautiful place to take a romantic walk with your partner.
And, you can also spend time on the sand participating in activities such as beach volleyball.
This may not be the biggest stretch of sand in the area but it's no less attractive as a result.
One quick heads up…
This beach is not the best for swimming due to its rocky shores.
But the resort's pools are perfect for a dip.
You may also come across some seaweed but the resort team works hard to clear it away.
You can also take a look at my blog post for more useful advice about the seaweed situation in the area.
"How to Handle a Seaweed Invasion in Playa del Carmen: Activities & Ideas (2023)"
7. Food & Drink
The chefs at Generations Riviera Maya ensure that every dining experience at the resort is special.
This applies whether you're enjoying a casual snack or an à la carte meal.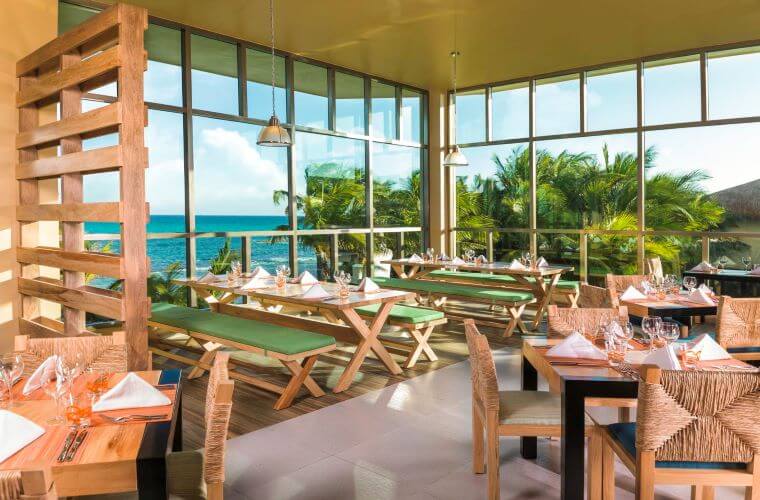 Guests who are 18+ can also check out the dining options at the resort's sister properties El Dorado Royale and El Dorado Casitas Royale.
The Generations Riviera Maya food experiences you can share with members of your wedding party are:
Chef Market – Grand Cafe & Deck – a great family space featuring world cuisine that you can visit for snacks and meals.
Jade – a cozy space to enjoy dishes inspired by the food of China, Japan, Korea, Thailand, and Vietnam.
Wine Kitchen Restaurant & Tasting Room – Cusine from various wine-producing regions paired with wines that complement the experience.
And, last but not least…
Habb – Indian cuisine to delight the palate with dishes including Daal Tadka, Biriyani, and Butter Chicken.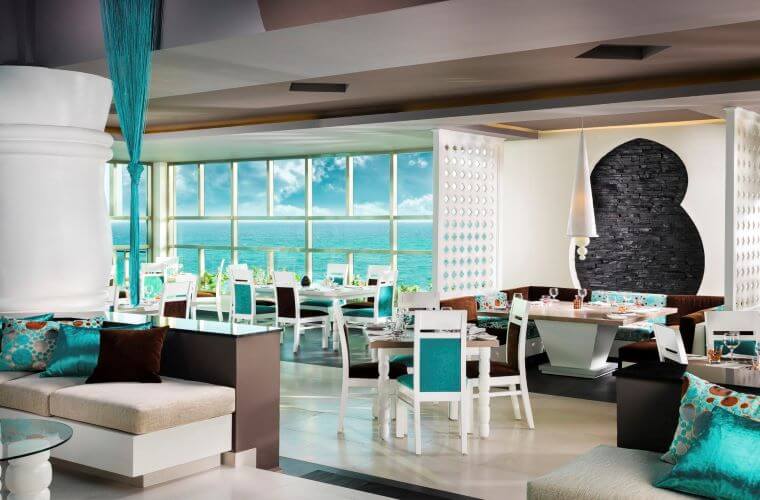 For drinks, before or after your food, you can sip on cocktails at Sling Cocktail Bar & Lounge which is located on the second floor of the resort.
For a more relaxed drinking experience, you can spend time at the Swell Swim-Up Bar & Lounge where you can enjoy a range of drinks including beer, cocktails, and fruit juices.
8. Activities & Entertainment
Looking for a resort where there is plenty to do outside of your wedding celebrations?
You won't be disappointed by the array of activities at Generations Riviera Maya.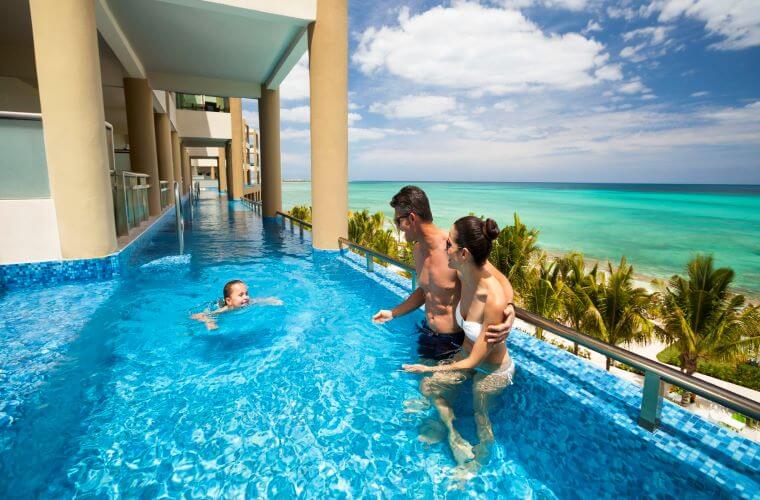 The 5★ experience at this resort includes:
Eko Kids Club
Library and reading area
Greenhouse Tour and Eco Tour
Dancing lessons
Spanish lessons
Basketball
Soccer
Beach and pool volleyball
Water polo
You can also choose to pay extra for luxury services including:
Candlelight dinners on the beach
Náay Spa
Scuba diving trips
Golf, horseback riding, and cultural packages
Private yoga instruction
Is there anything to do outside of Generations Riviera Maya?
You may be tempted not to venture away from the resort during your stay.
I get that.
There's so much for you and your wedding guests to do within easy reach.
But, the Riviera Maya is a stunning part of the world so I'd recommend you explore further afield.
Our team can arrange tours and activities for you and other people attending your celebrations.
And, we'll make sure you get the best bang for your buck.
The Catamaya Catamaran is a favorite activity with many of the couples we work with.
Choose to book this activity and you get to sail aboard a 65-foot luxury catamaran.
The activity also includes snorkeling the barrier reef and a meal of steak or grilled marinated fish.
It's an amazing experience and a lot of FUN!
Looking for some more inspiration about what to do in the area?
Have a read of this blog post I put together.
"5 Sustainable Tours for The Conscious Traveler (Riviera Maya)"
9. What Brides Said…
"We hosted our wedding last weekend at Generations for about 90 guests. Everyone had an amazing time! The staff went above and beyond, not only to make our wedding perfect but to make every moment memorable. I'm blown away by the level of service from every single person we met. Moises was my on-site wedding coordinator and he was incredibly responsive and sweet. Entertainment staff Omar, Sofia, and Anaid were full of energy and had our whole group involved and having a great time throughout our trip. There were so many servers and bartenders that were amazing and attentive. The dedication to keeping the resort clean and safe was reassuring. Highly recommend this hotel for large groups."
Katie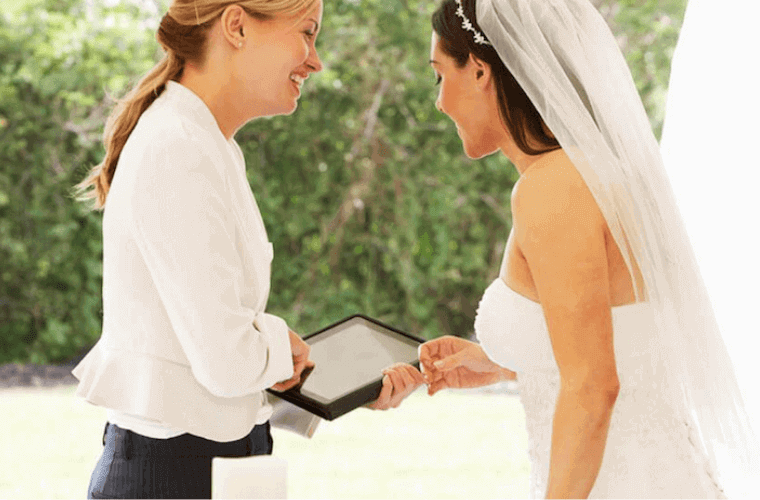 "We had our destination wedding here on March 29, 2019, and it was everything we had hoped for and more! We had close to 65 guests attend (family, friends, and children) and were given the royal treatment. We had access to the adjoining adults-only properties for restaurants and bars. We were upgraded to a suite that was bigger than our current apartment. Most of our guests were also upgraded to swim-up rooms as a courtesy. The rooms were amazing, the food was delicious/fresh and the wedding was a thing of dreams! All of our family and friends still rave about the resort and ask us when we'll plan our next trip there."
Bren
10. Why We Like It
The team at PlayaDelCarmen.Com has a passion for helping couples arrange their dream wedding.
We make sure that every celebration is special and memorable.
So, we only ever recommend resorts, wedding packages, and venues that we have experience with and love.
And, we're always completely honest.
In the case of Generations Riviera Maya, we're especially fans of:
A great variety of stunning wedding venues with different capacities where you can hold your ceremony.
Activities to suit guests of all ages from young kids to adults.
The opportunity to check out dining venues at sister resorts.
Accommodation that's suitable for groups and families as well as couples which suits wedding parties.
Keeping it real, the beach at this resort is not the biggest and isn't really suitable for swimming.
But, it's gorgeous and you can always take a dip in one of the resort's two pools.
11. Additional Resources You May Find Useful
12. Get Married in Paradise
Like the sound of Generations Riviera Maya for your destination wedding?
That's fabulous news.
The PlayaDelCarmen.Com team would love to help you organize your celebrations.
We're local to the resort and we'll put our connections and knowledge to use getting you the best deals.
Call us at 888-537-9797  or complete the contact form on our website to talk to us about planning your wedding in Riviera Maya.
We're excited to hear from you and look forward to joining you on your wedding journey.
Have questions or comments about weddings at Generations Riviera Maya?
I'd love to read your questions or thoughts.
Pop something in the comments and I'll get on it as soon as I can.
---
Trending Now