This Tulum Jungle Gym Is a Real Life Flintstone Gym
---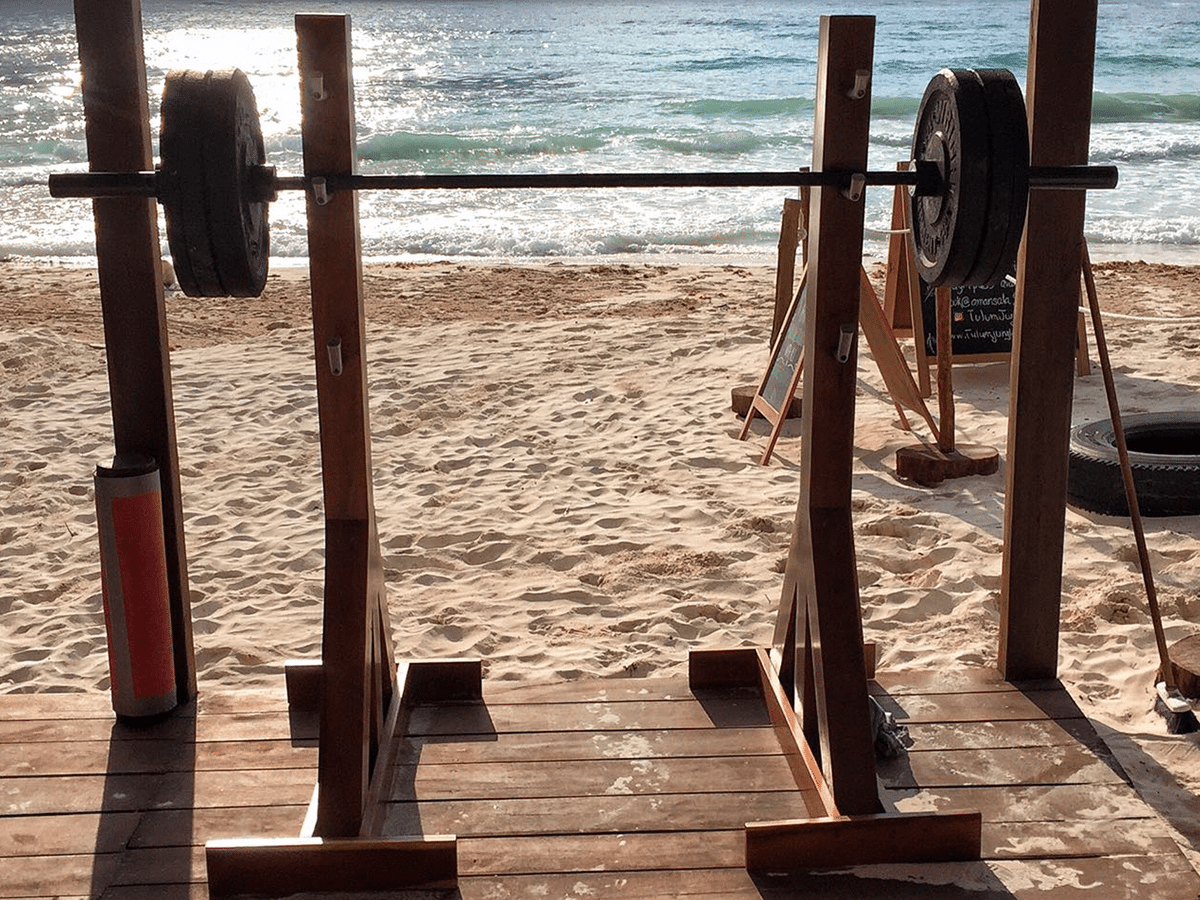 Yabba dabba doo! Behold, the Tulum Jungle Gym!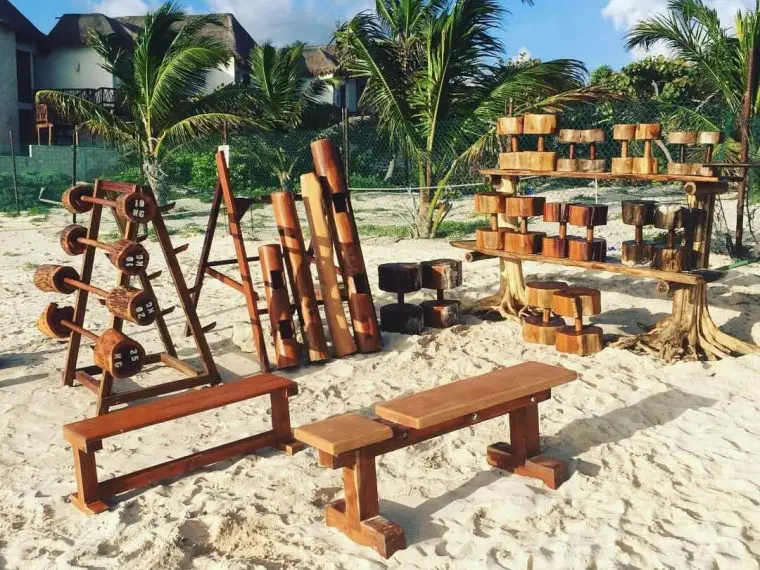 This little-known gem is a one of a kind outdoor fitness experience. Made out of natural materials it provides a unique opportunity to train with nature, in nature.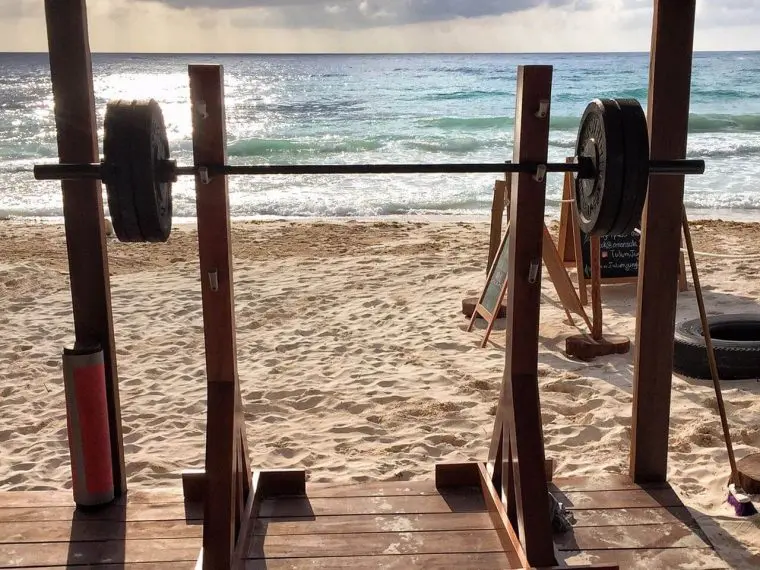 During its creation, the main concept was to keep fitness fun!
Let's face it, who enjoys staring at a brick wall, counting down a clock until they've reached their calorie goal? Not me.
It's hardly inspiring.
At Tulum Jungle Gym you can work out barefoot, pushing logs, lifting rocks, throwing coconuts, hanging, jumping, and climbing.
90% of the equipment is made from natural materials but they do also have more functional traditional equipment such as Olympic and EZ bars with bumper plates, medicine balls, Kettlebells, TRX's, boxing bags & Bulgarian bags.
This gym is open to everyone interested in fitness but particular appeals to calisthenics, gymnastics, bodybuilders, weightlifters.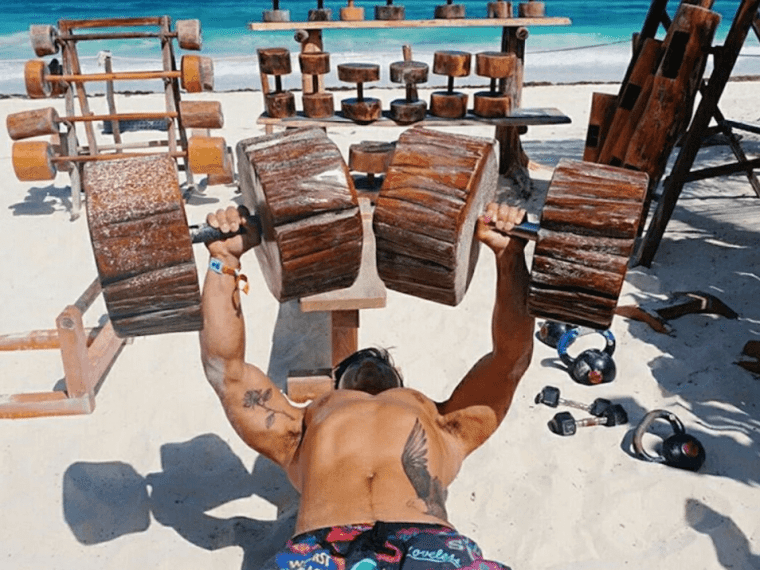 With the sun, sea, and sand as your playing ground, it's a workout for the mind, body, and soul.
What's not to love!
Tulum Jungle Gym Circuit Classes
On Mondays/Wednesdays/ and Fridays at 8.30am, they offer a Jungle Gym Circuit Class.
There's no need to book in advance for classes just turn up 10-15 before to sign in.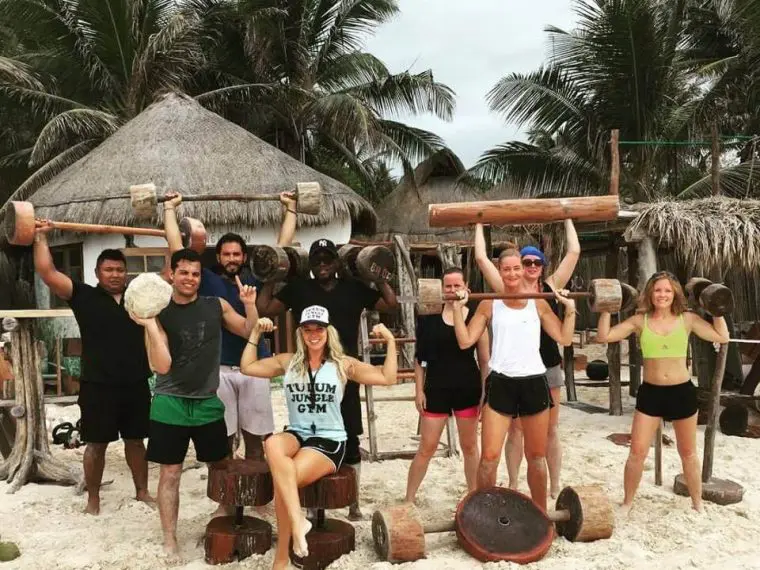 What does the Tulum Jungle Gym class involve?
This particular circuit class is scaled for a broad range of fitness levels so don't be put off that you won't 'be fit enough'.
Trainers use functional training movement, along with some equipment.
Exercises include:
benching logs
squatting with wooden barbells
jumping onto tree stumps
swinging from monkey bars
lifting rocks on a wooden pulley and cargo net, the list goes on.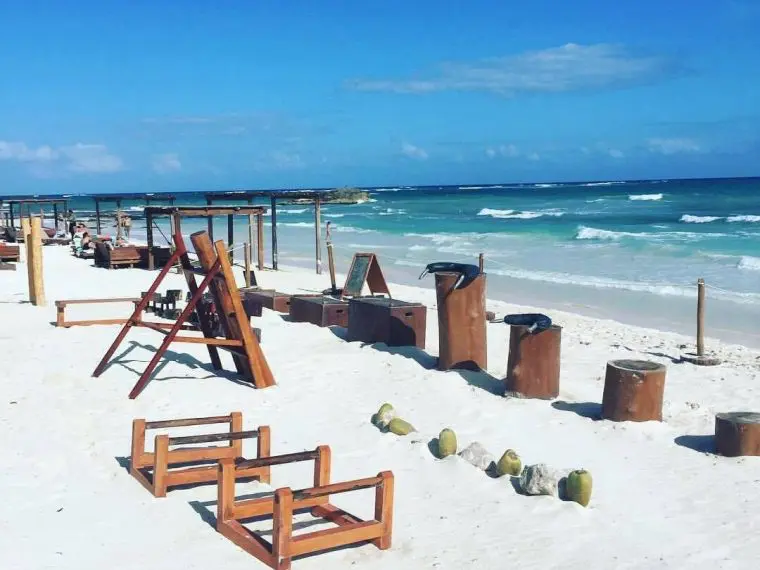 This gym boasts a variety of unique equipment designed by its owner and made locally by carpenters.
Owner & Trainer Ali
The gym was created by fitness enthusiast Alastair who has spent most his work life in the British Military.
In his early career, he was trained as a Physical Training Instructor for the Royal Air Force.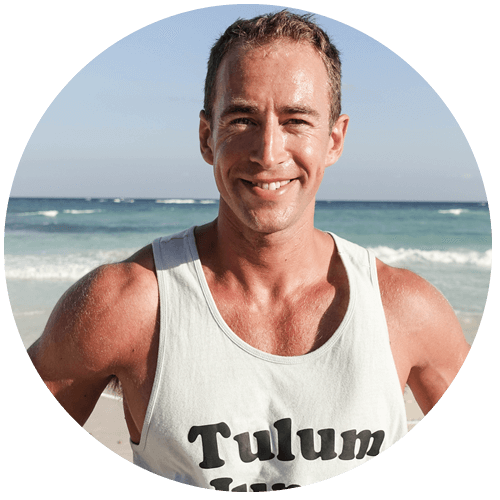 He served 10 years in this intense role delivering the training to soldiers, pilots, and engineers.
During his time in the military, he completed the Royal Maine Commando and attained the coveted Green Beret.
This is one of the most physically challenging military courses in the world.
When he left the Military he found himself working in Tulum as a fitness instructor for a few months at a time.
But with each year that passed, he found himself falling in love with this part of paradise (who can blame him) and decided to make it his home before shortly starting-up Tulum Jungle Gym.
Katie Davies is one of the trainers at Tulum Jungle Gym.

She is a UK based personal trainer and kickboxing coach who has over a decade of experience in the health and fitness industry.
She is also a qualified yoga instructor, Thai & Deep tissue masseuse and holds a number of sporting achievements across the globe that she acquired through years of disciplined training and dedication.
She is an Ironman Triathlete, holds a 1st Dan Black belt in Kickboxing, is an ex-national acrobat as well as an endurance runner and swimmer.
Her love and passion for sport, health, and fitness has been with her since the age of 4, she is focused on driving and motivating her clients to success using unique and fun approaches in her sessions.
Tulum Jungle Gym Location
Hotels near Tulum Jungle gym
Free access to the gym is permitted if you stay at either of these nearby hotels:
If you are adamant about keeping your fitness goals alive on vacation we would highly recommend considering either of these properties.
However, if you have already booked your hotel the gym is open to all fitness enthusiasts and is easily accessible from other popular areas such as Playa del Carmen.
It makes a great day trip and is just another excuse to spend a little more time in the beautiful Tulum.
Regular bus services such as the ADO and Collectivos operate daily.
Both are cheap and efficient. We recommend using the ADO buses as they are comfy and air-conditioned.
Collectivos are a more local experience for people who live here.
Costs and Pricing
Day passes + classes are 400 Mexican Pesos which is the equivalent of $20.
A week pass costs 1600 Mexican Pesos which is the equivalent of $83

Watch a video here:
Interested in booking a hotel in Tulum?
Be sure to call one of our expert Travel Specialists a call on our toll-free number +1 888-537-9797 they will be happy to answer any questions you may have.
Alternatively, you can email us at customercare@playadelcarmen.com
We hope to hear from you soon.
If you liked this post be sure to SHARE it with you friends and family on Facebook.
Feel free to leave your thoughts in the comments section, we would love to hear from you.
---
Trending Now