The Perfect Day Trip to Akumal
---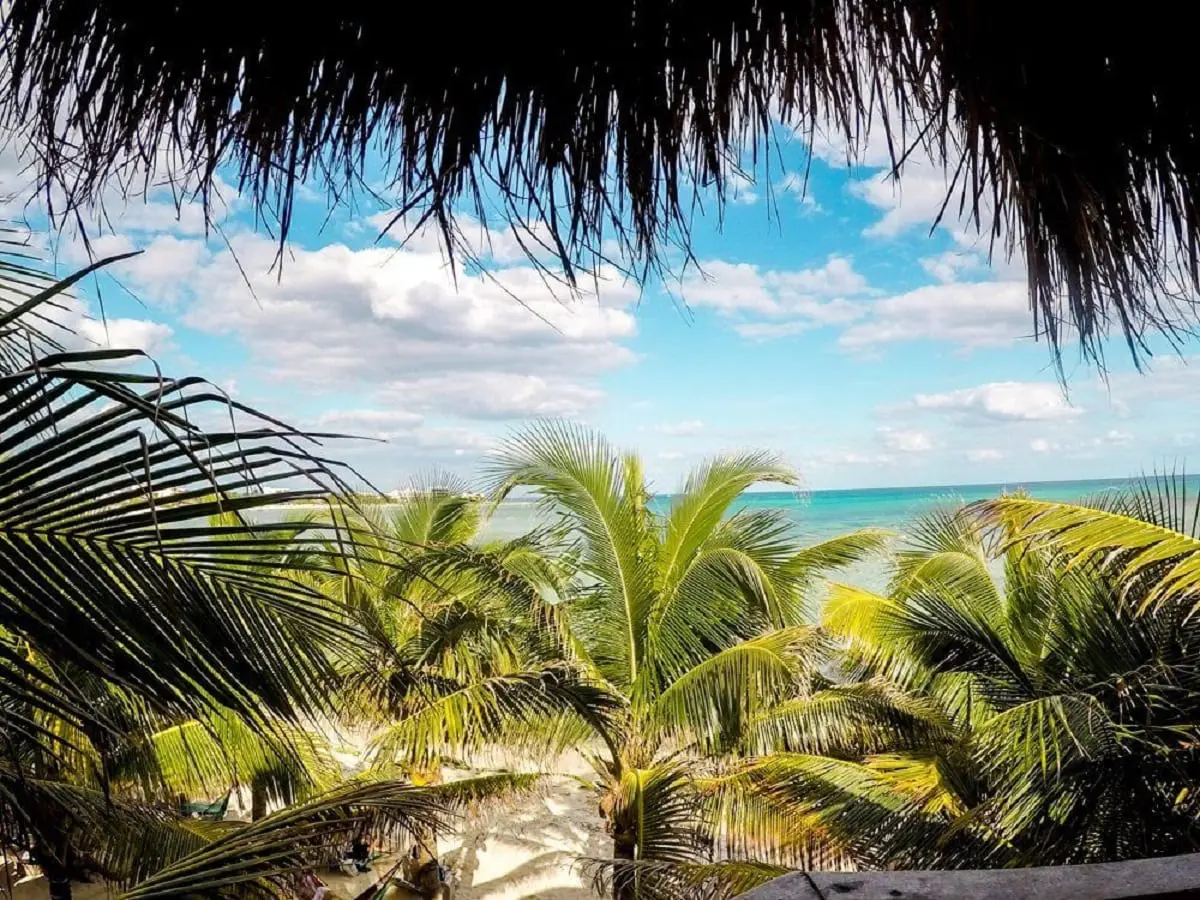 Anyone who has visited Playa del Carmen will have heard about its famous neighbor Akumal.
This colorful coastal town is located only 35km away from Playa, and has one of the most famous beaches in the Riviera Maya.
Thick sea grass grows under the turquoise waters, which attracts droves of friendly green sea turtles. The only problem is, this also attracts thousands of tourist, 15,000 a month to be exact!
Tourism is good for the local economy, but not so great for the local wildlife or coral reef.
Because of this, the Centro Ecológico Akumal (CEA) has decided to crack down on paid tours, resorts and tourists visiting this ecological marvel.
With all these changes, many people in Playa del Carmen are left wondering if they can still enjoy the beaches and swim with the sea turtles in Akumal.
The answer is yes, if you do it correctly.
So, in this article, I'll explain to you exactly how to plan the perfect day trip to Akumal.
Transportation to Akumal
Getting to Akumal from Playa del Carmen couldn't be easier, you can take the public transport, a taxi or your own car.
Car
Simply slide onto the highway in Playa del Carmen, and head towards Tulum.
After a scenic 20 minute drive, you'll see the exit to Akumal on your left hand side.
Follow the road down towards the beach for another 2 minutes, and you'll see a car park just before the OXXO convenient store on your right-hand side.
All day parking costs only $50 pesos which is roughly $2.50 USD.
Taxi
You can pre-order a cab from your hotel, or you can easily hail one down from any main street in Playa del Carmen.
The cost of the ride largely depends on the mood of the driver, but you're looking at around $250 pesos ($13 USD) each way.
Colectivo
This is Playa del Carmen's answer to public transportation and it's a breeze once you know how it works.
These 15 seater minivans can be found on Calle 2 with 15 Avenue, and take around 30 minutes to reach Akumal, depending on how many stops they make.
Every van has air conditioning, and will only set you back $25 pesos ($1.50 USD) per person.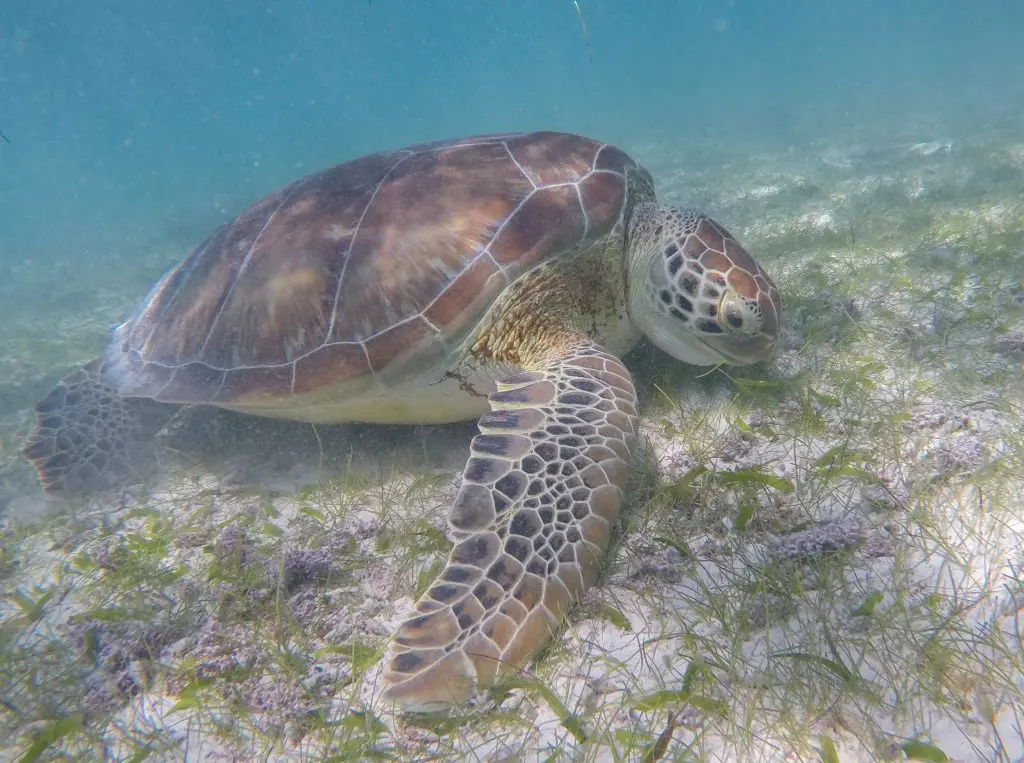 Snorkeling in Akumal
Besides the picturesque white sand beaches, the main reason people visit Akumal is to swim with the gentle green sea turtles, and who can blame them?
When snorkeling in Akumal, you can also spot graceful eagle rays, crabs, groupers, angelfish and grunt fish all blissfully enjoying the crystal clear water.
To avoid the crowds and catch the turtles during their morning feed, the best time to snorkel is earlier in the morning. Anytime after 11:00am, and you will be somewhat surrounded by other eager snorkelers.
Due to the CEA's new laws, there are no longer any tour operators available to take you out to see the turtles on a guided tour, so you will have to go it alone.
If you need equipment to snorkel, don't worry, you can still rent it from the dive shop to the right of the beach entrance.
If you have your own equipment and are a competent swimmer then jump right in.
When swimming with sea turtles, just remember to have patience, don't get too close, and never touch or grab the turtles.
Because of the damage caused by tourism, you can no longer swim out to the coral reef at the main beach.
However, if you want to enjoy the vibrant reef and all the amazing sea life, then you can head over to Half Moon Bay, Akumal's North beach and swim freely amongst the coral.
Again, please respect the coral by not touching or standing on it.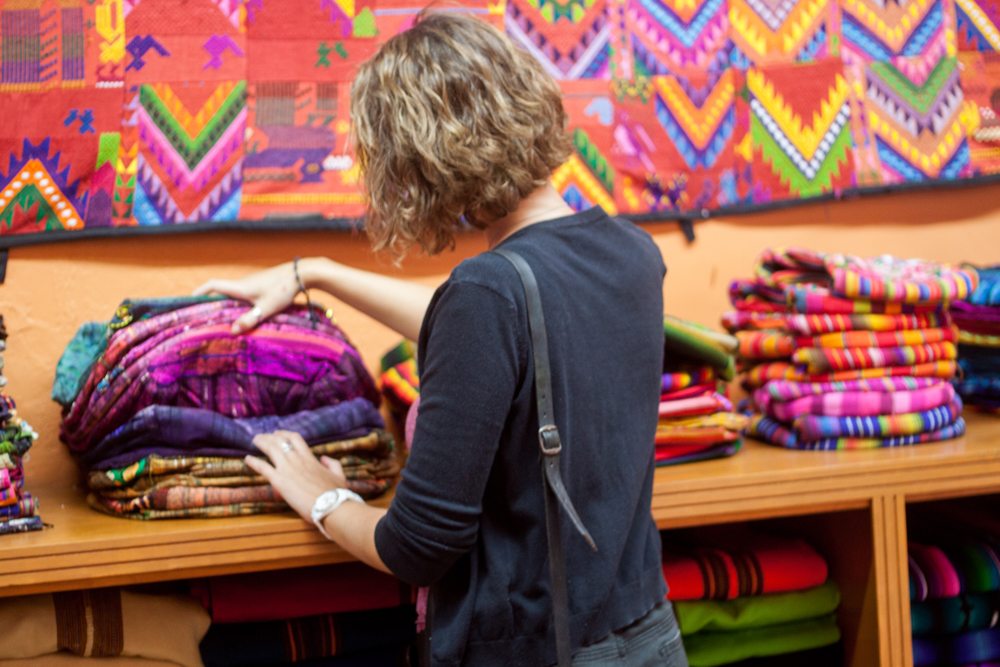 Things to Do Outside the Water
Just a few steps away from the main square, you'll find yourself in a world of pretty beach homes, beautifully smelling flowers and lush Mayan jungle.
Akumal is one of the most peaceful and relaxing places to take a stroll, but there's one hidden gem that is simply heavenly.
If you head left from the main square in Akumal, you will come across a little dirt road that seems to lead into the jungle. Take a little walk down this path, and you will be met with a stunning stretch of completely virgin shoreline, and a breathtaking panoramic view of the ocean.
This picture perfect space is scattered with rock pools, which turn into relaxing little Jacuzzis when the tide goes out.
As the afternoon draws in, the sleepy town comes alive with local artisan stalls and bustling markets.
Here you can find anything from locally made fabrics and glittering silver, to handcrafted pottery and fine leather bags.
While you're enjoying the beautiful stores and soaking up the local culture, why not treat yourself to one of Akumal's famous ice creams from Lucy's Kitchen. The perfect way to stay cool during an afternoon of trinket shopping.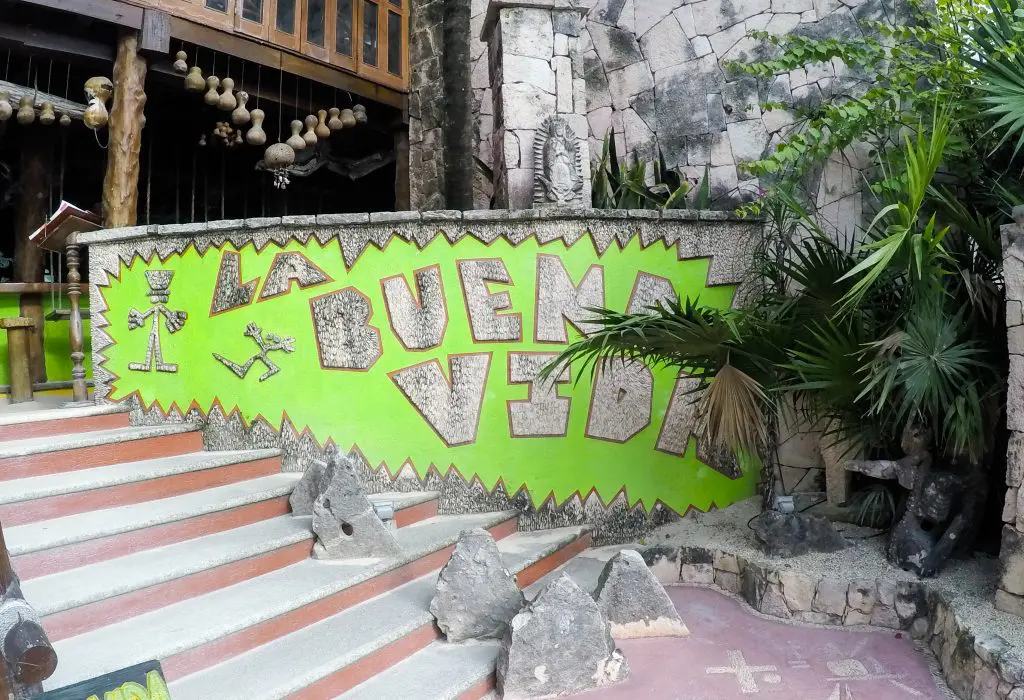 Where to Eat
After a day of swimming, soaking up the sun and shopping 'till you drop, there's nothing better than wolfing down a delicious meal, and a margarita (or two)!
There are many lovely restaurants in Akumal, including La Cueva del Pescador and Turtle Bay Bakery & Cafe, but one place always tops them all… La Buena Vida.
This place is the epitome of laid back beach life, and matches the vibrant, infectious vibe of Akumal perfectly.
Not only does this funky restaurant have a well-priced menu with options for everyone, but it also has the most amazing ocean front views and its own hammock garden and pool.
Must Visit for Families
If you're traveling with family, this is also the perfect place to get the kids out of your hair.
La Buena Vida has a crows-nest table, especially made for the little ones. They can climb up the ladder, and eat in their very own palm-tree fort.
What makes it even more fun, is the rope pulley system, which lets them have their food lifted up to them when it's ready, perfect!
Have you been to Akumal recently? Let us know what you thought in the comments below!
---
Trending Now
You may also like