5 Best Adults Only Hotels in Cancun (2020) Save BIG When You Book Local
---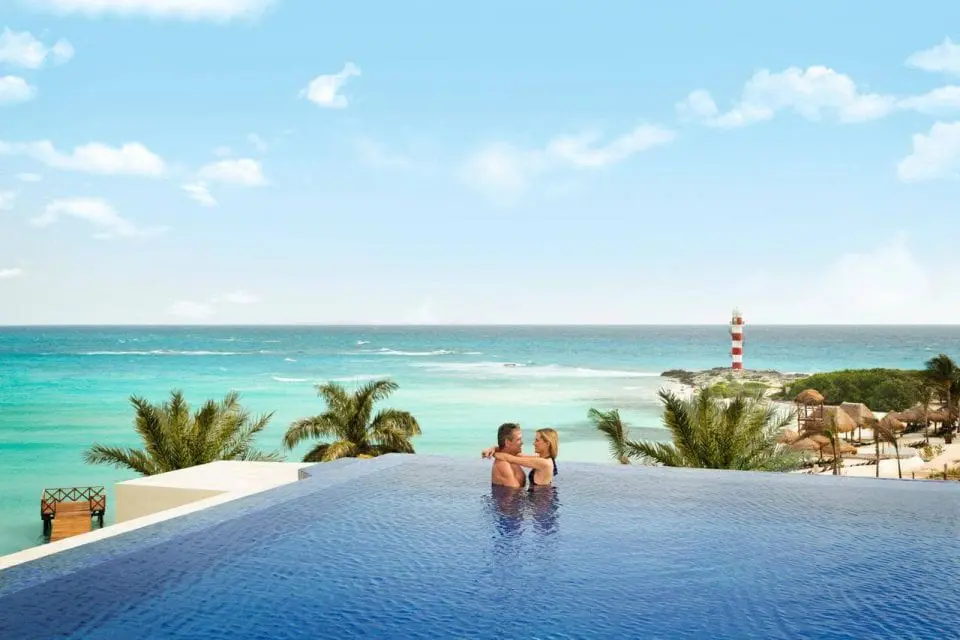 Searching for the best adults-only hotels in Cancun for your next vacay?
Cancun is the tourist capital of Mexico's stunning Yucatan Peninsula…
With millions of tourists visiting each year, it's home to HUNDREDS of exciting resorts and accommodations.

But with so much choice…choosing the right one can feel a tad overwhelming. I get it!
I've been there too.
5 Best Adults-Only Hotels in Cancun
---
The Hotel Or Resort Can Make or Break Your Vacation
When spending a sizable chunk of money on a well-deserved break, it's important you take the time to choose wisely.
Travel agents in your home town (not always but) often tend to be biased about which hotels they try to push on you because they have targets to meet and incentives to strive towards.
The best thing you can do when planning?
Do your homework. 
Filter all sides for yourself, ask questions, and go with your gut!
I'm 26 and have visited 18 countries thus far, so, for my age, I consider myself an avid traveler.
I've lived right here in Cancun and the Riviera Maya since 2017.
Working as the content manager for PlayaDelCarmen.Com I've had my fair share of hotels, tours, and weddings. 😉
So enough chitter-chatter. Let's get into it.
1. Turquoize at Hyatt Ziva
★★★★★
The highlights of this hotel:
Access to the spa
Infinity pool
The level of service and dedication from staff
For the city of Cancun, the Hyatt Ziva offers a unique experience.
Despite the hustle and bustle of Cancun Turquoize at Hyatt Ziva offers a zen retreat. Its prime location on a scenic peninsula means it's surrounded by ocean on 3 sides!
The resort was designed in a tranquil village-like setting enabling guests to connect the natural beauty of this region from the comfort of their hotel.
Envision contemporary decor, spa-like bathrooms, and balconies that boast breathtaking views of the big blue sea.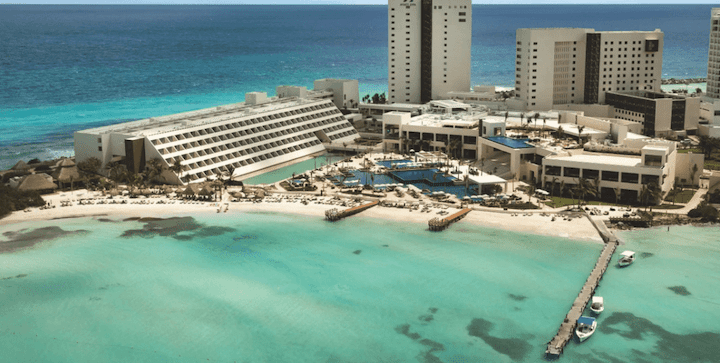 The infinity rooftop pool and swaying palms that characterize the adults-only section of this hotel create a lavish and luxurious setting for you to enjoy with your partner, family, or friends.
One of my favorite things about this hotel is that Turquoize guests also get access to the spa from 8 am-2 pm, so if you are really looking to relax and take some time out this hotel is the one for you!
Your personal butler, balcony jacuzzis, and in-room iPad for room services are also all great and desirable touches too.
However, I will say that the food here isn't the best of all the hotels I visited during my time here, it's by no means 'bad', but definitely around average.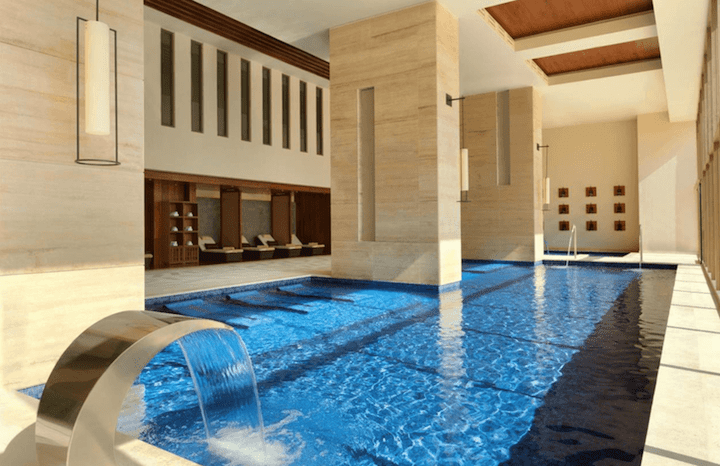 The star qualities of this hotel for me was the setting and the staff by a mile! They were both world-class.
Location (in the hotel zone)
2. Hard Rock Hotel Cancun
★★★★
The highlights of this hotel:
The hotel's theme and personality
Food & drink
Wedding packages
If you're looking for an all-rounder this is it!
'Hard Rock' is a well-known and established brand worldwide.
Their hotel in Cancun is where stage front meets beachfront.
What I enjoy about this hotel is how it's completely owned its own take on all-inclusivity.
If you prefer a hotel with more personality and pizzazz then look no further.
It's like a Caribbean Vegas of sorts.
A rock stars paradise!
This resort is located at the heart of the hotel zone, it's busy, and amongst all of the action, but that doesn't mean they don't have all the creature comforts you need to relax.
You'll have an in-room hydro spa tub, fine dining at, top-shelf drinks, 24-hour room service, live entertainment and more!
The beachfront property also features Hard Rock's signature Rock Star Suite and showcases an extensive collection of authentic memorabilia from international and local music artists.  It's pretty cool!
The food here is great and will take you on a culinary experience around the world with each location inspired by different flavors and techniques.
If you've dreamt of a celebrity-style wedding make it come to true at the Hard Rock Cancun with our help.
At this resort there is something for everyone…rock out in the pool with a swim-up bar, or relax with a glorious spa day. The choice is yours.
Location (in the heart of the hotel zone)
3. Excellence Riviera Cancun
★★★★
The highlights of this hotel: 
6 pools
Nightly entertainment
Room decor
If immaculate white sand beaches and refreshing pools are your thing Excellence Riviera Cancun is one to watch!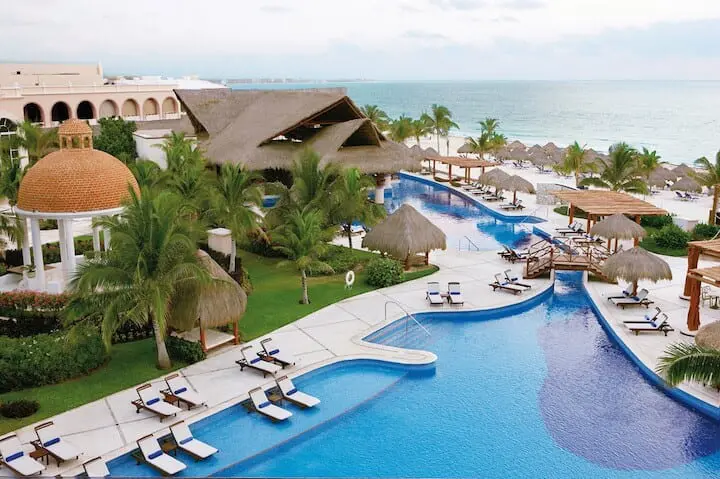 They have not 1 but 6 pools winding through the lush grounds.
A stay here would give you unlimited access to eight international restaurants and ten bars, plus such amenities as an expansive swim-in spa, a full-scale fitness, and cardio-conditioning center and an unparalleled range of activities on land and sea.
The standouts at this resort from our customers are definitely the food & drink, the entertainment, and the staff.
I would recommend the dirty monkey cocktail it's lush!
Each of the large suites features impressive decor. You can choose from a garden or ocean view room, or the added delight of swim-up suites with an additional exterior jacuzzi.
Extravagant touches like a full marble bathroom, 42-inch flat-screen television with CD/DVD player, bathrobe and slippers, in-room WiFi, laptop-sized electronic safe, a coffee/tea maker, fully stocked in-room bar, pillow menu and turndown service complete the experience.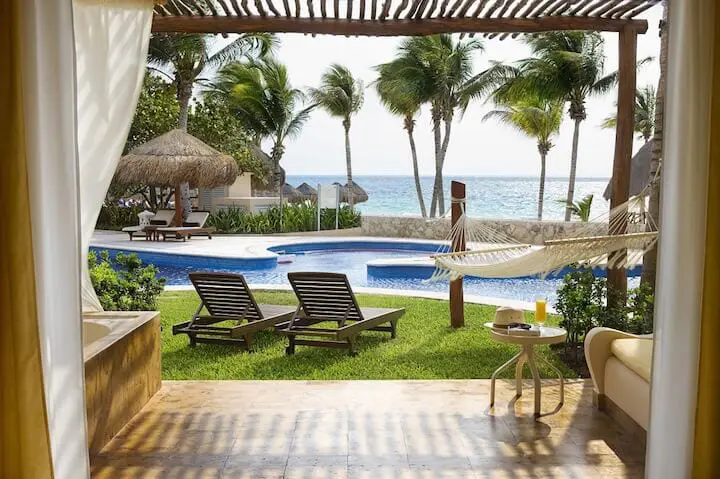 Upgrade to one of the 92 Excellence Club rooms for the ultimate in luxury living.
Benefits include private concierge service, access to a private lounge, Bvlgari VIP toiletries, an upgraded minibar and room service menu, Nespresso machine, access to a private beach area, a complimentary beach bag, daily newspaper service, shoeshine service, fresh flowers and sparkling wine upon arrival and daily in-room treats.
Location (halfway between Cancun and Puerto Morelos)
4. Royalton Riviera Cancun
★★★★★
The highlights of the hotel: 
Activities
Restaurants
Rooms
Sucker for a big resort with all the trimmings?
You can spend a week of your vacay simply exploring this place and trying all the different restaurants and bars.  The Royalton Riviera Cancun is huge!
It consists of 3 distinct sections, The Resort, The Diamond Club, or The Hideaway.
The Hideaway is where you will find the adults-only haven.
One thing I will say is your guaranteed a good nights sleep here. All of the rooms and suits over exclusive DreamBeds™!
Do as much or as little as you want in this elegant adults-only setting.
Savor gourmet cuisine, and sip on artfully prepared cocktails!
There are plenty of activities to keep you entertained at this hotel with daily water sports, fitness programs, yoga on the beach, and even mixology classes.
Suits are modern and feature aromatherapy to greet you each time you enter, a spacious Jacuzzi tub for two to enjoy, high thread count sheets, 24-hour room service and a selection of in-room premium spirits.
It's the top end of room accommodation at the Hideaway.
Hideaway guests are promised elevated privacy and an enhanced quality of service plus extras which include afternoon hors d'oeuvres, exclusive a la carte restaurants, and personalized beach bags.
Location (half-way between Cancun and Puerto Morelos)
5. Live Aqua Cancun
★★★★★
The highlights of the hotel: 
Treated like VIP's
Ah-mazing food!
Infinity pool
Close by mall
If you're looking to rekindle your spirit and your soul the Live Aqua resort FEELS therapeutic.
The resort is located on a sophisticated beachfront just across the street from La Isla Shopping Mall – meaning you won't have to go far to hunt down those special souvenirs.
Plus, it's just footsteps away from some of the best restaurants in the city if you want to venture out for dining (highly recommend).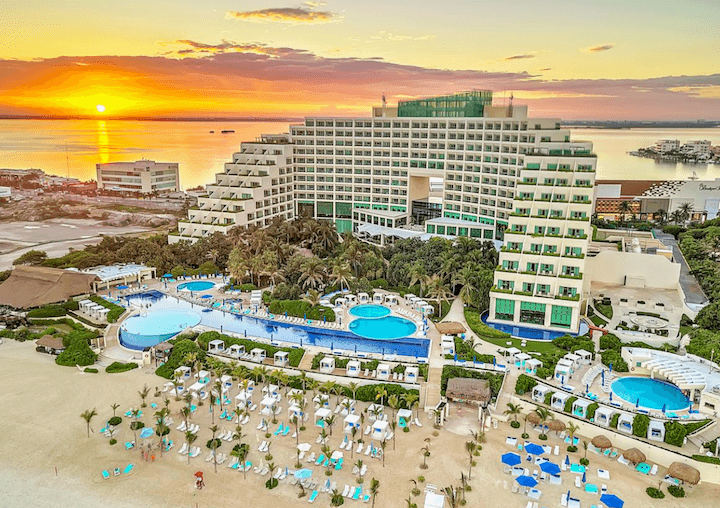 Mexico is brimming with flavor in general so don't confine yourself to the walls of your hotel, go on a culinary adventure!
For those awesome pictures, you'll need an infinity pool, and let me tell you this hotel is not in short supply it has not 1, but 8 of them!
The building and experience have definitely been designed to stimulate your senses. Throughout the hotel, music worships you at every step with changes in rhythms that match your emotion.
The sounds are never the same, but always relaxing!
The personnel at this resort do a great job of helping you enjoy the hotel to the max!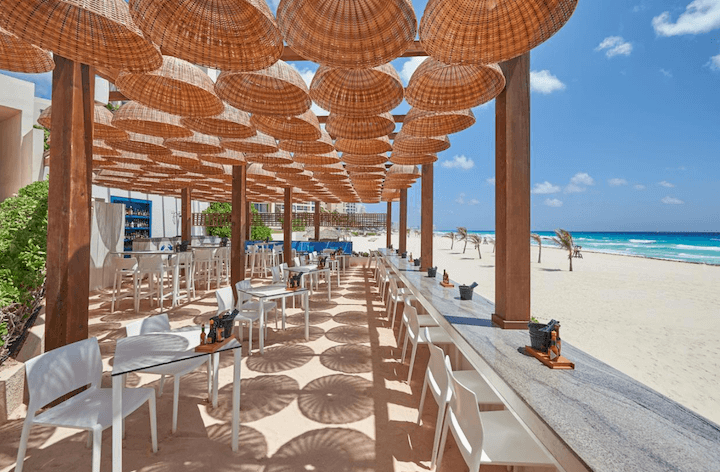 Our customers who have stayed here all rate this place 5* across all categories and rave about their reviews hoping to return again in future – so that's got to say something!
Location (in the hotel zone)
Additional Resources You May Find Useful
How to get the best deal on a Cancun Resort?
The answer is simple…talk to us today.
Call us directly on 888-537-9797
As a local team here at PlayaDelCarmen.Com, we can get you exclusive rates on all of the hotels and resorts located in Cancun.
Based on your wants and needs we can also help you choose the right one for you and your group. Remember, not all hotels were created equal!
We'll ensure you get all the perks and discounts you're entitled and our travel liaisons will be able to offer you honest advice from our own personal experience and customer reviews.
Paradise awaits…
---
Trending Now