REVIEW: Playa Del Carmen Private Yacht Charters – What to Expect
---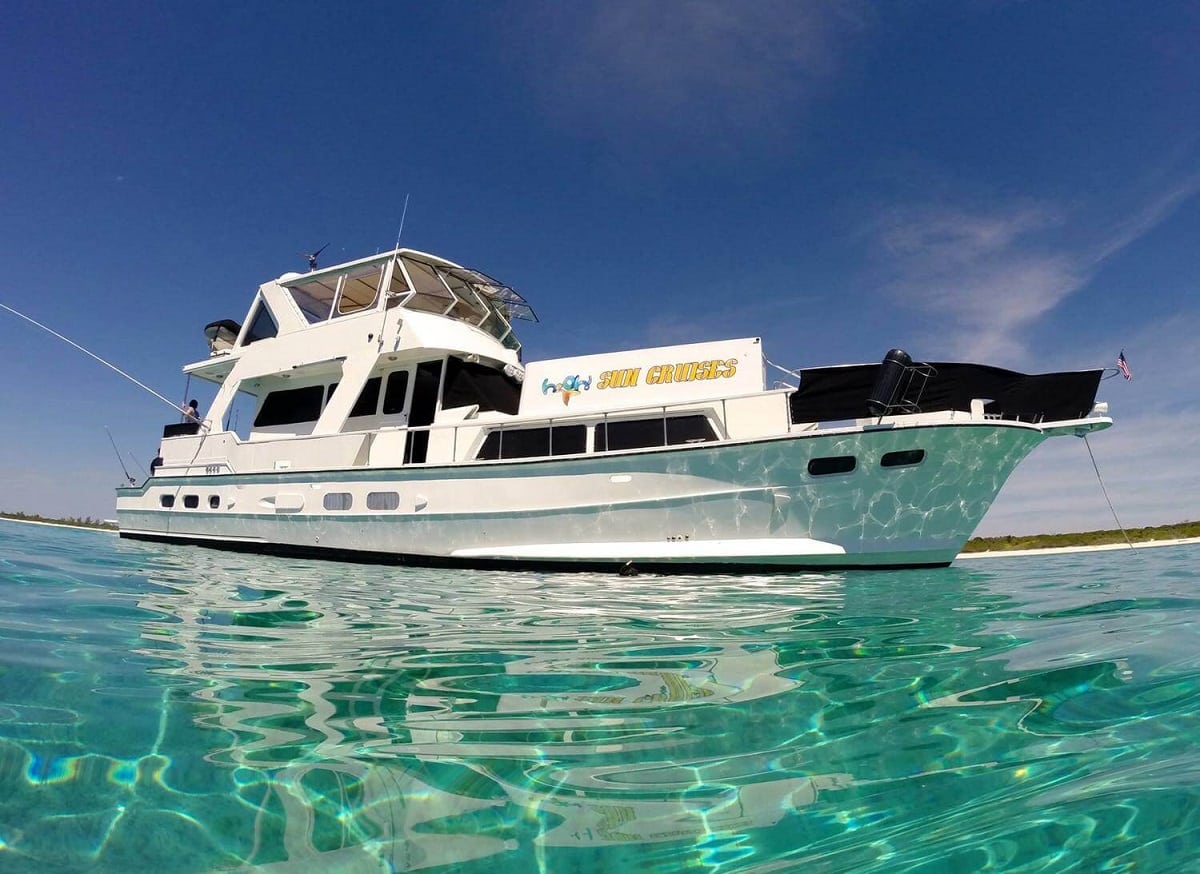 Planning a Weddings in Playa del Carmen or bachelor (ette) party?
You've probably been racking your brain for the perfect activity.
In addition to the evenings out, hop aboard one of our Private Yacht Charters. 
All you have to do is sit back, soak up the amazing Caribbean coastline and sip on your favorite beverages with your friends.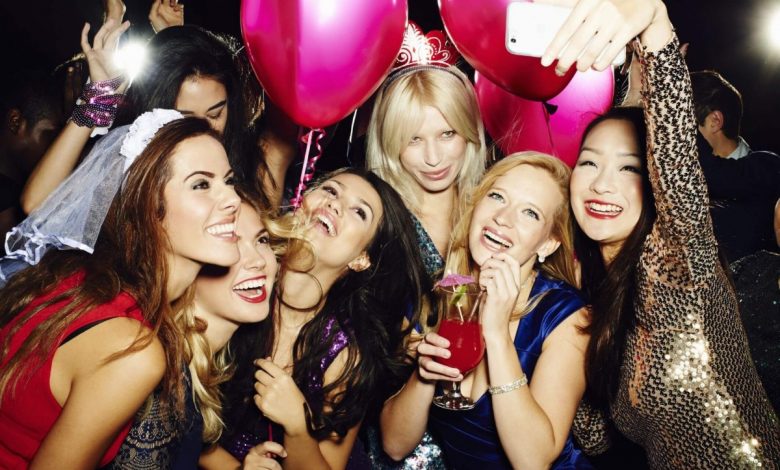 Bachelor (ette) parties are a chance to let loose, have some fun, and celebrate your freedom one last time, so let's do it in style!
You may have never even DREAMT of doing something so lavish, largely because you thought it would cost a heap of cash, right?
Well, that's where you'd be wrong, and we are very happy to inform you that dreams can come true for affordable prices. 
Yacht Charter Pricing
Each yacht fits up to 80 people but you need at least 15 to secure your booking (the more the merrier)!
With 15 people you can cruise the gorgeous coastline for 4 hours while making the most of an open bar for just $118 USD each.
It is $49 per additional guest.
PLUS  Bride & Groom (or Bride & Bride, Groom & Groom) for FREE. 
** Ask for our bachelor/bachelorette specials
** Birthday cake included for BDAY celebrations!
For more information see our yacht charter prices, or call us toll-free on +1 888-537-9797
Playa del Carmen yacht charters provide the ideal solution for group activities. Recently, on what was a sort of collective site inspection/tour, PlayaDelCarmen.com celebrated a team get-together the only way we know how: aboard a yacht!
Read Our Review Below
One of our top providers for sea adventures invited us out on a sail and sea cruise of the azure waters of the Mexican Caribbean. Of course, in the face of such a generous offer, our only response was an unequivocal yes.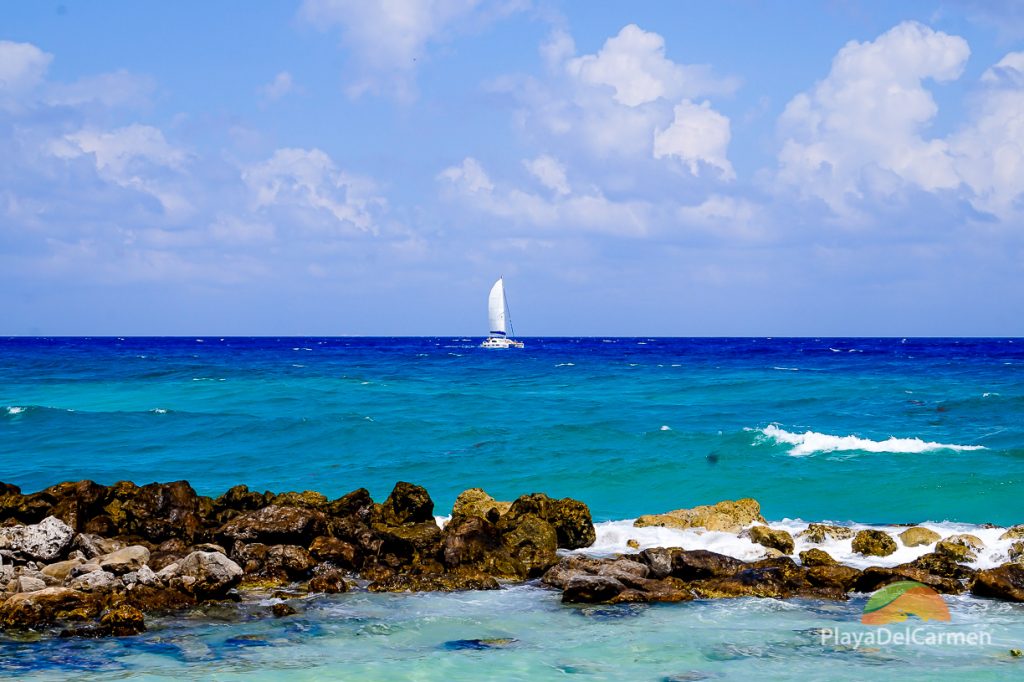 We know, a tough decision and having to sacrifice a day in the office, but we decided it was worth it, our dear clients and readers (and we DID forward the phones, just for the record)!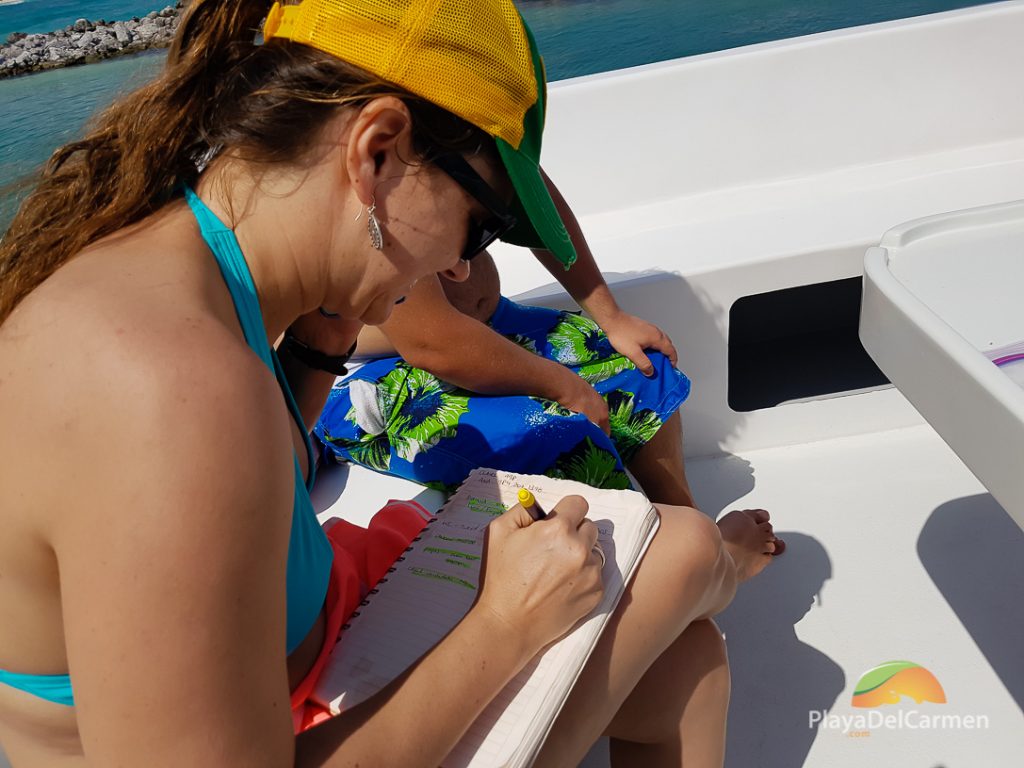 So one Friday afternoon at the end of April, we set off on a sunny day to Puerto Aventuras. While our clients have always given us rave reviews of this fun in the sun tour, it's something else to experience it firsthand.
And that we did.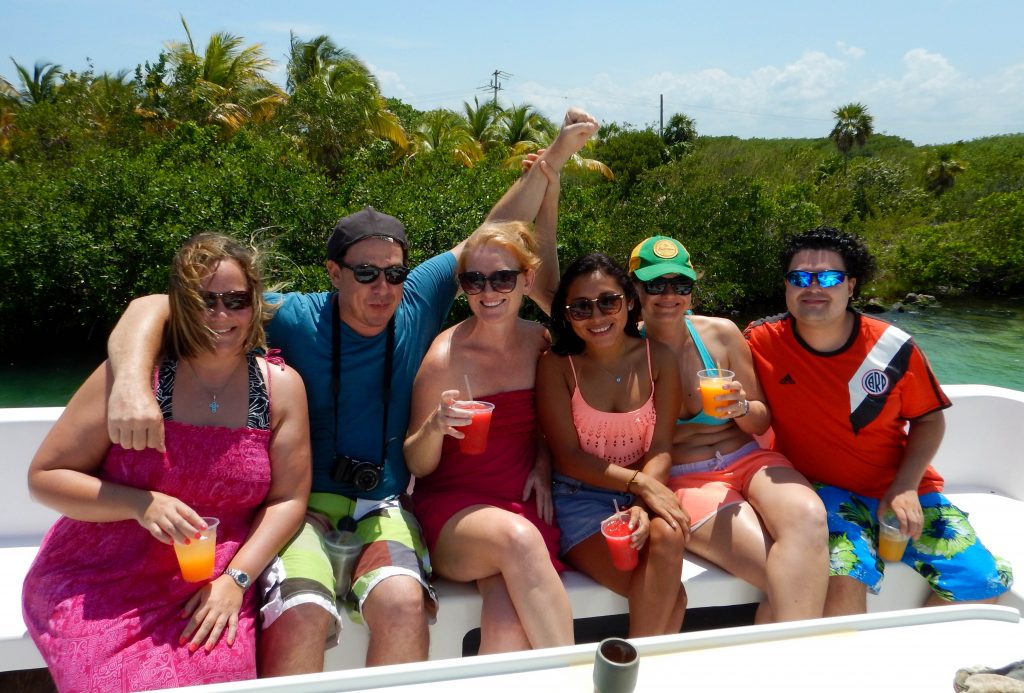 We got picked up at the office around 1:00 p.m. by our professional and courteous driver, and before we knew it we were on our way to the harbor.
As you can imagine, the atmosphere in the van was of excitement and laughter, with a few pictures thrown in for good measure.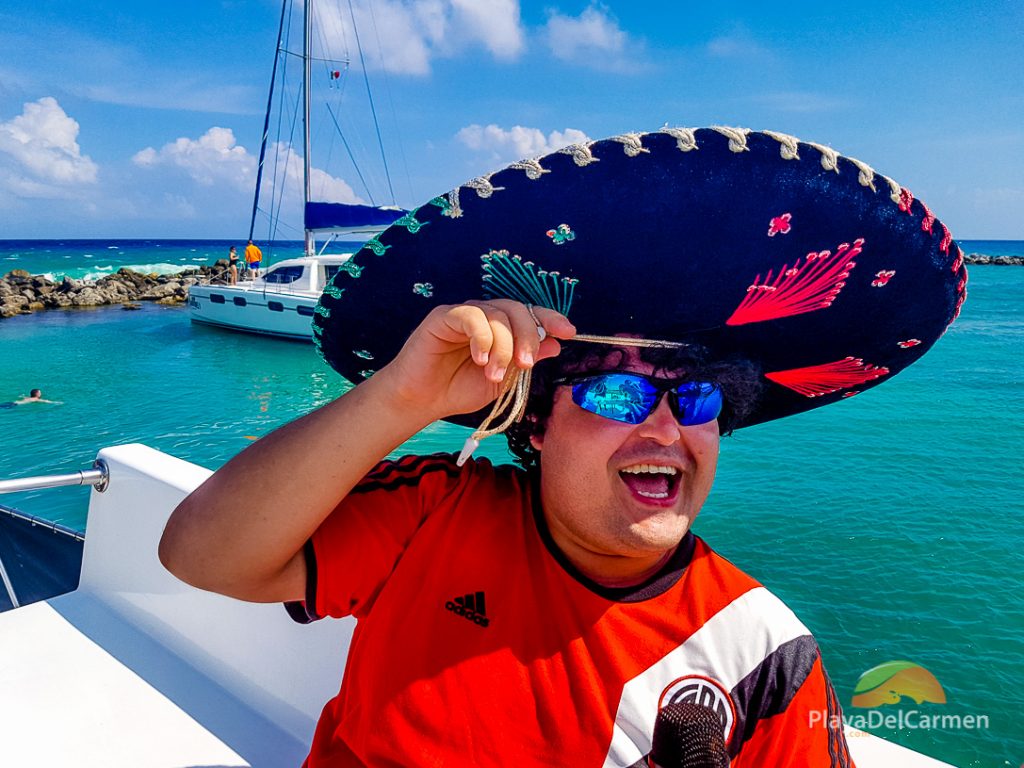 The drive from Playa del Carmen to departure point is a short half- hour ride and voilà… in no time, you're standing at a harbor amidst the spectacular green turquoise waters of the Puerto Aventuras channels.
Upon arrival, the fun and talented crew of H2OH Sun Cruises are there to greet you with a smile and of course the obligatory Mexican sombrero photo opportunity.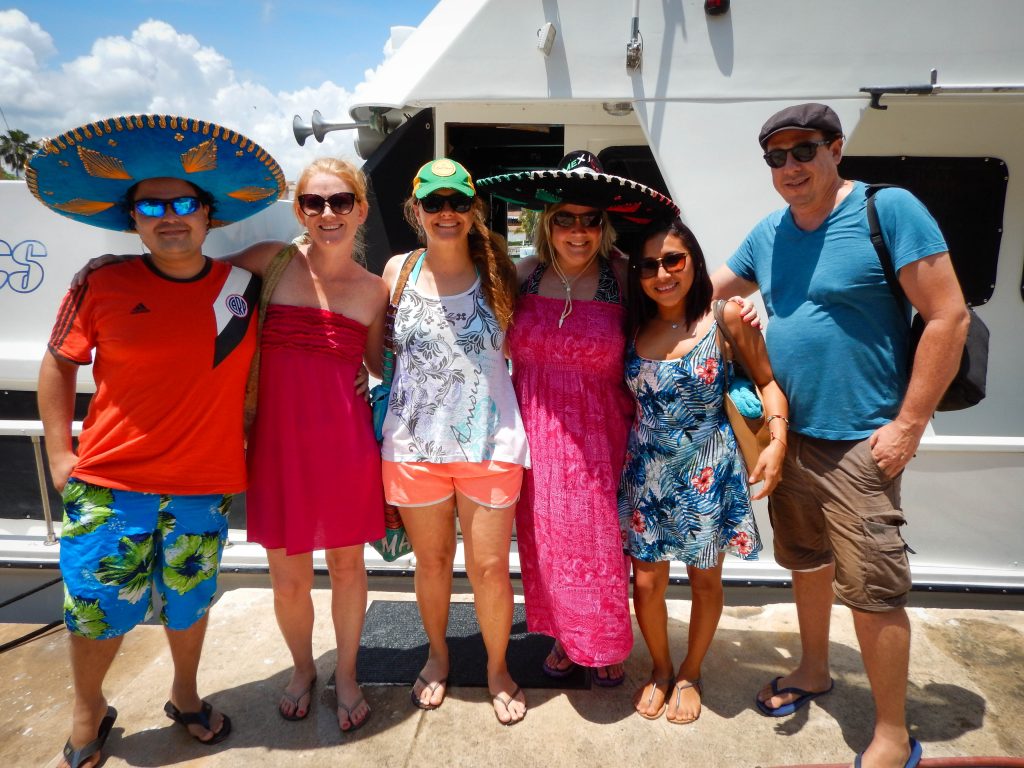 Now it's off with the sandals and aboard the yacht.
The real adventure is about to begin!
Once everyone's on board the time comes to set sail. The yacht's captain expertly navigates through the Puerto Aventuras channels, offering guests some incredible views of this tropical paradise (and some pretty fancy houses overlooking those channels to boot).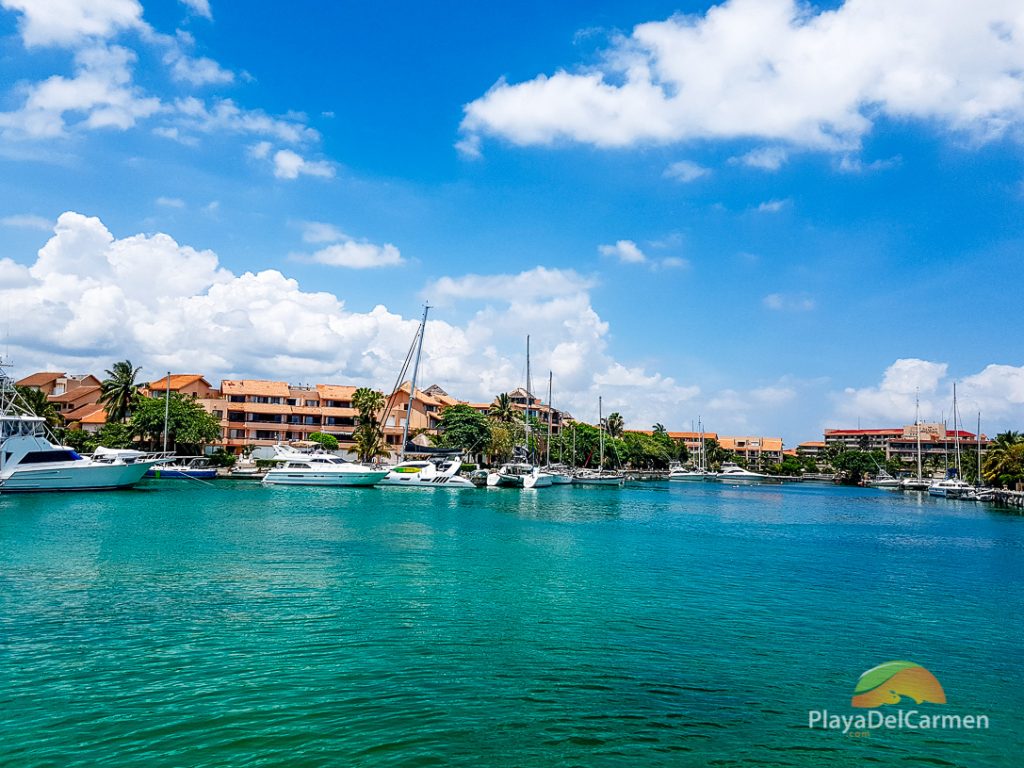 Normally the first stop on the tour is a very nice spot of the Mesoamerican Reef, the second-largest in the world after the Great Barrier Reef off the coast of Australia. This is a great spot for snorkeling, and the area is generally teeming with vibrant marine life. On the way back to the point of anchor for food, karaoke, and swimming, guests also guest the chance to fish some big game fish such as mahi-mahi and groupers.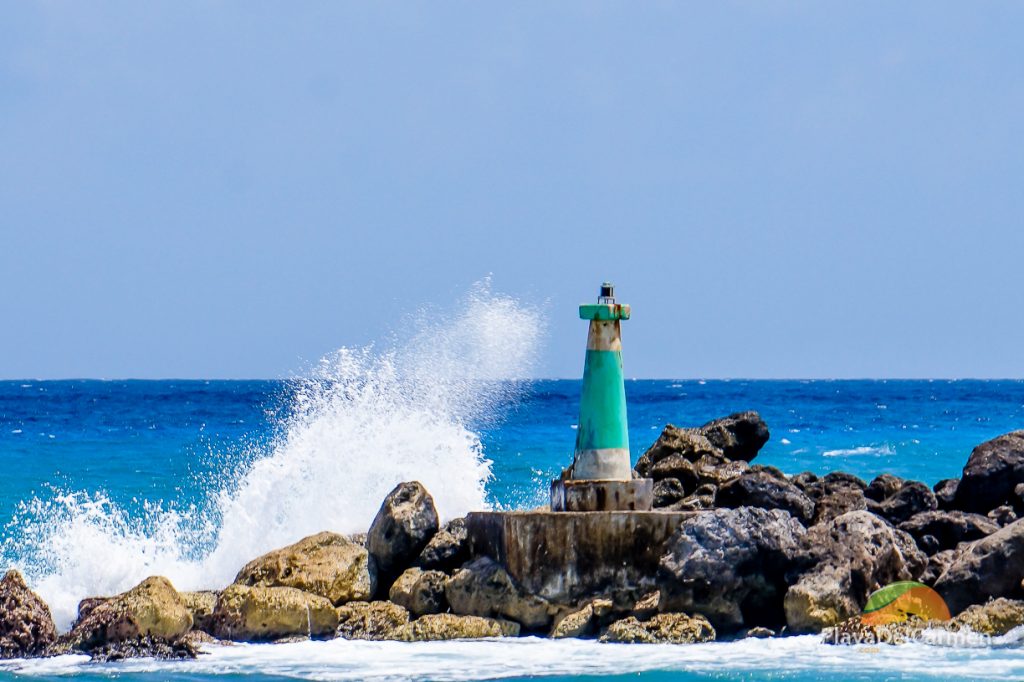 This time, however, the strong winds and high waves prohibited us from heading out to high sea. Instead, we sailed through the channels until reaching a picture-perfect spot where the green turquoise waters fusion with the azure hues of the Caribbean Sea.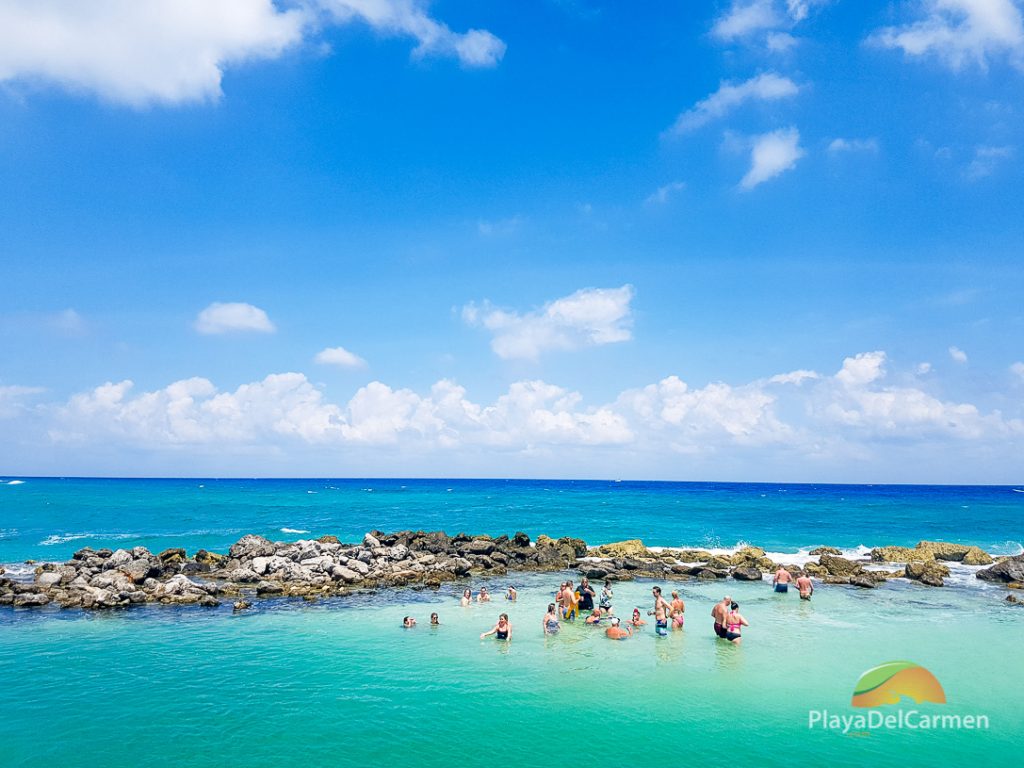 Indeed, it's places like this where even hardened Mexican Caribbean veterans like ourselves realize just how true it is that this is paradise on Earth.
With the drinks a flowin', the music a pumpin' and the tipsy guests who lived out their frustrations of not being professional singers to the detriment of both the microphone as well as the other guests, we anchored up and took in the scenery. More smiles. More laughter. And why not? Another round for the crew of PlayaDelCarmen.com!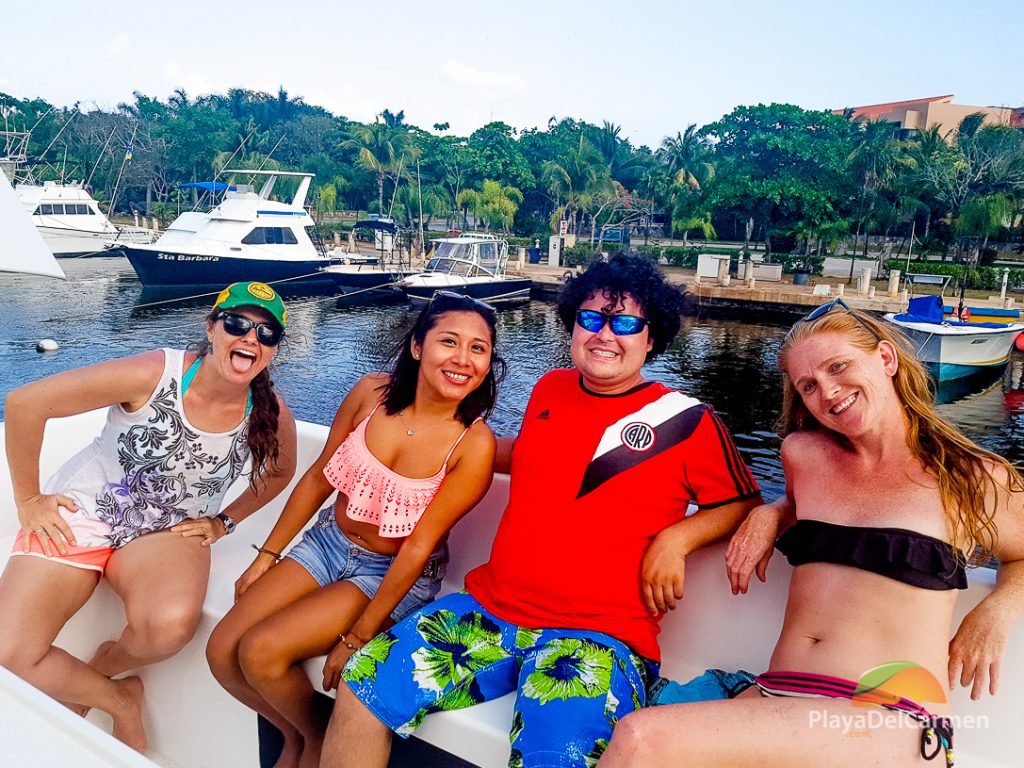 Meanwhile, the mates of the friendly and helpful crew made sure everyone was taken care of with not only drinks but some tasty snacks of chips, salsa, and a mean bean sauce.
Relaxing under the glare of an April sun, it was time to take a dip in the refreshing waters. In fact, just a few feet from where the yacht anchored is an area of shallow water on the lagoon side of the rocks that separate the channels from the Caribbean Sea. Heaven.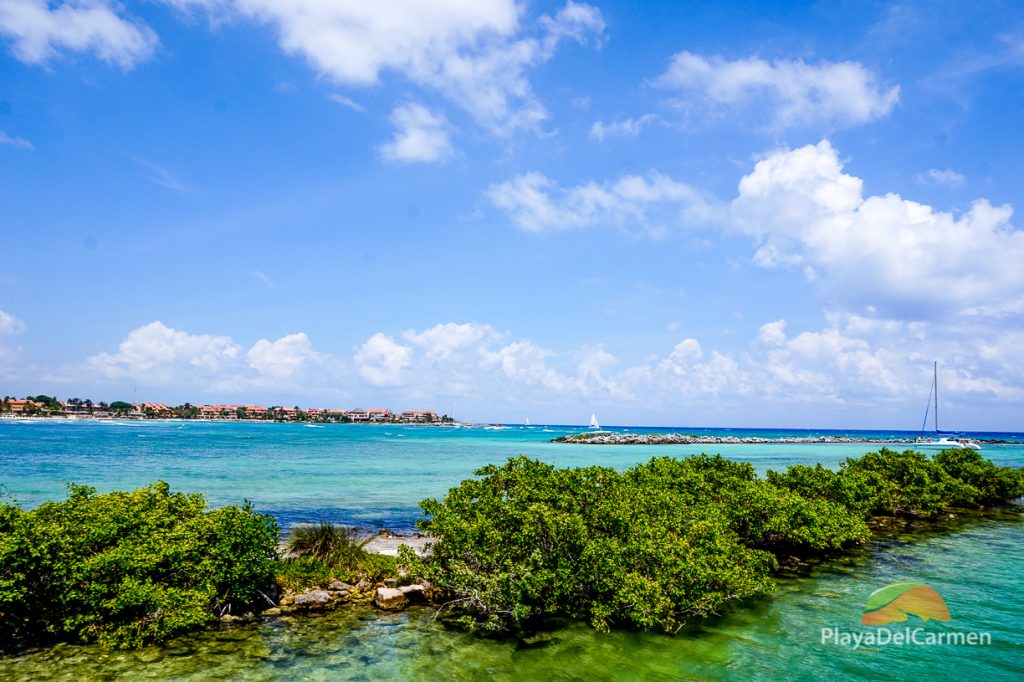 After a brief swim and some highly relaxing wading in the water, it was back to the boat for some more food, drinks, and of course even more tipsy people creating a musical massacre; no good note was left standing.
Time flies when you're having fun and this time was no different. Before we knew it, the crew arrived to serve up some surprisingly good food. Guacamole, rice, beans of course, and some deliciously spiced chicken were served up with another round of drinks.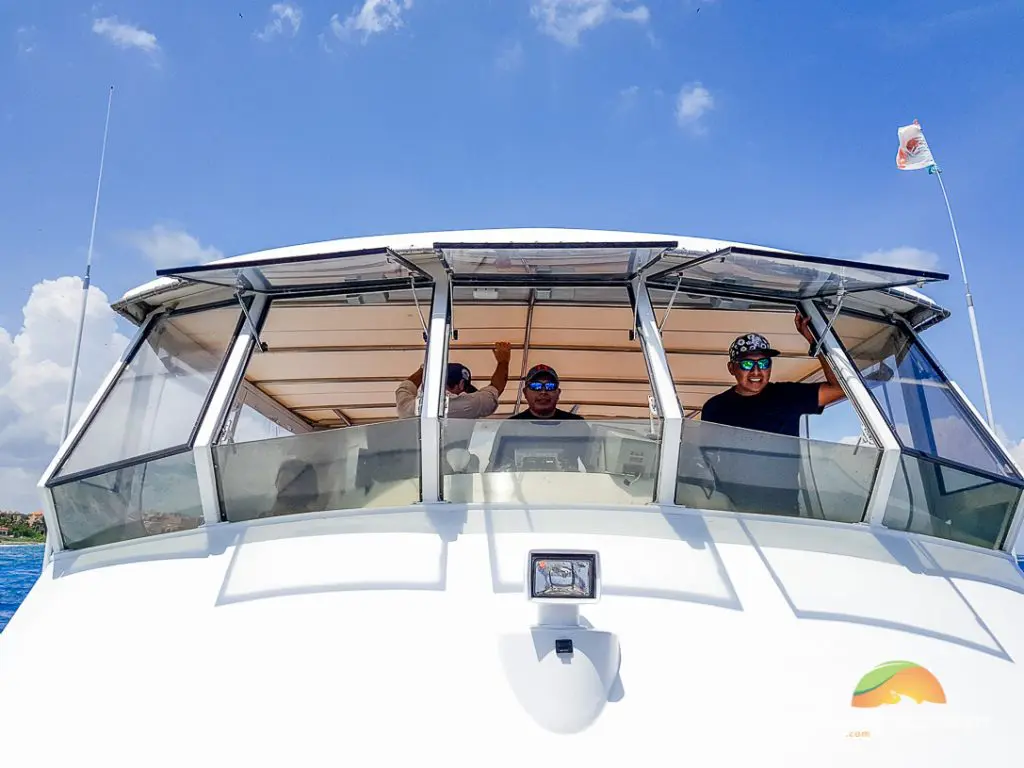 By this time, we had lost count of how much we had drunk, but then again we were out of hours.
Having filled our bellies with some culinary goodness, the yacht slowly made its way back down the channels to the harbor from which we departed.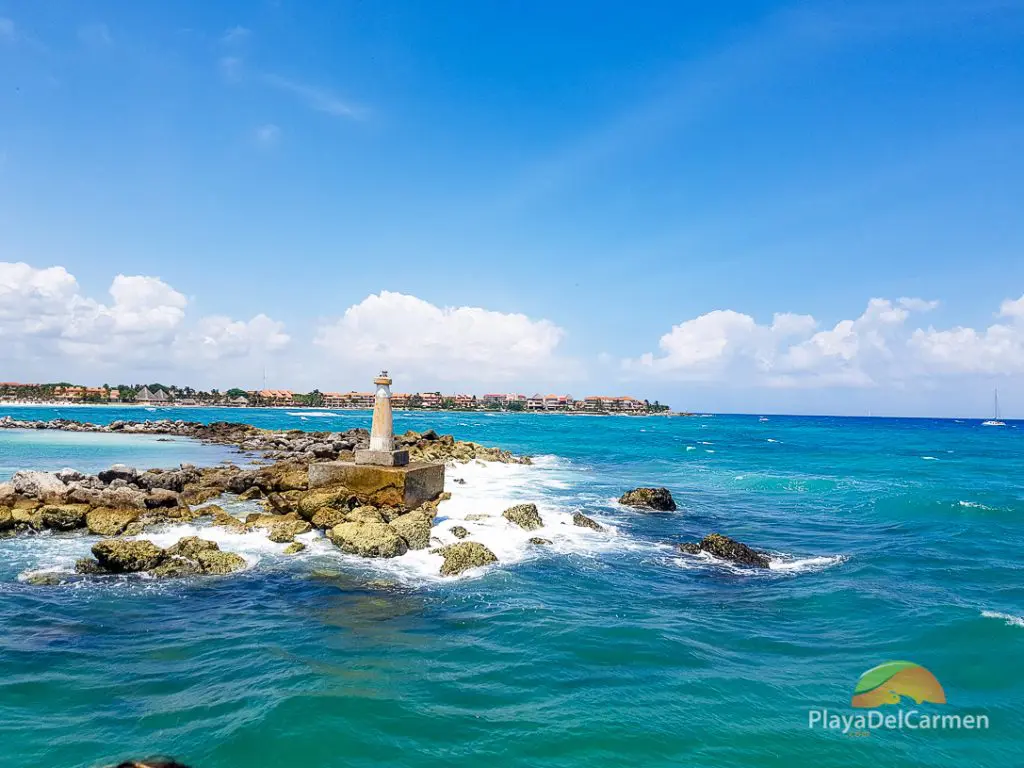 All in all, it was a wonderful experience and one that we wholeheartedly recommend. And that means something to us.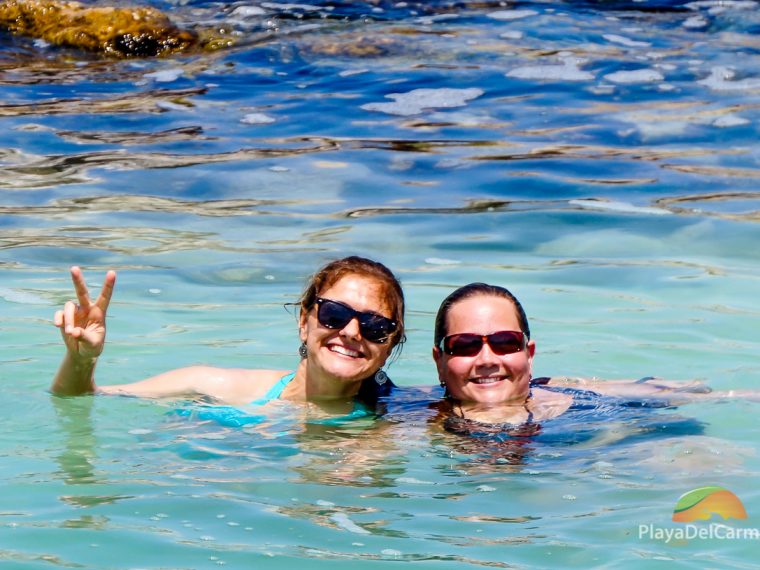 At PlayaDelCarmen.com we pride ourselves on always offering the highest level of customer service as possible. We expect no less from all of our providers. This yacht charter fulfills those high standards, and we're happy to have them as our partners.
Book your Playa del Carmen yacht charter on your next trip to paradise. It truly is the perfect activity for groups on vacation. Check out our group vacation packages.
---
Trending Now
You may also like