Our Coba Mayan Encounter Tour Review (2023) | Riviera Maya
---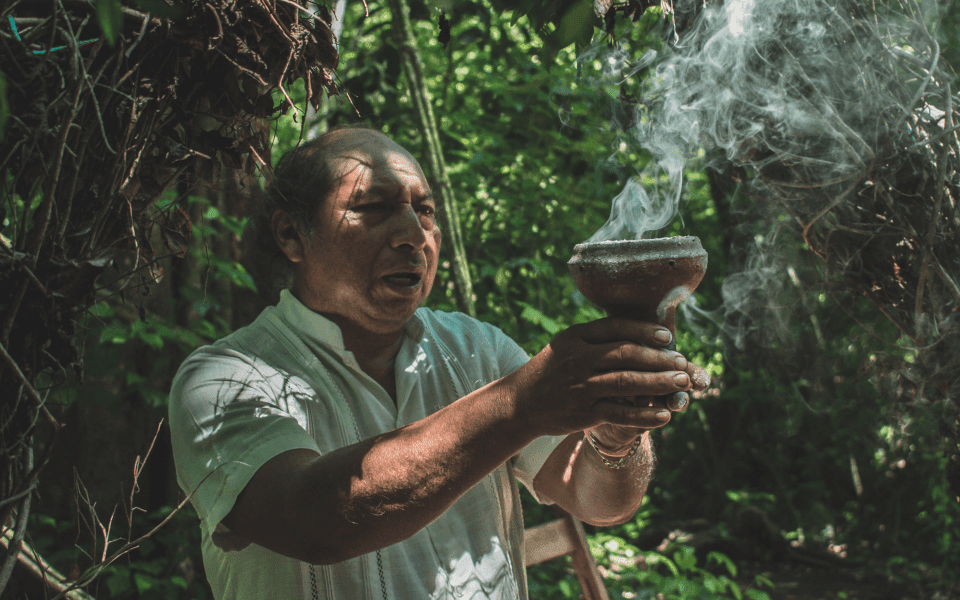 Here at PlayaDelCarmen.Com, we make it our business to try and test all of the tours available in Cancun and the Riviera Maya.
Why?
Aside from it being a whole lotta fun ;)…?
With SO many providers offering the 'same tour' quality of experience can differ GREATLY…
You want to get the most bang for your buck, know what to bring with you, and how to get the most from your day, right?
I thought so.
Our Coba Mayan Encounter Review Includes:
---
At PlayaDelCarmen.com we ONLY sell the creme de la creme.
We're a bunch of locals and ex-pats that consider ourselves connoisseurs of all things hotels and tours!
The mission?
To help you create memories that last a lifetime!
Ultimately, we want you to have the best vacation EVER…
We can only do that by trying things out for ourselves, offering you honest advice, and bringing you the best discounts and perks there are out there!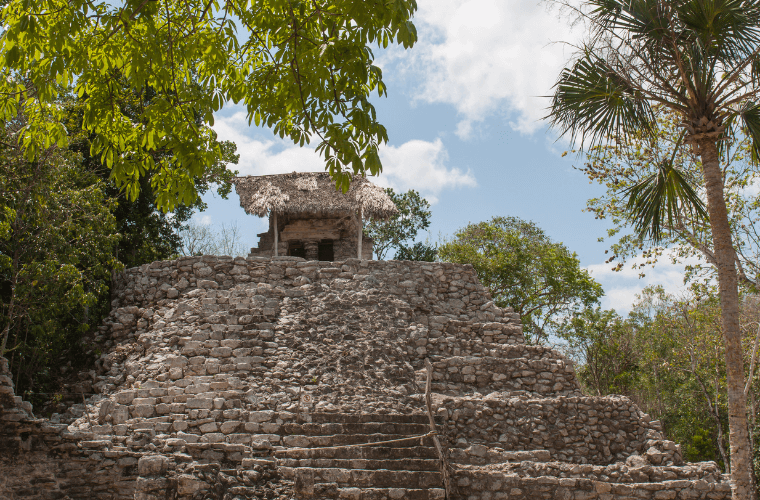 1. Value for Money?
So, let's talk Mula! How much is this tour going to cost you?
Adults = $139  with 10% PlayaDelCarmen.Com discount = $125
Children (6-12) = $109 10% PlayaDelCarmen.Com discount = $99
This is a full day (8-10 hrs) guided tour that includes:
 Professional Guide
 Roundtrip transportation
 Light snacks
 Bathroom & services
 Equipment provided
 Soft drinks
Zipline through the jungle
Visit a cenote
Delicious Mayan lunch
There's a lot to see and do on this day tour.
With that in mind, after doing the tour I'd say the overall experience and the discount makes it great value for money!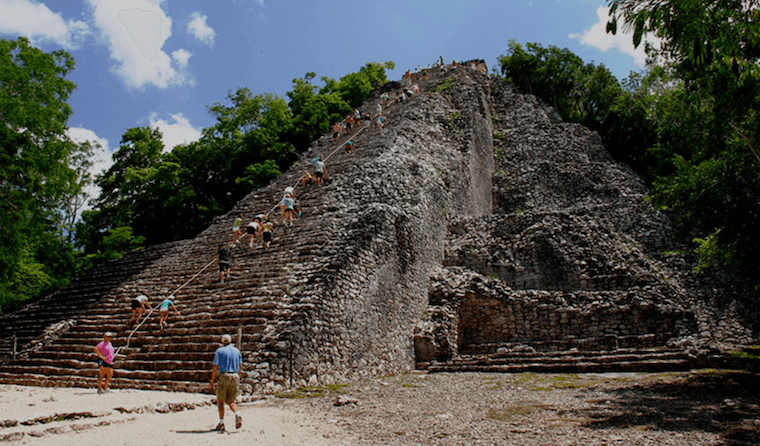 You're sure to be enchanted by Mexico's fascinating culture and history.
Step back into the past and enter the heart of the Maya culture at Mayan Encounter in Coba.
Trust me, history mavens will never want to leave!
2. Itinerary
For this archeological adventure your itinerary will look a little something like this:
 6.30 – 8.00 am – Pick up at the hotels in Cancun and the Riviera Maya
9.00 – 10.00 am – Arrival at Coba or the Mayan Village (according to logistics)
12.20 pm – Arrive at Cenote Maya
Maya Encounter (approx duration is 3.30 hrs) – Have the opportunity to see how the Maya people live today and experience extraordinary adventure activities in the jungle.
Coba (approx duration is 2.00 hrs) – Archeological zone
16.30 – 17.30 pm – Drop off at hotels.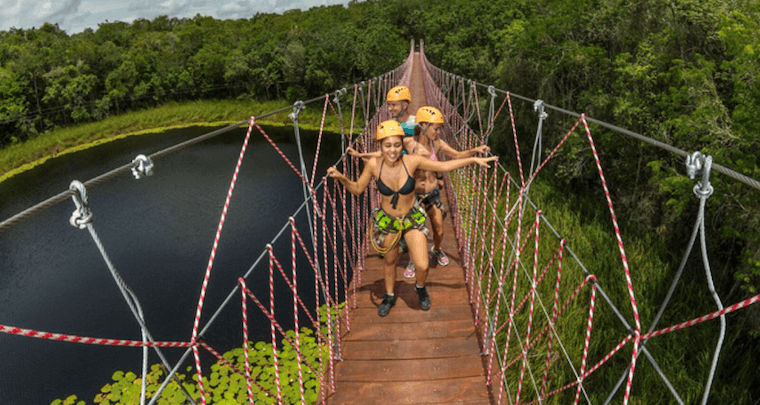 Of course, timings are often subject to change.
Our tour provider does an impeccable job of ensuring things run as seamlessly as possible.
This isn't their first rodeo, they know how things work at Coba!
I think it's always nice to know before setting off on a tour how the day is set to pan out.
Although this was a full 8-hour tour, there was no waiting around, or wondering what we were going to do next. I loved that!
It was a day PACKED with adventure and excitement at every turn.
Before we knew it, it was over. 🙁
So, my advice to you would be to enjoy every second of it, ask questions, get involved and dive right in.
3. Pick up
Pick up from Playa del Carmen was around 7.00 pm for us.
That's when the adventure really began!
The drive to Coba takes around 1.5 hours. 
Ask anyone on the team…I'm really not a morning person, it usually takes me an hour or so to feel human.  However, upon meeting Euri (our guide) I was pumped!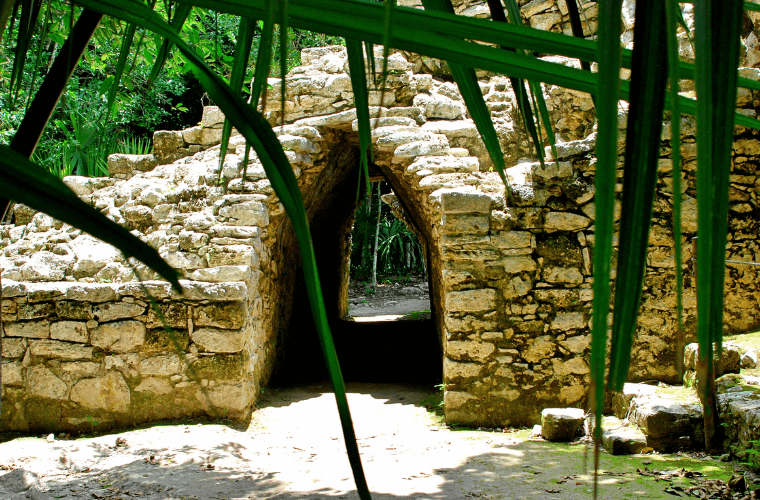 She was so spritely and brimming with enthusiasm.
Euri knew her stuff. She was super knowledgeable, friendly, and clearly, very good at what she does.
It was actually really nice to see a women tour guide as it's most of the time (in my experience) it's usually men.
The drive was a comfortable one, we had air conditioning,  the bus wasn't cramped, and Euri provided light snacks and soft drinks.
4. The Coba Ruins
The way our schedule was organized we actually arrived at the Coba Ruins first.
Sometimes they do the ruins at the end of the tour instead to split up the groups.
I noticed 4 tour vans at Coba, so I imagine there were 3 other groups either starting at the village or somewhere else to make things more efficient and personal.
Euri took us on a short guided tour of the first part of the temples.
This is when she shared the site's fascinating history…
I won't spoil it all for you but at its peak, Coba was thought to have had up to 50,000 inhabitants and the total area extending to 80 km² contains several temples.
The site is quite large and spread out, if you wish to explore with a bicycle, they have bikes and bicycle taxis available for rent.
You can either walk or bike over to the largest temple of them all…
Nohock Muul
At 42 meters (138 feet) in height, tourists are still permitted to climb the 120 steps to the top.
For me, this was the highlight of the tour.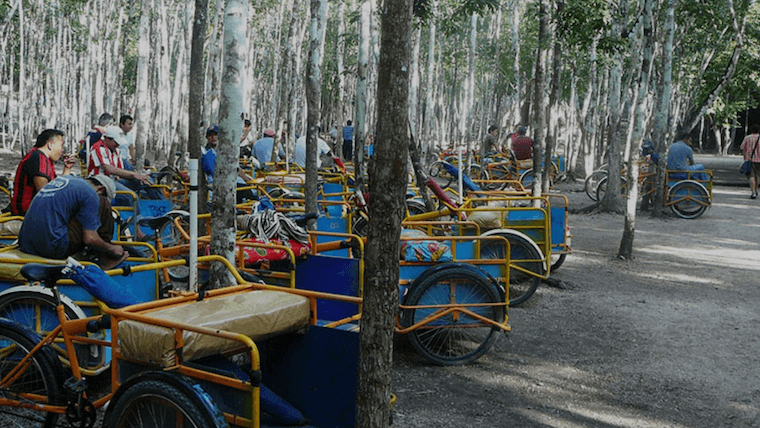 If I remember correctly I think this is the only ruin in Mexico you can still climb, so if you are fit and healthy, I would say HELL YEAH, DO IT!
The views really are stunning when you get to the top.
However, it can be a little tricky with the heat, and crumbling terrain so mind your step and only do it if you are a confident and healthy walker.
If you don't fancy the climb you can sit in the shade and admire the hikers and views from afar.
I worked up a sweat reaching the top of the temple but just take a look at this…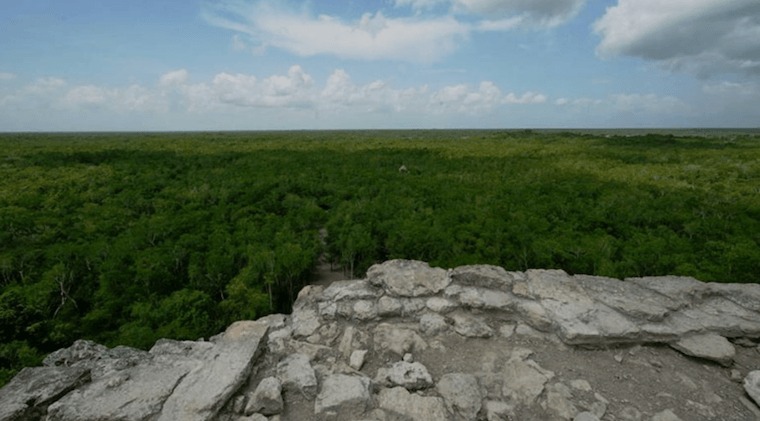 This picture really doesn't do it much justice.
You have to be there.
I say this all the time, but too often the lush jungles of Mexico get overlooked.
People become so mesmerized by the turquoise beaches that they forget about the wondrous seas of green that house endless historical and enchanting treasures!
The Mexican Jungle is unlike any other.
Breathtaking! 
After carefully making our way back down we were more than ready for a quick drink at a little bar next to the car park.
If you remember anything from this blog it should be "Una cerveza por favor".
You can thank me in the comments after the tour.
5. Mayan People Experience
The thrills didn't end there, oh no!
After the ruins, we headed into the heart of the jungle to a secluded Mayan village. 
Here we enjoyed well preserved natural beauties, lagoons, cenotes (sinkholes), jungle paths, and a natural reserve that protects the local flora and fauna.
This homely community is called 'Pac Chen', and it's an experience I will remember forever.
A real eye-opener for sure.
You will get to see a side of Mexico that most tourists never have the opportunity to witness.
What I loved most about this tour is that the tour provider has been working with the local people in this area for 20 years!
Instead of recklessly buying their land off them and making millions off it, they rent it from the local people… as a sort of investment in the community. 🙂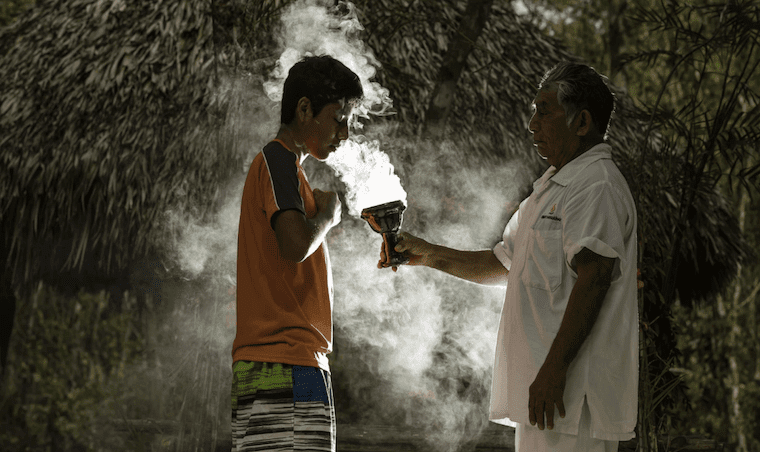 They trained the locals here to work on and in the cenote, zip lines, and kayaks.
Even the staff who take the photos or work in the kitchen preparing the yummy buffet meal have been trained too.
You will find that the locals are very friendly and it's clear that they are very grateful and love what they do.
It's a great chance to learn more about local culture and the Mayan way of life as it is today.
6. Ziplines
What's more thrilling than rushing through the jungle on a zipline?
I'll await your answer in the comments section…;)
I'm a real lover of ziplines, I've done them all over the world and it never gets old.
On the Coba Mayan Encounter Tour,  zip lines are the perfect way to soak up the beauty and nature of the jungle as it looks from above. \
So, put on your brave pants, take a deep breath, and just DO IT!
It's not as scary as you think, and a real thrill when you're done.
You will feel a great sense of achievement. My guess is that you will want to do it all over again.
Safety is excellent at this site,  they explain clearly how to use the equipment… and the area is clean and well maintained.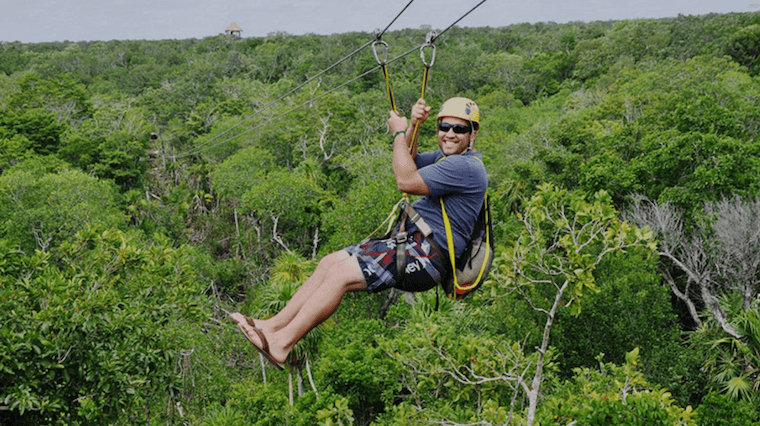 They have local products for sale at the end of the tour but it's not a pushy hard sell, which I like.
What you will find at the bigger and more well-known tours is that they try really hard to get you to buy extras such as souvenirs and photos.
Well, not on the Coba Mayan Encounter tour, the option is there if you want but you don't have to take it.
7. Cenote & Rappel
Okay, if you don't know, then get to know!
Cenotes have GOT to be one of the most stunning natural wonders in the world!
Don't know what a cenote is? Read this.
Crystal clear waters, FRESH water, and no salt.
Don't get me wrong I love the beach but sand and salt do get on my nerves from time to time.
Cenote water feels holistic to the skin so I jump at the opportunity to visit or dive into new ones.
The cenote on the Coba Mayan Encounter tour does not disappoint.
Because it is on rented land of a private Mayan community it is very well looked after and maintained.
The best part?
You get to rappel straight into it.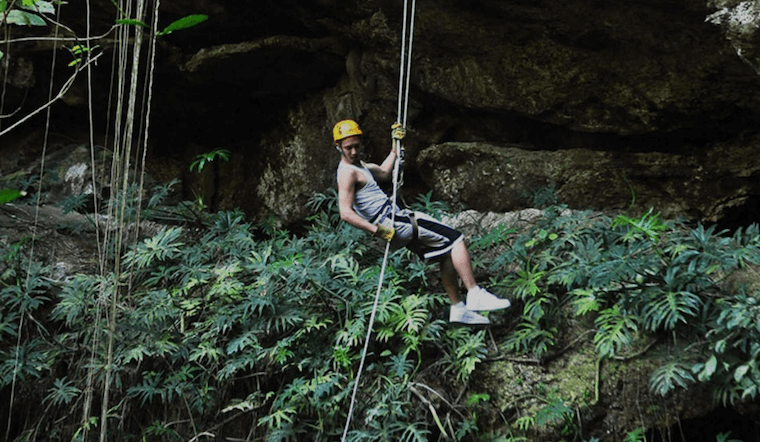 Yes, I felt a little like Lara Croft, I'm not going to lie.
Like seriously…I'm an action-adventure goddess now and none of you can tell me any different.
This part of the tour was truly epic!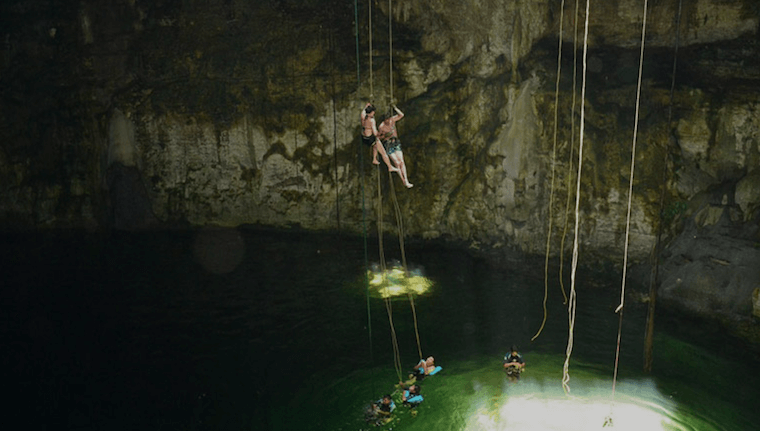 Rappeling down thrilling cenotes, swimming in hidden caves, and walking through the jungle learning about the environment. What's not to love?
I was in my element.
8. Mayan Shaman Experience
Just when I thought I was all 'wowed' out and the tour couldn't get any more interesting…
A Mayan shaman performed a blessing ceremony to replenish our energy before our delicious Mayan Lunch!
I'm a sucker for stuff like this, it gave me goosebumps – a magical experience.
I was SO ready for the shaman to replenish every fiber of my being, and he did just that.
I don't know if he had anything to do with it but the food tasted better than ever.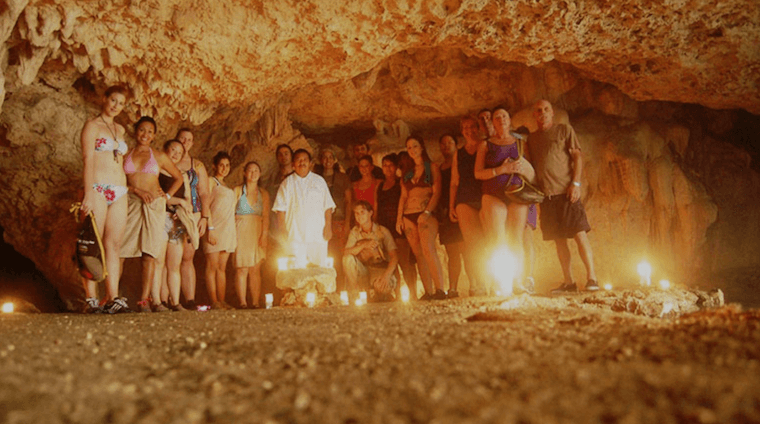 It was just what we needed after swimming and exploring the wonders of the jungle all day.
9.Lunch
To complete the experience the meal was, of course, typical local Mayan food.
It's no secret that Mexico, as a country, is brimming with flavor.
The gastronomical techniques here are unrivaled.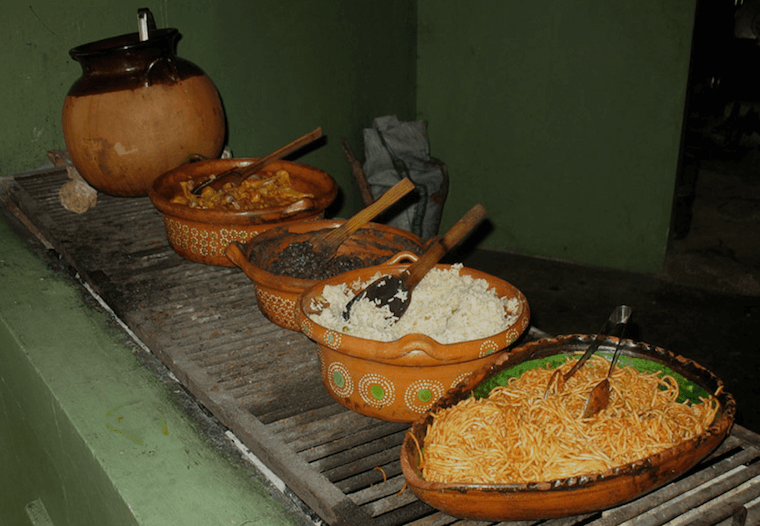 Mayan people are responsible for creating many of Mexico's signature dishes.
Their culinary wisdom has been passed down from generation to generation.
So sit back, relax, enjoy your final hour on this tour and savor the flavors.
Soft drinks and handmade tortillas are also provided.
10. Things You Need to Know
There we have it – our review of the Coba Mayan Encounter Tour!
Before you go, if you're thinking of booking there are a few things you should know.
1. You may want to bring extra cash for:
Souvenirs
Tips for your guide
Bicycle rental at Coba
2. This tour runs 7 days per week and small groups of 12 to guarantee personalized service.
3. Pick up is between 6:30 am – 7:30 am and you will return to your hotel around 5 pm – 6 pm.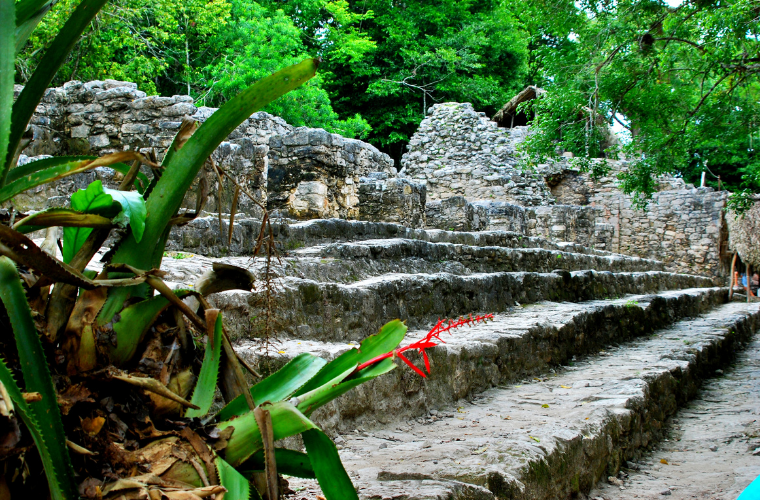 4. Here is a list of things to bring to ger the most from your day:
comfortable walking shoes (no flip-flops)
a water bottle
hat
sunglasses
biodegradable sunscreen
and bug spray.
5. You may want to wear your swimsuit under your clothes and bring a towel if you decide to take a dip in the cenote.
6. This tour is not recommended if you have heart/ lung/back problems or if you are pregnant. There are restrictions for safety reasons.
7.  Zipline use requires a minimum weight of 40kg (88lbs) and a maximum weight of 115kgs (254lbs).
Book the Coba Mayan Encounter Tour Now & Save 10%!
If heading off the beaten track is more your thing and you would like to experience the REAL Mexico, then there's no doubt, you HAVE to book this tour.
If you have any questions please leave them in the comments section below and I will get back to you ASAP.
Or get in touch, on  888-537-9797 and we can book this tour for you right now.
Discover the best of Mexico with PlayaDelCarmen.Com!
Mayan Coba Encounter Tour
Tours Guides

Ruins

Transport

Ziplines

Cenote

Rapelling

Mayan Community Experience

Food
Summary
A tour that offers a personal and intimate experience. The perfect blend of archeological wonders and action-packed adventure (ziplines & rappelling), coupled with a fascinating insight into the traditional Mayan way of life. Absolutely extraordinary and great value for money.
---
Trending Now