Mayakoba Masters of Food, Wine & Golf Kicks Off in the Riviera Maya
---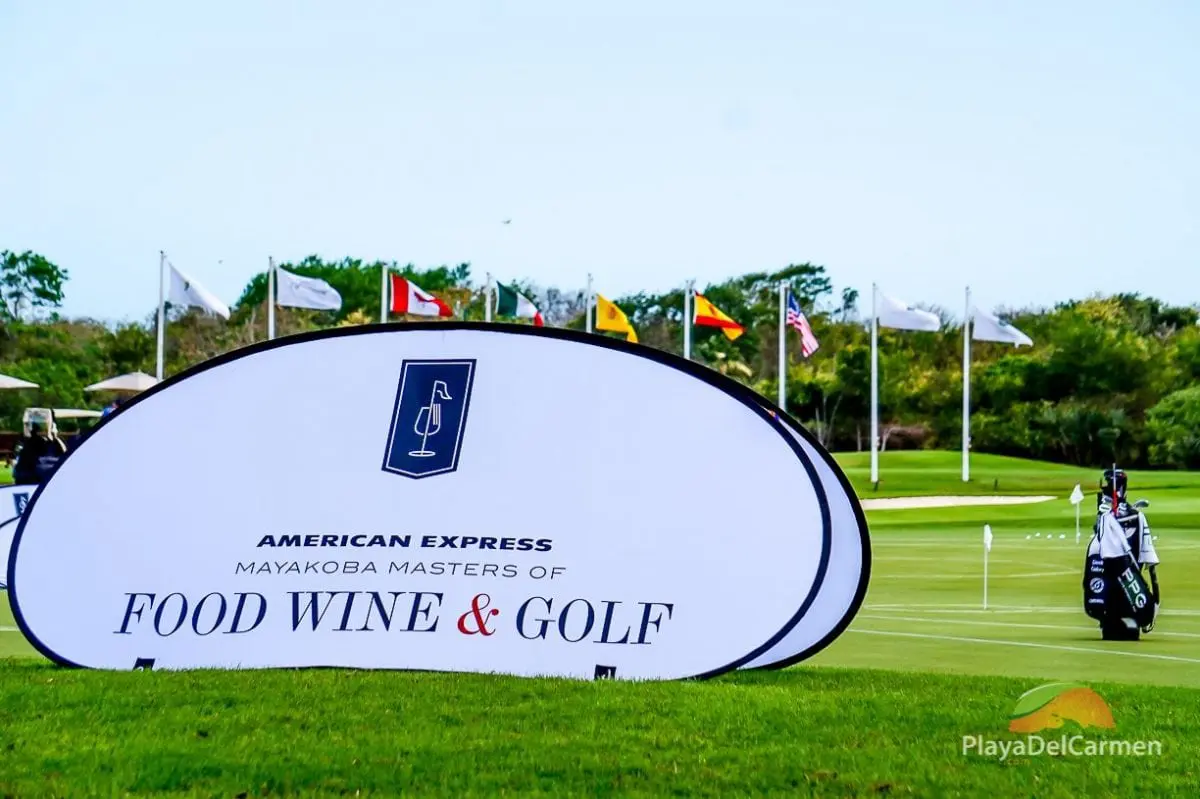 To be held from June 2-5, the Mayakoba Masters of Food, Wine & Golf kicked off yesterday in the eco-friendly resort development of Mayakoba. The event, which has already sold out, includes culinary creations by some of the top international chefs, wine and tequila tastings, a golf clinic by master Jim Mclean, and rounds of golf on the championship Mayakoba golf course.
Mayakoba is the epitome of refined luxury in the Riviera Maya, and the brains behind the 5-star beauty just keep raising the bar. Home to a spectacular 18-hole golf course as well as four luxurious hotels—Fairmont Mayakoba, Rosewood Mayakoba, Banyan Tree Mayakoba and Andaz Mayakoba (opening Fall 2016)—the latest addition to the impressive Mayakoba portfolio of properties and events now includes the 1st annual Mayakoba Masters of Food, Wine & Golf.
Master golf instructor Jim Mclean kicked off the event with a special clinic on the El Camaleon golf course. Designed by Greg Norman, El Camaleon is home to the only PGA TOUR event in Mexico: The OHL Classic at Mayakoba.
The culinary aspect of the Mayakoba Masters of Food, Wine & Golf got cooking in the evening at Rosewood Mayakoba's outdoor palapa with culinary treats and spirit pairings from an amazing array of guest chefs, winemakers, sommeliers, tequila masters and artisanal brewers.
The best, however, is yet to come.
Over the following three days, the lucky participants of the Mayakoba Masters of Food, Wine & Golf festival will be treated to a series of exclusive events including celebrity chef cooking demonstrations, wine and spirit tastings, and after-hour parties held throughout the resort's three luxury hotels, and special dining events by world-renown chefs.
Highlights of The Mayakoba Masters of Food, Wine & Golf experience includes the Mayakoba Cup golf tournament, a signature Mexican dinner with world-renowned Chef Richard Sandoval, dinner with Chef Paola Carosella & Monte Xanic Winery, a Mayakoba Masters Supper Party by Veuve Clicquot, and a closing dinner party where guests can meet and interact with the weekend's celebrity chefs under the stars at Banyan Tree Mayakoba's Sands Beach Club.
Approximately 20 chefs from around the world will be pampering guests with their amazing culinary delights.
Among the illustrious line-up of top chefs are Richard Sandoval (40 restaurants worldwide; three at Fairmont Mayakoba), Abraham Salum (Komali Restaurant, Dallas); Fernando Trocca (Sucre, Buenos Aires); Andrew Ormsby (The Tower at Cityplace, Dallas); Felipe Donnelly (Comodo, New York City); Diane DiMeo (barRachos, New York City); Antonio De Livier (Mexico City); Paola Carosella (Arturito, São Paulo); Maru Botana (Argentina); Montse Estruch (Le Cingle, Barcelona); Flavio Federico (Sao Paulo, Brazil); Renzo Garibaldi (Peru); and Eva Millan (Spain).
Sad you missed out on this luxurious festival in the heart of the Riviera Maya! Don't be!
If you're in Playa del Carmen you can go onto the Mayakoba Masters of Food, Wine & Golf website to reserve your space at one of the dinners.
And if you're not among the fortunate to be in the Mexican Caribbean right now, fret not!
Dates for the second edition have already been set for 2nd edition of the  Mayakoba Masters of Food, Wine & Golf from April 20-23, 2017.
For more detailed information about the Mayakoba Masters of Food, Wine & Golf, check out their website here.
---
Trending Now
You may also like