American Express Mayakoba Masters of Food, Wine & Golf (2020)
---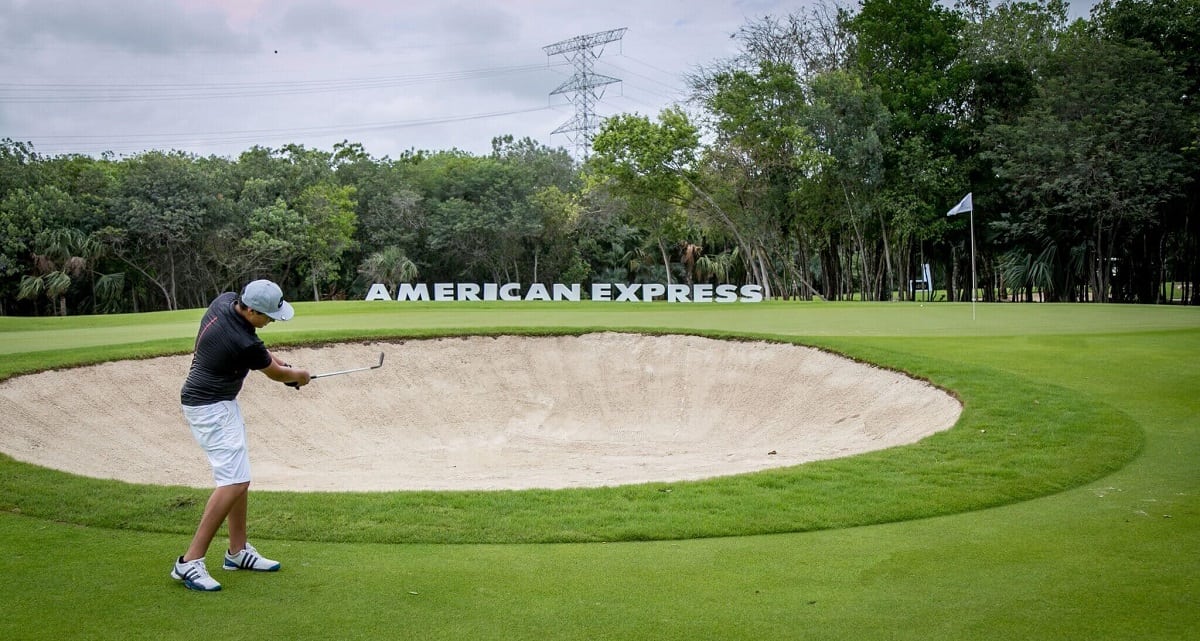 This updated article was written by golf blogger Jordan Fuller from Golf Influence (May 2019). 
In what Nobleman Magazine has called an "absolutely sensational experience," superstars from the golf and culinary world came together for the American Express Mayakoba Masters of Food, Wine & Golf.
Combining the first-class cuisine, golfing and accommodations, guests were treated to a once-in-a-lifetime event that was hosted by some of the most luxurious hotels in Mayakoba.
American Express Mayakoba Masters of Food, Wine & Golf Review
The four-day event began with the start of a two-day golf tournament hosted by Hall of Fame golfer Lorena Ochoa.
Played at the Greg Norman-designed El Camaleón, which hosted the first ever PGA Tour event in Mexico, the tournament began with a clinic by Ochoa and a dinner at the golf club's premier restaurant, Koba.
Norman's course is a stunner featuring ocean-front holes with incredible views throughout the layout.
The tournament, known as the Mayakoba Cup, was a two-day, 36-hole stroke play event. Over 120 golfers played in three different divisions: Ladies, Men, and Mixed two-ball teams. The sun was shining incredibly, and those with high UV golf sunglasses definitely felt at ease.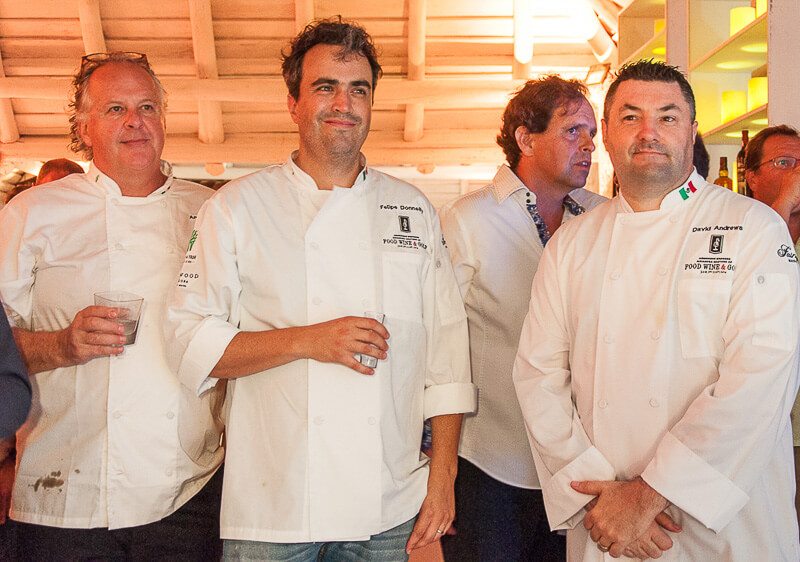 A Foodies Haven
Renowned chefs from all over the world converged on Mayakoba to create unique cuisine that delighted guests.
Chefs from America included Abraham Salum and Diane Dimeo. Also from the United States was star of PBS' award-winning show, A Chef Life, Vivian Howard, made her way to the Mayakoba Masters event.
From the host country, Mexico, native chefs included Alfredo Villanueva, Richard Sandoval, Dante Ferrero, Ernesto Aguilera Rodas, Antonio de Livier, and Lula Martin del Campo.
The rest of the world famous chefs that attended the event included Bruno Oteiza from Spain, Andrew Ormsby from Australia, Argentina's Fernando Trocca and Guido Tassi, Uruguay's Gaston Yellich, and Italy's Mirko Cappa.
Over the four days, local chefs assisted the visiting chefs in creating menus that paid tribute to local Mexican cuisine with the flair of the chef's native regions and countries. For guests and chefs alike, the four-day event was an opportunity to share ideas and playfully compete in several unofficial cooking contests.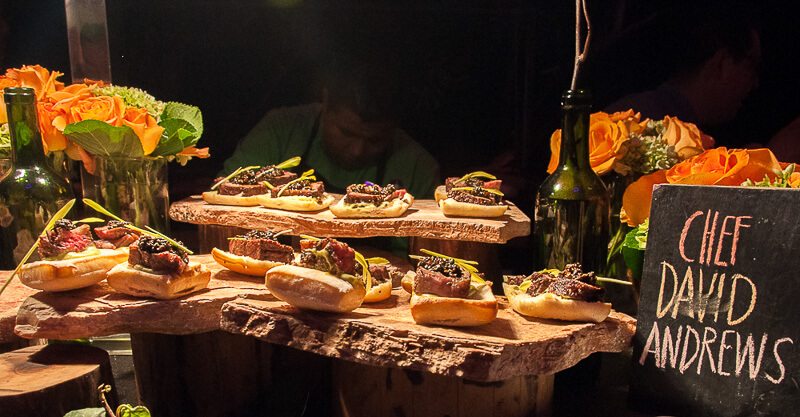 On the eve of the golf tournament, chefs got together at the El Pueblito Mayakoba for a good old-fashioned taco making contest called "A World of Tacos." With a little help from one of the event's main sponsors, Tequila Patrón, guests were treated to original cocktails and savory tacos.
The following day, guests had several options. From playing golf (and taking their golf cart to the course), learning cooking secrets from the chefs at cooking classes, a day at the spa or a tequila tasting put together by Patron Tequila, the event had so many activities that no guest would feel that their day was wasted.
On Saturday, the golf tournament concluded with awards given out to the winners during a barbecue crafted by several of the visiting chefs. For those guests not playing, they could witness first-hand, how talented these culinary artists are in the kitchen and around the grill.
For dinner that evening, guests could go to restaurants at any one of the four hotels hosting the event. Waiting for them were meals that pushed the limits with bright flavors and savory sauces.
Exclusive Parties and Accommodations
American Express served as the Mayakoba Masters of Food, Wine & Golf's main sponsor. By being a card member, guests were treated to exclusive parties and specially crafted accommodations.
After the large Saturday dinner, the event concluded with an exclusive party that took place at the MK Blue located at the Banyan Tree Mayakoba. Themed "Heaven and Hell on the Beach," four chefs created a menu highlighted by cocktails served by Tequila Patrón and Mexican wines from Casa Madero.
Guests then moved onto the beach for some dancing fueled by a local DJ and more delicious cocktails. The party was a truly decadent way to end a spectacular event.
The four-day event was a complete success offering guests the chance to play golf on a world-class course and savor in the cuisine by some of the best chefs working in restaurants today.
Join us! Mayakoba Masters of Food Wine & Golf Packages
Are you interested in attending the event next year?
Get the best deal when you book with PlayaDelCarmen.Com!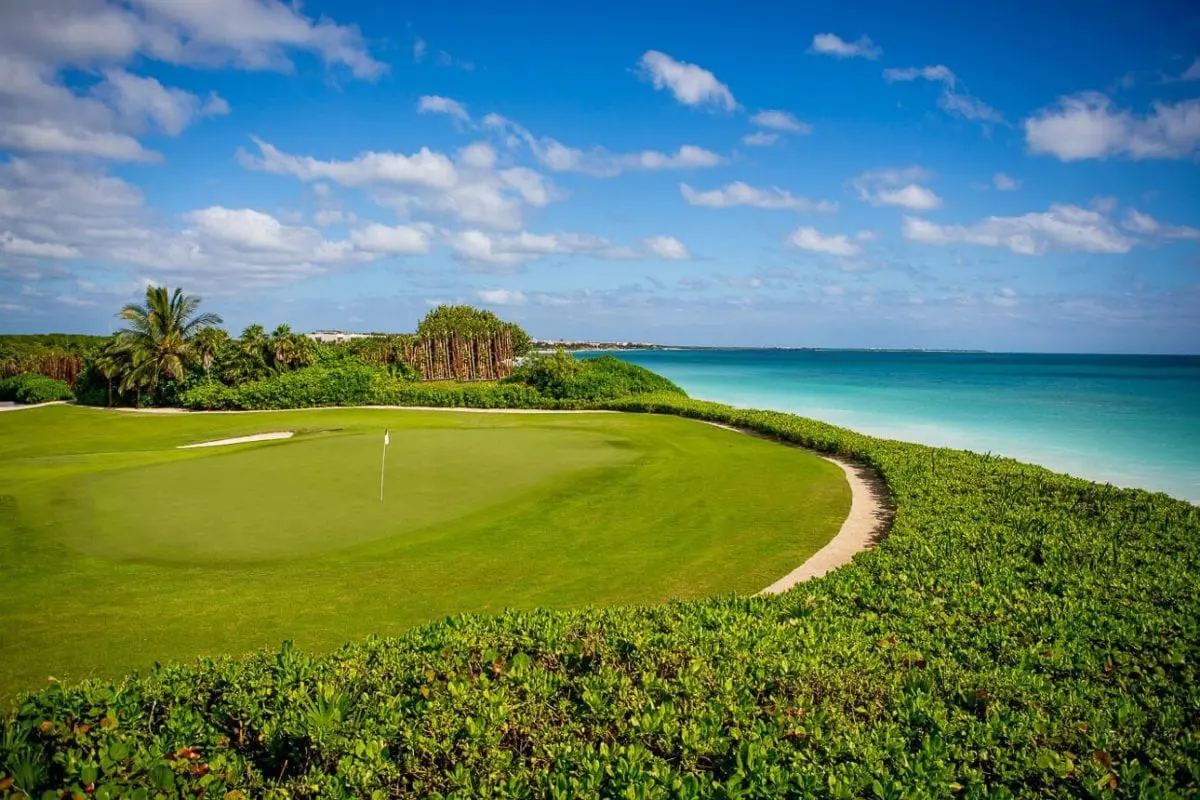 Packages are subject to change year on year but just to give you an idea:
Here's what a typical package at Mayakoba includes:
3 nights accommodation in the hotel of your choice in Mayakoba
Airport Transfers
Daily Breakfast
Golf Clinic by Lorena Ochoa
Participation in The Mayakoba Golf Cup over 2 days
For non-golfers two 60 minute massages in the hotel where you are staying
All Food & Beverages at the Masters of Food & Wine events
Wine tastings & Cooking classes
Sunday Farewell Brunch
PRICES*
FAIRMONT USD 1299*
ROSEWOOD USD 1699* 
ANDAZ from USD 1490*
*subject to change + 19% taxes +15% service charge, per person. 
Interested in participating in the Mayakoba Masters of Food Wine & Golf?
Our travel specialists are like awesome caddies who will help you with anything you need.
Contact them today toll-free at 888-537-9797!
Or alternatively, email us at customercare@playadelcarmen.com
---
Trending Now
You may also like