Top 10 Resorts for Your Honeymoon in Playa del Carmen
---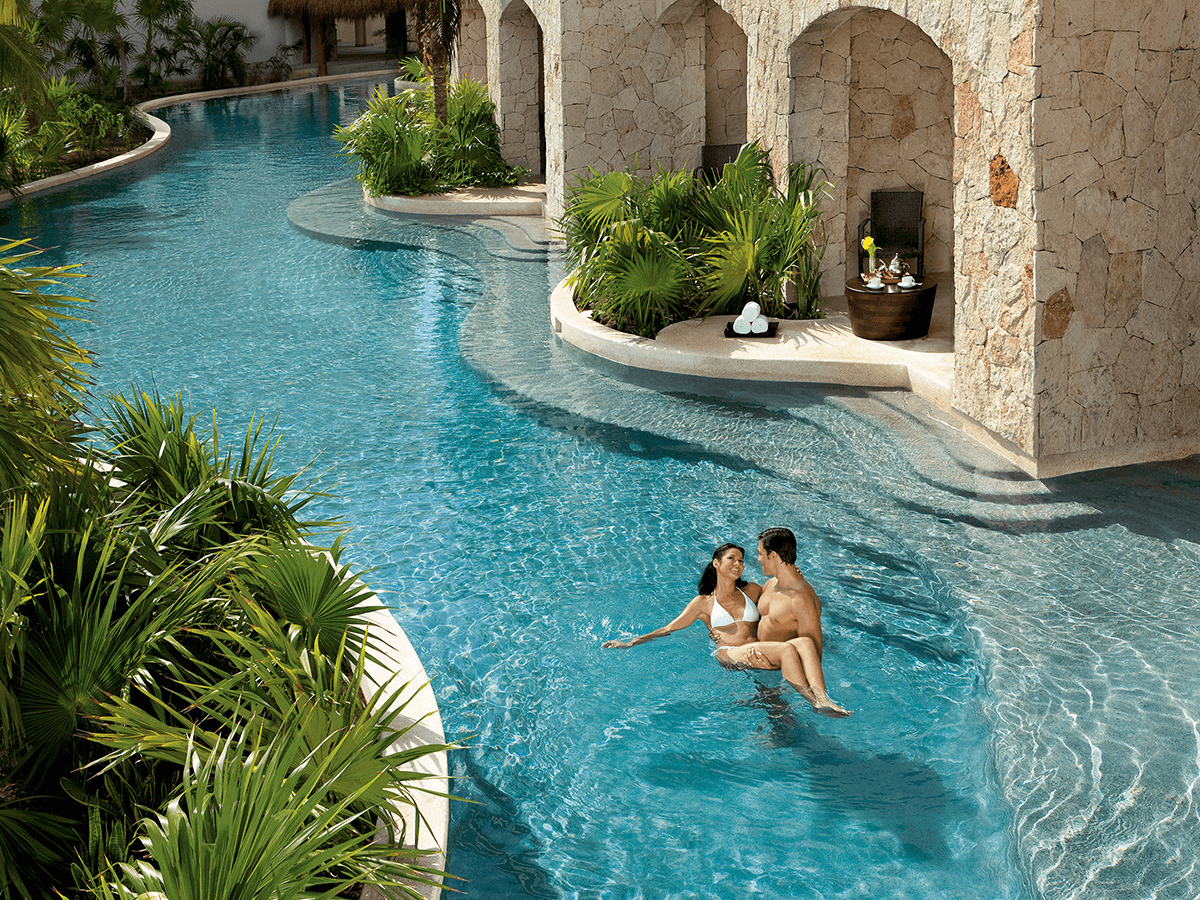 Honeymooning in Mexico is every newlywed's dream!
Pristine white beach, stunning resorts, and impeccable service. What more could you possibly ask for?
It's a romantic paradise.
The Riviera Maya and Playa del Carmen offer up just the right blend of seclusion, exotic vibes, and the option to explore if you want to get the very best from your trip.
With so many things to do in this part of paradise, there is something to suit every couple.
Best of all, it's affordable. So, what are you waiting for? Celebrate your love and get your marriage off to a great start by choosing your honeymoon hotel today!
1. Secrets Capri Riviera Cancun
★★★★★| All-Inclusive | Adults-Only
The Secrets Capri Riviera Cancun offers up unlimited luxury!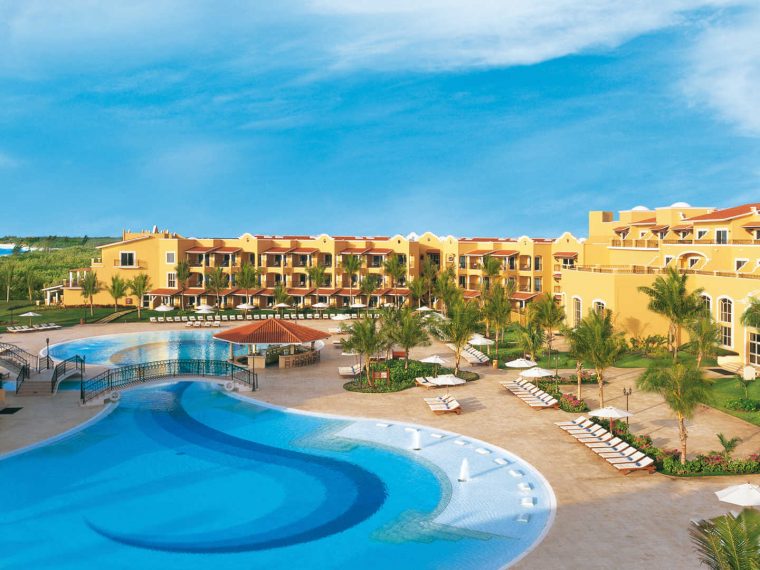 With a 24-hour concierge to take care of your every need, service feels sincere and personalized.
The property has 291 adults only, all-inclusive rooms, making this hotel is perfect for an intimate and romantic getaway.
Nestled away amongst 71 acres of tropical gardens, and bordered by the white sandy beach and turquoise waters, the resort feels exotic and in a world of its own.
Conveniently located only 15 minutes from Playa del Carmen, this hotel allows you to get out and explore everything the Riviera Maya has to offer.
2. Secrets Maroma
★★★★★| All-Inclusive | Adults-Only
At the Secrets Maroma you'll be situated on a stretch of beach regularly voted one of the best in the world.
This hotel is an all-inclusive, adult-only haven, especially for couples! There is a 24-hour concierge to attend to your every need and the hotel boasts the latest technological advances to make sure all of your needs are met.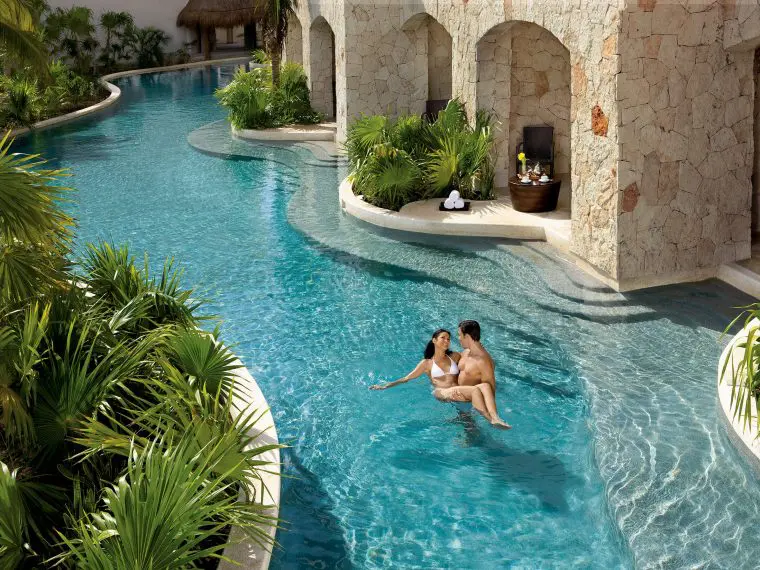 Unlimited luxury and connectivity mean you can check-in and check-out during your stay. You'll have access to the free WiFi and international calling to post pictures or check in with friends and family.
Plunge yourself into the true rhythm of the tropics and learn to salsa dance, enjoy a premium cocktail at the stunning swim-up bar, or take a soak in your in-room jacuzzi.
Secrets Maroma is located 30 minutes south of the Cancun International Airport.
3. The Royal
★★★★★| All-Inclusive | Adults-Only
The Royal's hotel slogan is "Expect the Exceptional", and let me tell you something this hotel will exceed ALL of your expectations.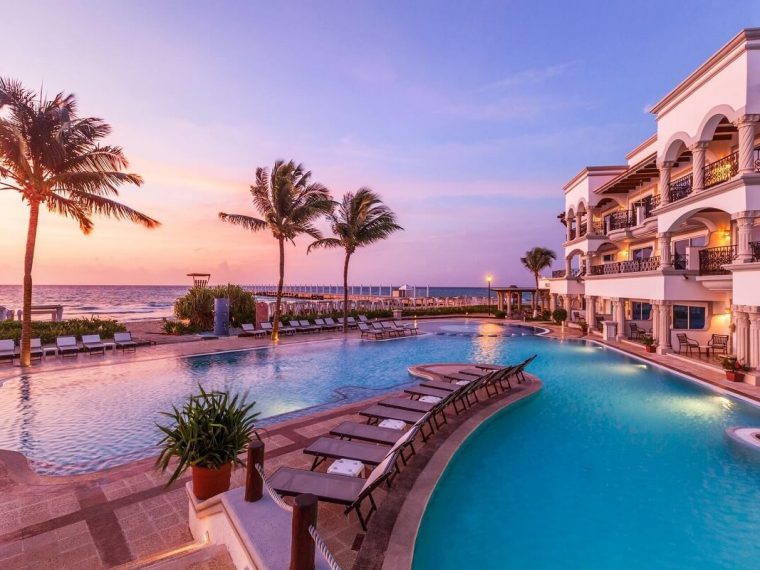 You're guaranteed to be treated like royalty and enjoy a heartfelt service at this renowned 5 star, all suite, all inclusive, adults-only hotel in the heart of town.
Just footsteps away from the famous 5th Avenue this hotel is perfect for honeymooners who don't like to be confined by the walls of their hotel.
It's a great place to stay if you enjoy eating out, shopping, and going for a few drinks in the evening.
Beach butlers and romance concierges will be on hand to set the mood by lighting candles or filling up the jacuzzi in your suite.
The hotel boasts beach and pool "butlers", spacious suites with top-shelf spirits and many options for dining.
We were recently lucky enough to stay at this hotel so we thought it would be cool to create a video so you guys could take a real sneak peek inside! Enjoy.
Don't forget to let us know your thoughts in the comments section, we would love to hear from you.
4. Valentin Imperial Riviera Maya
★★★★★| All-Inclusive | Adults-Only
For those honeymooners seeking something special, the exclusive Valentin Imperial Maya offers a luxurious and secluded stay.
On your honeymoon, it's important to stay somewhere with a cozy, secluded vibe so that you can celebrate your love in peace/paradise.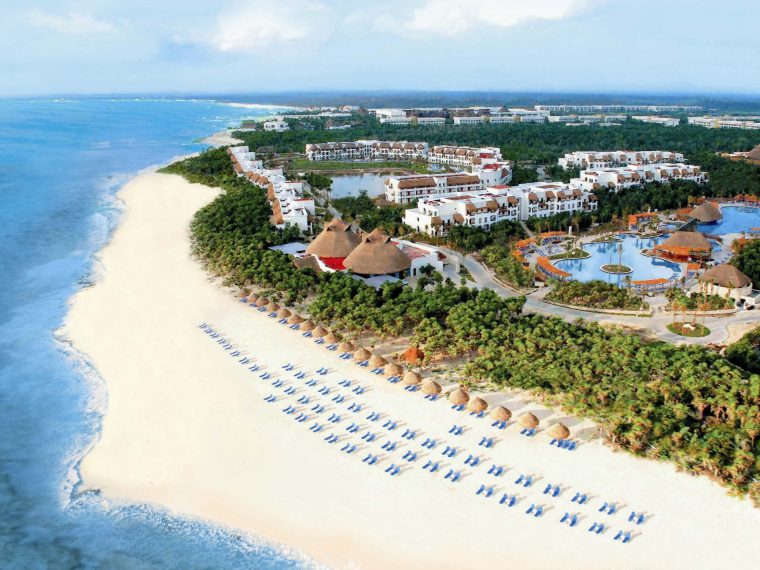 This hotel is the perfect place to relax and unwind.
Here you can indulge in 8 international restaurants, take a trip on the long lazy river, soak up the sun in one of the largest swimming pools in the world, or enjoy lounging oceanside on an over-sized sunbed.
The five-star resort is located halfway between Cancun and Playa del Carmen on the beautiful white sandy shores of Playa del Secreto.
5. Paradisus Playa del Carmen La Perla
★★★★★| All-Inclusive | Adults-Only
The Paradisus La Perla is one of the newer complexes in the area.
Located in the north end of Playa del Carmen on a beautiful beach, it's a great choice for honeymooners seeking impeccable service, lush scenery, and close proximity to the town.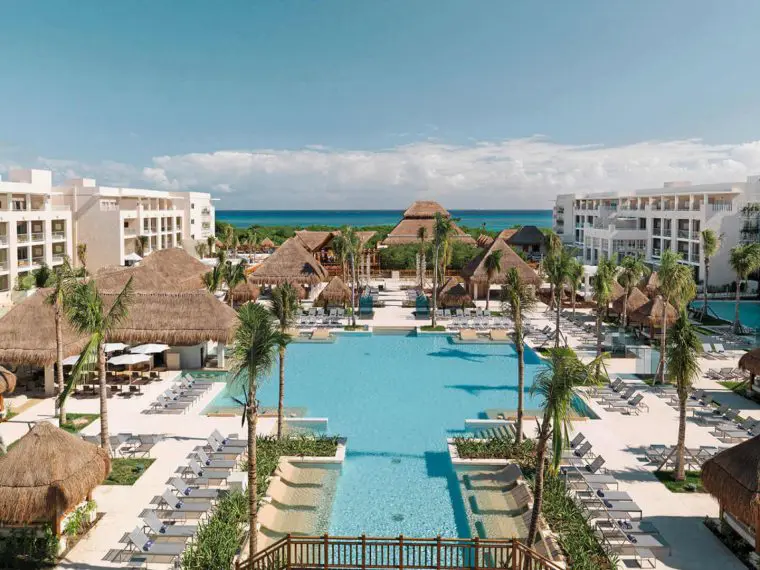 With 11 restaurants available to choose from you won't be short for dining options. You can choose from cuisines such as Japanese, Mediterranean, and Mexican!
The 400 luxurious suites are equipped with deep soak tubs and rainfall showers. All offer 24 room service, a stocked minibar, and free WiFi.
The Yhi Spa is 20,000 square feet and has everything you could ever need for some well-deserved rest and relaxation. Paradisus La Perla is also minutes from the Grand Coral Golf Club.
6. Playacar Palace
★★★★★| All-Inclusive | Family-Friendly
 Imagine waking up, stepping out on to your balcony to watch the sunrise with the most amazing views of the water and the island of Cozumel across the way.
Well,  your dreams can become a reality at the all-inclusive, family-friendly Playacar Palace resort.
Spend your days lounging poolside, flying a kite on the beach, learning how to windsurf, or exploring the nearby town of Playa del Carmen.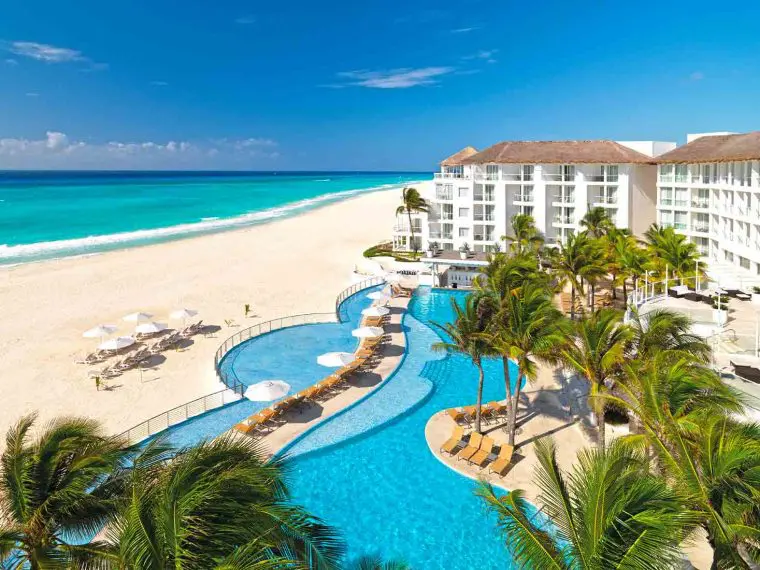 This hotel is known for having the most friendly and attentive staff so you know that you'll be in good hands.
This resort is just 1 hour away from Cancun International Airport.
We can package with airfare from the US & Canada and will provide free private airport pick up on any stay of 5 nights or more.
7. Royal Hideaway Playacar
★★★★★| All-Inclusive | Adults-Only
The Royal Hideaway Playacar is the epitome of elegance!
As a member of the prestigious Leading Hotels of the World, you are guaranteed impeccable customized service, within a beautiful tropical setting.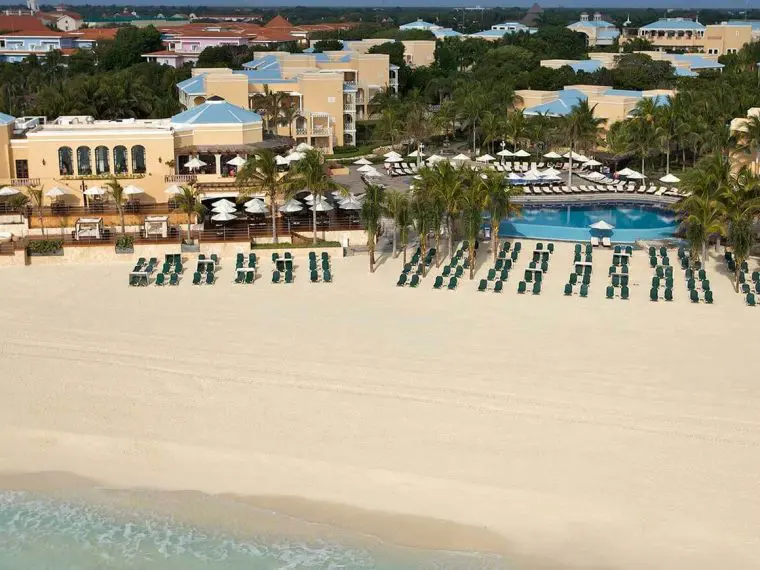 Located along one of the best beaches in the area of Playa del Carmen it's the perfect hotel for honeymooners who want to feel like they are in a secluded location, but also want to enjoy the privilege of being a short walk away from 5th Avenue, and just footsteps away from a celebrated golf-course.
It's seclusion without isolation.
The service is highly personalized and each villa has its own concierge. The 200 Mexican style rooms offer luxury, comfort and a list of amenities.
Choose from 6 elegant restaurants and 3 bars. The resort also offers 6 swimming pools, tennis, entertainment and activities as well as a world-class spa.
8. Paradisus La Esmeralda
★★★★★| All-Inclusive | Family-Friendly
At the Paradisus La Esmeralda you can enjoy all the luxury amenities La Perla has to offer except this hotel was also designed with the whole family in mind, meaning it is child-friendly and extremely family orientated.
 If you appreciate the ultimate attention to detail and service, look no further!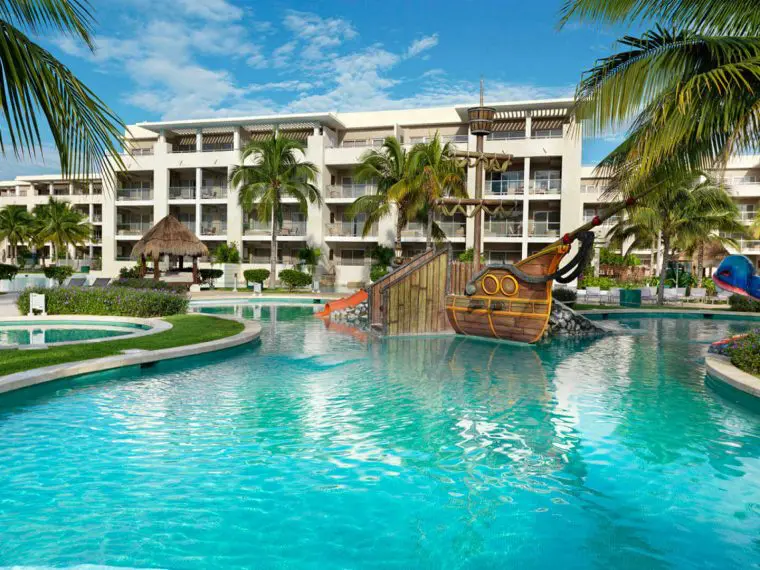 The hotel boasts a specially designed activities program for kids and teens and is just one of the many perks available if you choose to bring children on your honeymoon.
9. Belmond Maroma Resort
★★★★★| All-Inclusive | Family-Friendly
The Belmond Maroma is a haven for luxury and well-being.
It's a hotel you will never want to leave and suitable for all the family!
With just 63 rooms service is incredibly personalized, and your stay will feel intimate, exotic, and secluded.
Featuring gourmet cuisine, an award-winning spa and set on the renowned Maroma beach, this boutique hotel offers the ultimate in pampering and relaxation.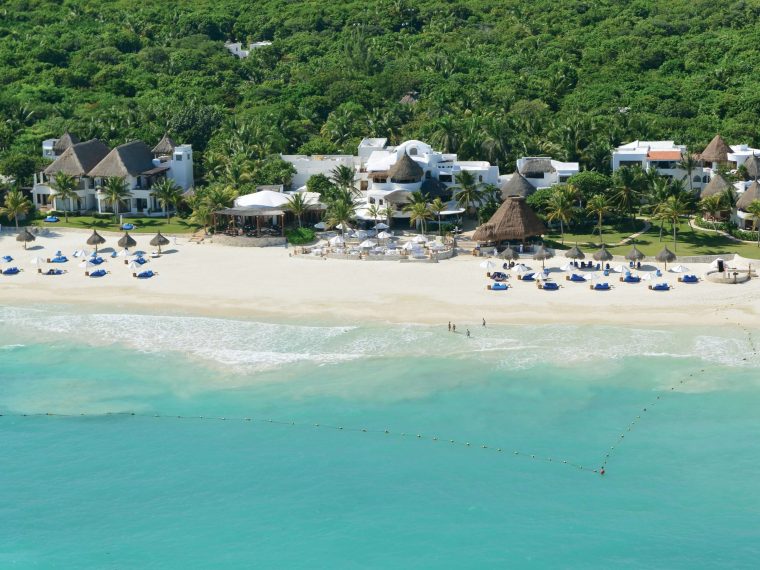 Enjoy couple's treatment room, massages, body wraps, manicures, pedicures and more.
Children receive a welcome pack containing a Mayan coloring book, float, swim goggles, mini kaftan and slippers in-room on arrival. There are high chairs in the restaurants and babysitters available.
10. Blue Diamond Hotel
★★★★★| All-Inclusive | Adults-Only
The Blue Diamon Hotel is one of the lesser-known gems in Playa del Carmen, and one of my favorite hotels in the area.
It's intimate, it's luxurious, and it's spread out across 36 acres of tropical jungle.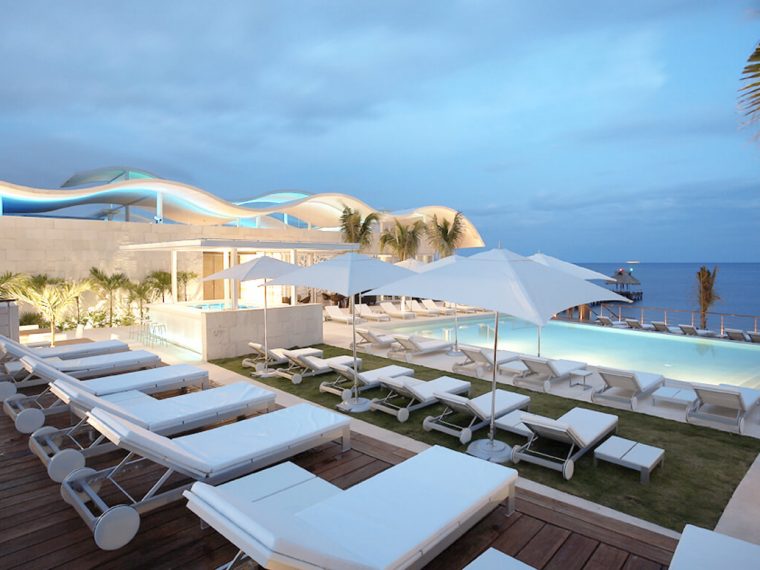 Even when this hotel is at full capacity it feels serene and blissful. You can navigate the hotel on foot, by bike, or by golf-buggy.
I guarantee personally that it is a hotel you never want to leave!
 It's an upscale resort, boasting uber modern spacious suites, a la carte dining, and exceptional service.
This resort is perfect for a romantic getaway, set amongst a series of peaceful waterways and channels it couldn't feel more like paradise.
Need help planning your honeymoon?
Call the team here at PlayaDelCarmen.Com on 888-537-9797 to see how much money we can save you!
You can also contact us via email at customercare@playadelcarmen.com
Happy honeymooning!
---
Trending Now