10 "Normal" Things to do in Playa del Carmen at Night
---
Playa del Carmen is known for its crazy clubs, party lifestyle, and electric nightlife activities, but not everyone wants to party every night.
Even the seasoned pros need a night off every now and again.
But don't worry, avoiding the party doesn't mean spending a boring night at home… there are plenty of fun and relaxing things to do in Playa at night.
From Local comedy nights and open air movie theaters, to stunning jungle restaurants and decadent wine tasting events, there's something for everyone.
So, if you're wanting to avoid the next day headache, or just want to try something a little different, then check out my guide to the top 10 things to do in Playa del Carmen at night.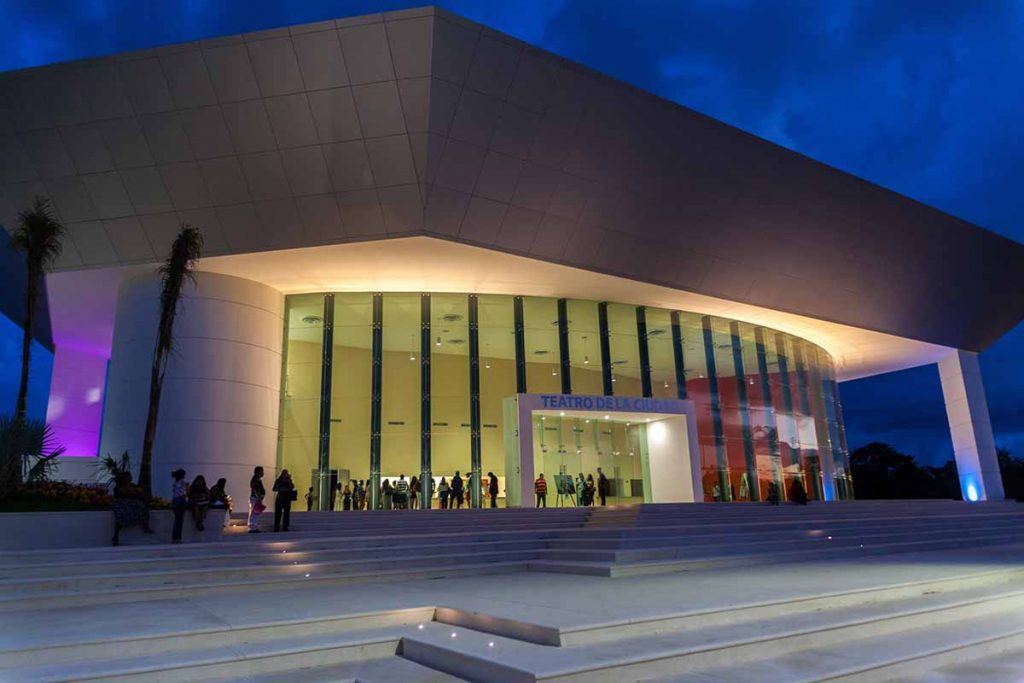 1. Enjoy a Night at the Theatre
Playa del Carmen is now the proud home to the fantastic Teatro de la Ciudad.
This state of the art theatre has 736 comfortable seats, semi-circled around the large, central stage.
Almost every night of the week, they put on shows featuring both local and international talents.
A night at the Teatro de la Ciudad is always a grand affair, and you cans see anything from vampiric concerts and live rock bands, to graceful ballet and spectacular magic shows.
The best thing about this theatre, is that it gives back to the local businesses here in Playa del Carmen.
So, you can enjoy a glamorous night at the theatre, while supporting the wonderful local economy.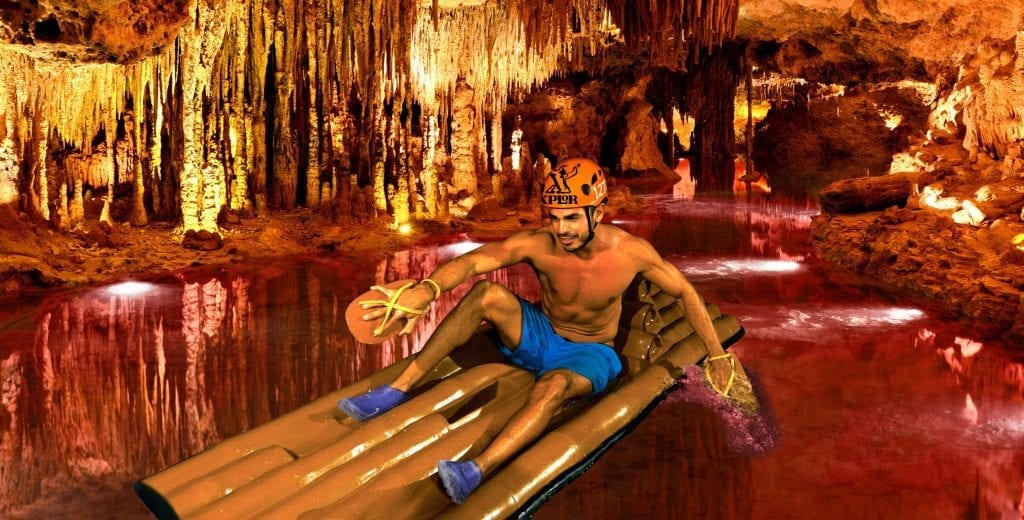 2. Get Adventurous at Xplor
If lazing around on the beach all day has given you energy to burn, there's no better place to do it than at Xplor Fuego!
This amazing adventure park is the only one in the Riviera Maya to open at night, and it's outstanding.
As night falls, the Tiki torches are lit, the amphibious vehicles are readied, and the fun begins.
Fly through the lush canopy on the invigorating Zipline, venture into the Mayan jungle on an amphibious 4X4, gently paddle your way along the underground rivers, or take a soak in the bubbling lava river.
Xplor is the best place to enjoy an unusual and adventurous night out in Playa del Carmen.

3. Snuggle up to a Good Movie with El Cine Club 
What could be more romantic than sitting out on a warm evening, watching an epic movie under the stars?
Well, thanks to El Cine Club in Playa del Carmen, you can!
Every Friday, this amazing company puts on a movie night in the stunning Parque la Ceiba, complete with popcorn and plush seating.
El Cine Club has been perfecting the movie watching experience since early November 2011, and are now ready to welcome you into one of the best open-air movie theaters you've ever seen.
The films change each week, from blockbusters to artsy indie movies, so keep an eye on the listings to see what's coming up when you're in town.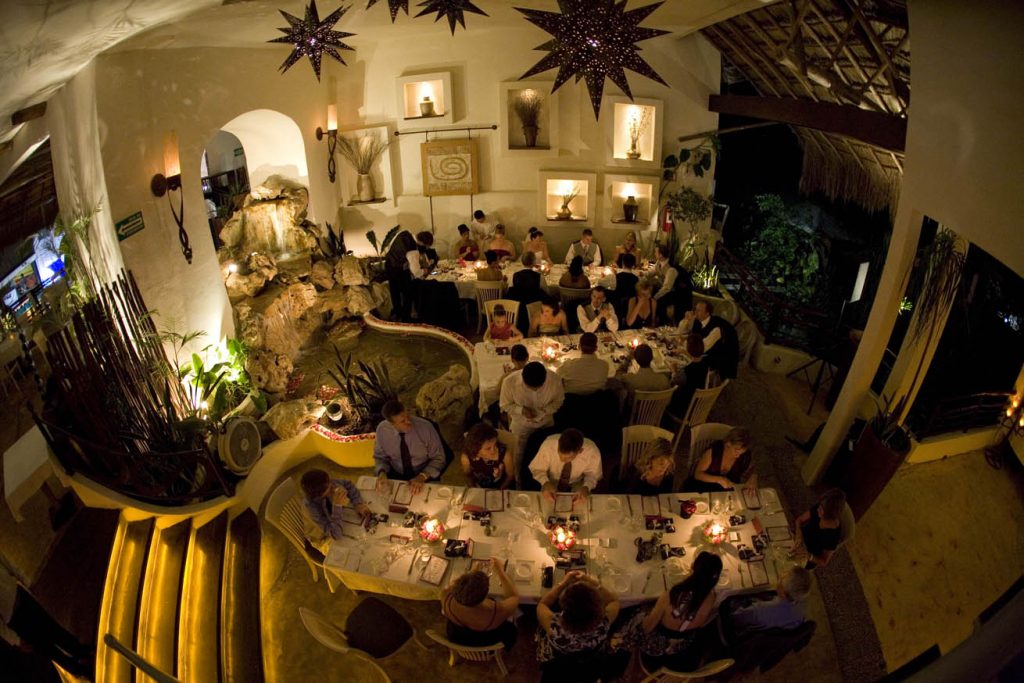 4. Enjoy a Wine Tasting in Casa del Agua
Casa del Agua is a beautiful restaurant sitting in the heart of 5th Avenue. But once you climb up those glorious white stairs, you are transported into a world of luxury.
This fine dining restaurant has over 140 different wines, from 12 different countries, and they are ready to teach you about them all.
Every Friday night at 8pm, Casa del Agua puts on a wine pairing evening, where you can pick from a delicious Mediterranean menu, and receive 5 carefully selected and perfectly paired wines.
Their sommelier will then give you an exclusive demonstration, explaining how to match wine to a room's ambiance, a party's menu, or a specific event.
The night costs only $20USD per person, and you can make those all important reservations online.
5. Laugh Yourself Silly at Lucky Luciano
You read that right, there is a weekly comedy night right here in Playa del Carmen, and it's in English!
Every Wednesday at 8pm, Lucky Luciano opens its doors to some of the funniest people in town, often bringing in special guests from the USA, England, and Canada.
Sit out on the terrace of this well established Italian restaurant, grab a beer or glass of wine, and be prepared to snort it out of your nose.
They do say that laughter is a great form of exercise, and at Lucky Luciano's stand up comedy night you're in for one hell of a workout.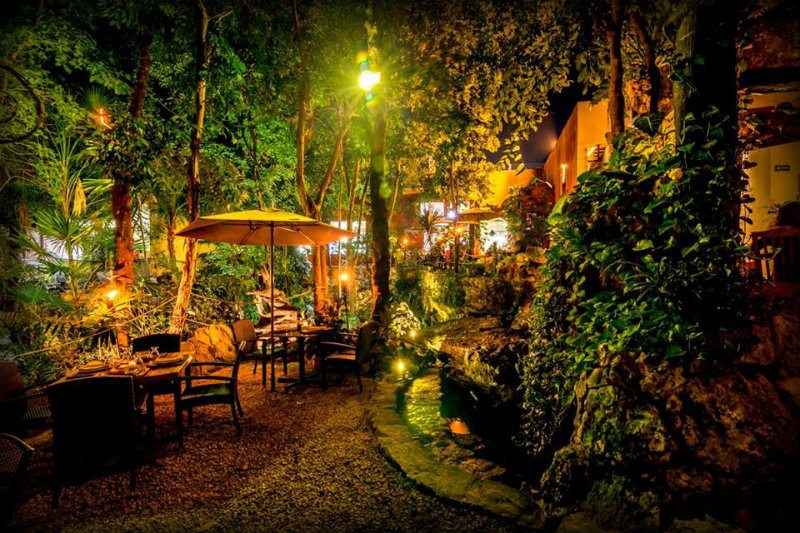 6. Dine in a Beautiful Cenote
One of the most amazing things about Playa del Carmen, are the mesmerizing natural phenomena, cenotes.
Being close to one of these magical places instantly makes you feel relaxed and peaceful.
Now imagine that feeling, paired with a luxurious, fine dining experience… yes, all is possible in Playa del Carmen.
Aldea Corazon is a Mexican fusion restaurant right off 5th Avenue, but once you enter this lush jungle paradise, you'll forget the busy world of Playa del Carmen in an instant.
Dine amongst the trees, listen to the relaxing sounds of water rushing into the cenote below, and enjoy the delicious, chef prepared menu.
Another fantastic cenote dining experience is Alux.
This underground restaurant is nothing like you'll have ever seen.
As you descend the stairs into this magical place, you are greeted by winding underground paths, glittering water, huge, caverns, gigantic stalagmites and a dining experience like no other.
7. Listen to some Amazing Live Music
Just because you're not in the mood to go out to a club, doesn't mean you're not in the mood for music, right?
Playa del Carmen has tons of laid back bars and restaurants that feature live music acts from 7:00pm – 2:00am every night of the week.
A few of my favorites are Zenzi, Fah, Kitxen and Caiman.
These bars are great for a relaxed night out with family or friends, and the collection of talent in these places is incredible.
You can hear anything from rock, pop, country, jazz, soul, and indie.
But no matter what you're into, with a cocktail in your hand, and attentive staff waiting on your every need, you'll absolutely love your night out at a live music venue in Playa del Carmen.

8. Watch a Spectacular Cabaret Show
Every Friday from 7pm, El Jardin hosts a fabulous cabaret show in their stunning jungle garden.
Catch fresh local talent before anyone else, and enjoy the raw magnificence of the ever-changing lineup.
No night in El Jardin is the same.
They showcase sultry singers, rocking Elvis impersonators, energetic dancers, comedy acts and Broadway divas.
At the end of each night, they invite the audience to join them for one last song and dance, before everyone retires to the tables for a well-deserved beer or two.
Come and watch the show, or contact the owner and feature in it yourself!
Everyone is welcome at El Jardin.

9. Enter the Dreamy World of Cirque du Soleil
The world famous performance from Las Vegas has arrived in Playa del Carmen!
You can now watch the mesmerizing dancers, breathtaking acrobatics and riveting theater of Cirque du Soleil right here in Playa.
The outstanding performance, Joya, can be found in the dreamy setting of the thick Mayan Jungle, and is only 20 minutes away from Playa del Carmen.
No matter the occasion, or the weather, Joya makes a night out that you and your family will never forget.
You can purchase a simple performance ticket, or make your night even more special with VIP Dinner tickets.
You will have access to plush seating, unlimited Champagne, and an intimate dinner before the main performance starts.
10. Take a Walking Gastronomy Tour
There is a daily tour run by foodhoppers.com, that will take you on a culinary adventure though Playa del Carmen.
This is the best way to escape the tourist traps, and get to know the true Mexican culture behind this fascinating town.
Your host will guide you through the walking gastronomy tour, introducing you to some of the most traditional foods of Mexico, including Tamales, Esquites, grasshopper tacos and even maguey worms… yum!
At the end of this tastebud journey, you will be rewarded with a sampling session of some of the most delicious and exclusive tequilas in Playa.
The whole tour lasts around 3 hours, and leaves daily from 5th Avenue at 5:00pm.
---
Trending Now
You may also like