10 Amazing Resorts for a Wild Spring Break in Cancun (2023)
---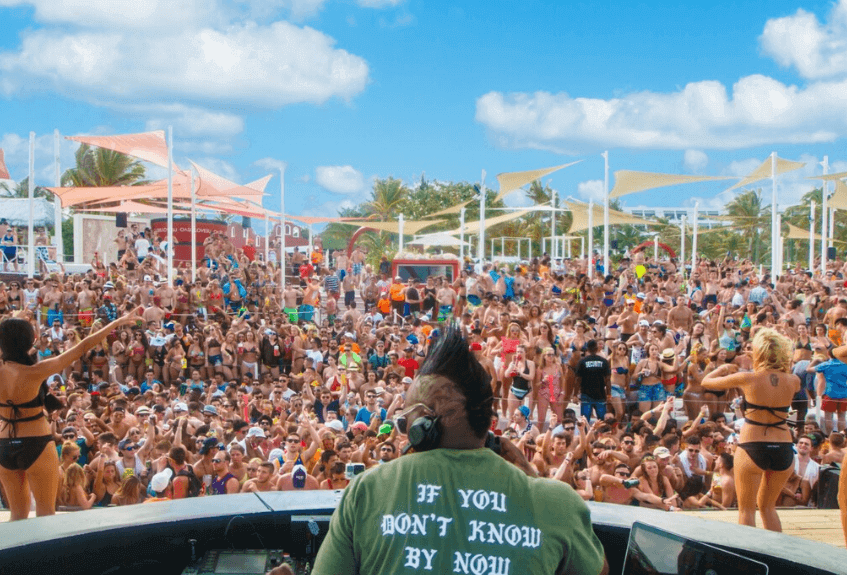 Spring Break season is almost upon us! Can I get a 'woot woot'?
It's time to have some serious fun.
But first, you've gotta book your resort.
At PlayaDelCarmen.Com we can get you amazing deals on group bookings that you won't find anywhere else.

Save big and party hard!
Beach, please.
Top 10 Spring Break Resorts in Cancun:
---
Did you know not all resorts in the region welcome Spring Breakers with open arms? 
To avoid being thrown out of your hotel, stay with me to find out where the party is really at.
You can even jump straight to the end of this blog to find out how we can save you big dollar compared to other travel agents on group bookings if you already have a hotel or resort in mind.
Need some inspo? I got cha!
1. Grand Oasis Cancun
If you are looking for a huge resort with all the Spring Break trimmings, this is it!
Not only that but it's situated in the heart of the Cancun Hotel Zone.
The perfect location for traveler's who want to explore the tourist capital's nightlife.
However, if you didn't want to leave the resort you still wouldn't be short of things to do.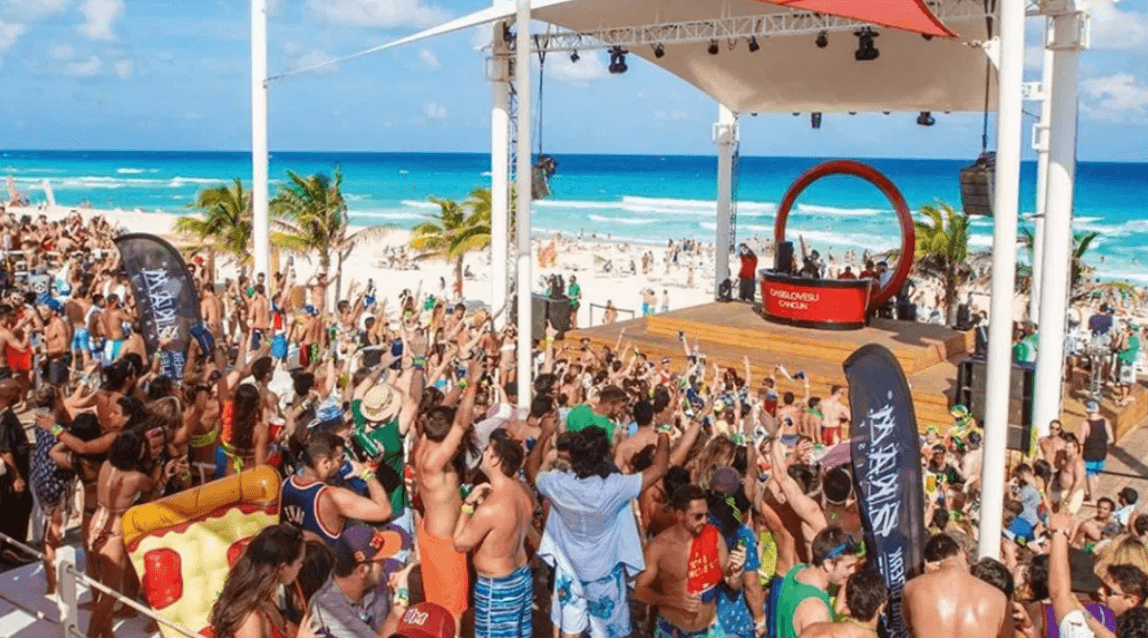 Famous for its MTV Spring Break beach parties, last year featured a signature mix of high-energy performances, surprise celebrity guests, and thousands of young people.
There are 14 bars, an outdoor pool that stays busy (and can even get wild), and lots of live shows, bands, and DJs alongside a generous all-inclusive drinks package.
This is not the hotel for kids during Spring Break but if you're after a one-stop party spot, the Grand Oasis Cancun is your pick.
You only have to do a quick search on Google to see that this resort really is the place to be for Spring Break.
2. Hard Rock Hotel Cancun
Next up, it's rockin' at the Hard Rock Hotel in Cancun.
Hard Rock Hotels weren't designed to be peaceful and serene, they were built predominantly with fun, and wild times in mind.
That's what makes them so great, and unique.
Their vegas-style atmosphere is unrivaled on the party scene.
This resort attracts travelers of all stripes and is positioned smack in the middle of the Hotel Zone.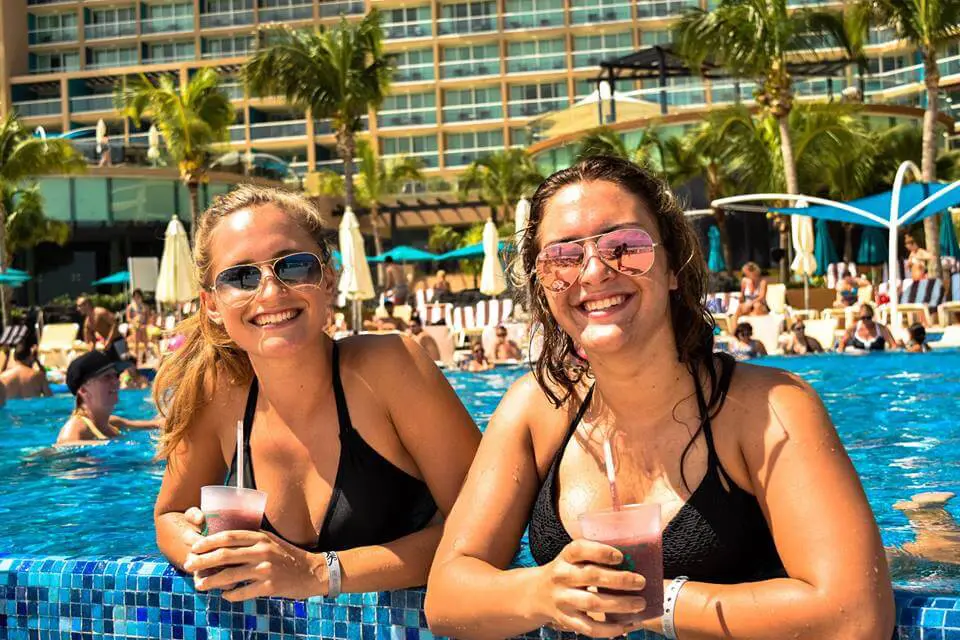 It offers all-inclusive drinks and meals (with booze served around the clock) along with two swim-up bars and a great selection of live musical entertainment.
The infinity pool and stretch of beach at this hotel is particularly stunning – what I love about the beach is that there's plenty of space for everyone.
If you want to rest up between your partying sessions, the Hard Rock spa is an excellent choice.
Way back in 2015,  Jason Derulo gate crashed Spring Break at the Hard Rock, I wonder who or what they've got in store for 2020!?
3. Occidental Tucancun
Be waited on hand and foot during Spring Break at Occidental Tucancun.
The incredible staff here go above and beyond to make sure you always have what you need and a drink in hand.
This hotel is nothing short of what is expected of a luxurious all-inclusive resort without compromising on your quintessential Spring Break experience.
Not only that it is in the center of all Cancun party action!
Pssst…In case you've not already gathered the hotel zone for Spring Break is where the party's at.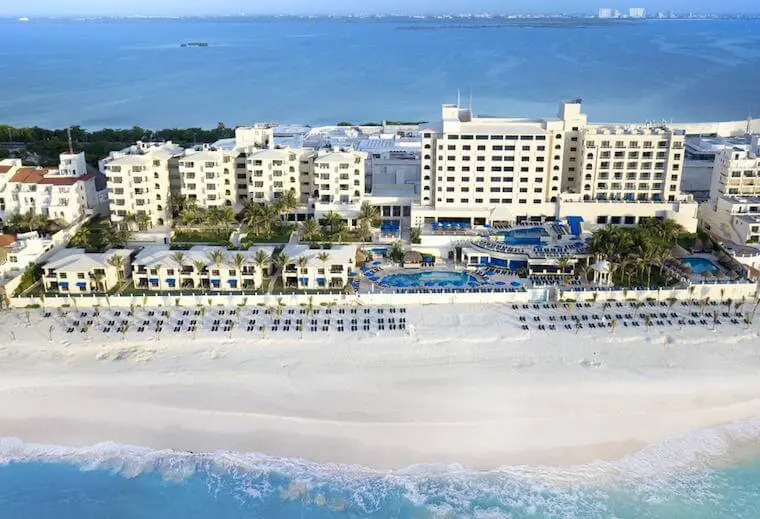 Located on a beautiful stretch of beach that also features open bars, amazing places to eat, and so much more!
During the day party by one of the three beachfront pools or float on up to the swim-up bar to cool off while you drink.
At night enjoy dinner at your choice of four restaurants and later on, you are just a short taxi ride to Cancun's most popular clubs and bars.
Win-win!
4. Beach Palace
If you want both day-and-night entertainment, look no further than the Beach Palace.
Here you will find all sorts of fun throughout the day along with three pools (and three swim-up bars).
It has a great location right in the heart of the Hotel Zone though with all-inclusive alcohol you may not want to venture far from the resort.
Heck, if you can't spend your days working your way through the cocktail menu on Spring Break, when can you?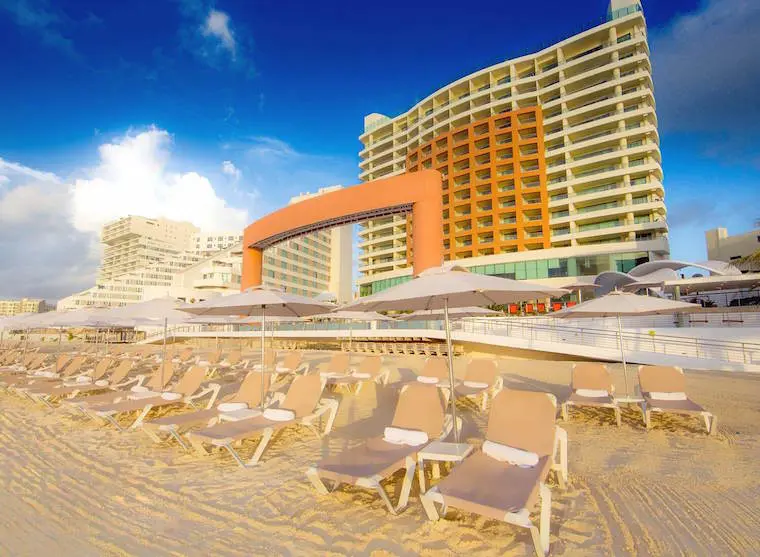 Even the pleasantly attractive rooms are equipped with liquor racks (plus double whirlpool tubs that are ideal for throwing your own private parties).
The beach is especially pretty here and there are numerous dining options built into the Beach Palace's all-inclusive rates.
5. Crown Paradise Club Cancun
This resort will always have a close place to my heart because it is where I stayed on my first ever trip to Mexico as a kid.
I know from my own experience that this resort is a child of the '90s haven.
Best of all its budget-friendly and all-inclusive.
You'll never have to walk far for a drink at this hotel as there are as many bars as there are restaurants.
Although this is a kid-friendly resort there are adults-only swim-up pool bars if you wanted to get away from children for a while.
In the evening, there's a fun British pub called Trafaglar's with pool tables, plus the attached nightclub Disco Nitro, which is only open to those 18 and older (if that's not enough, you'll find the aptly named College Bar at Crown Paradise Club Cancun as well).
Although it is a hotel for all ages a large percentage of guests tend to be the younger college-aged crowd.
Our inside intel has told us that although the opening and closing times for this bar are posted it usually stays open 24/7.
This resort does also cater to families as well and features a water park for kids.
6. Golden Parnassus Resort & Spa
This adults-only all-inclusive is small by Cancun's standards with only 214 rooms, but bigger isn't always better… in some cases. 😉
Who wants to spend half their vacation getting lost in a gargantuan resort? Not me.
This hotel gets lively enough and attracts plenty of repeat customers.
The pool area is made all the more upbeat thanks to frequent drink service (and great Caribbean Sea views), and after sundown, the Tiki Bar can get pretty wild – playing body shots is not uncommon for guests at this hotel.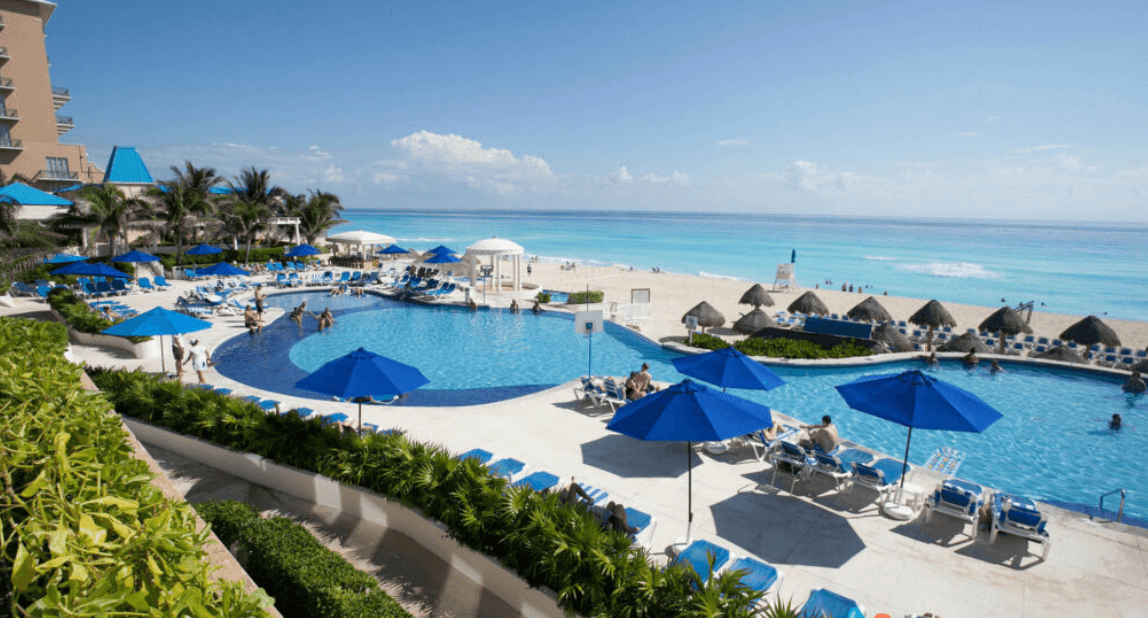 Golden Parnassus Cancun rooms are contemporary and comfortable featuring furnished balconies.
If you want to add a splash of luxury to your stay book yourself in a club-level room for a double whirlpool tub.
While it's not as big as the Crown Paradise Club Cancun or Hard Rock Cancun above, it still can get a bit rowdy so guests looking to relax in their room should ask for a higher floor on the lagoon side of the resort.
7. Riu Cancun
Riu Cancun is one of four Riu hotels in the Hotel Zone.
It makes for a perfect stay if you want a happy medium of partying and relaxation.
The Riu Cancun isn't a super crazy party resort so you won't be kept awake by people raving away into the night.
Located just minutes from the party center of Cancun you can walk to the abundance of nightclubs and bar – which means no drunk taxi or bus rides yay!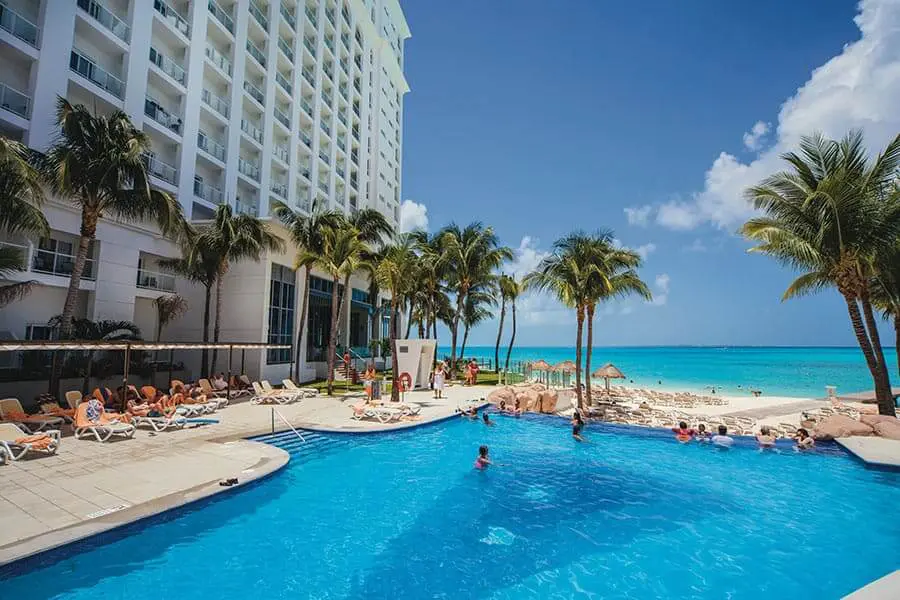 If you didn't want to leave the hotel, Riu Cancun has it's own nightclub 'Pacha' on site.
With nightly shows and a popular, lively lobby bar it's never a dull day at this hotel.
8. Krystal Cancun
The Krystal Cancun is just a stone's throw from Cancun's party center!
A stay here will mean you are in the heart of all the action, with plenty of shopping and dining options also in close proximity.
For those of you keen to venture further away from the resort during your time here there's a convenient bus stop right outside.
The hotel boasts:
3 restaurants
3 bars
panoramic pool
a swim-up bar and more.
For room options, visitors can choose from a Standard Guestroom, Deluxe Oceanview, Family Suite, Krystal Club Room, Romantic Room, Junior Suite, and the Master and Presidential Suites which have their own pools.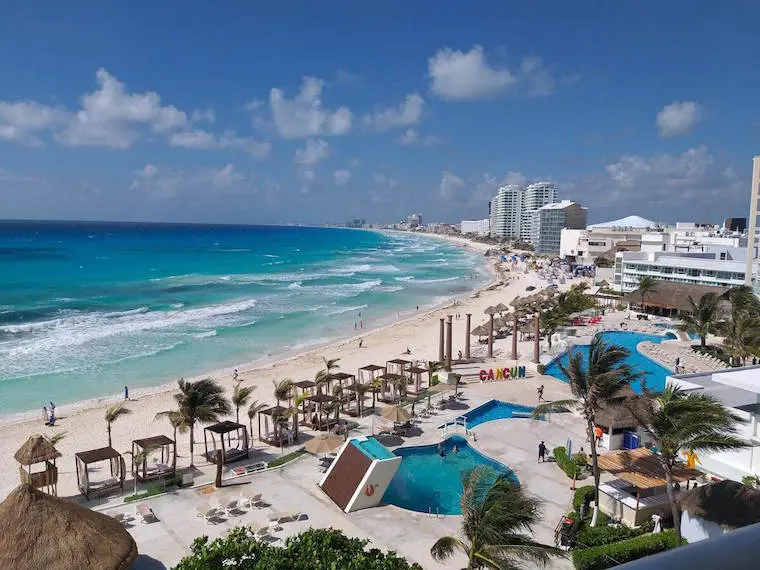 Guests also have the flex option of choosing from all-inclusive or the European plan.
This is one of the resorts that Student City offers and promotes to Spring Breakers on their site.
As with most Cancun resorts, the beach here is beautiful, complimented with dreamy Bali beds that make for a relaxing place to rest when you've got a foggy head from the night before.
9. Panama Jack Resort & Spa
Panama Jack Resort & Spa loves Spring Breakers!
It's located at 11.5 km in the Hotel Zones and welcomes both adults and children, but this is also one of the hotels Student City promotes so if traveling with children you can expect it to be a little louder during this time.
The hotel is home to 8 restaurants, 8 bars, and even a water park.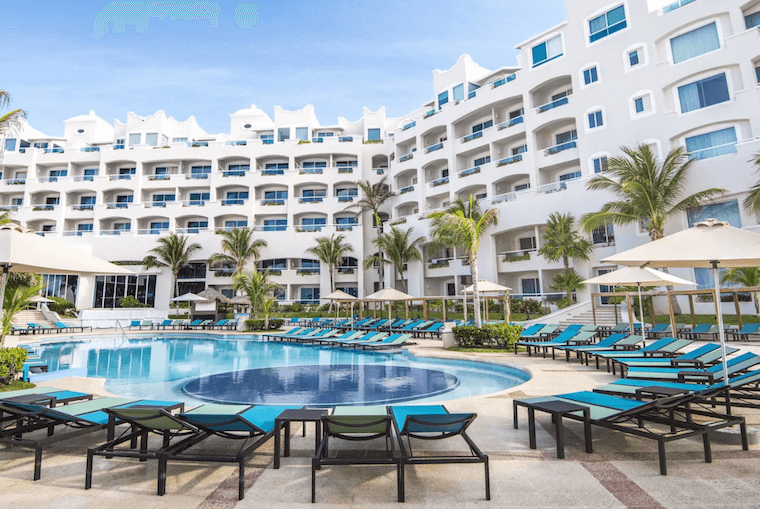 The activities team here always has something up their sleeve to ensure you have a memorable stay.
Including: 
water aerobics
water volleyball
bartending lessons
and nightly entertainment
You can guarantee at this hotel that the pool waiters will make sure your drink is never empty.
10. Desire Resort & Spa
Last but not least and certainly not for the faint-hearted is Desire resort.
This place isn't TECHNICALLY in Cancun, but I wanted to throw it in for good measure as it's only a 25-minute drive south of the airport in a small town called Puerto Morelos.
This all-inclusive, adults-only (21+) resort is clothing-optional.
Yes, you read that right.
The resort offers four restaurants to its guests, including "Gourmet Aphrodisiac Cuisine".
There are also five bars for visitors to enjoy, including "Y Nightclub & Sin Room" where clothing is also optional.
All activities and performances are a bit racy and created for adults.
With four types of "passion-evoking suites", pole dance lessons and more, Desire Resort & Spa is a place where practically anything goes.
🔥 10 SPRING BREAK DEALS 🔥
Here are some down-n-dirty deals so you can save on YOUR Spring Break vacation in Cancun.
Have questions? Want to book? Call us at (888) 537-9797 or contact us here.
1) GRAND OASIS CANCUN
Room rates start from $185 pp/pn
Special Sale – Up to 57% OFF!
Discounted rates valid for travel January 16, 2023 thru December 23, 2024. Book by March 31, 2023.
2) TEMPTATION CANCUN RESORT
Room rates start from $188 pp/pn
Special Sale – Up to 32% Off!
Discounted rates valid for travel from November 01, 2022 thru December 22, 2023. Book now to save!.
3) BEACH PALACE
Room rates start from $300 pp/pn (I KNOW!! Super expensive)
4) WYNDHAM GRAND CANCUN
Room rates start from $152 pp/pn
Special Sale!!
Discounted rates valid for travel thru December 15, 2022. Book your stay today!
5) WYNDHAM ALLTRA CANCUN
Room rates start from $245 pp/pn
Special Cancun Sale!!
Discounted rates valid for travel thru June 30, 2024. Book by March 31, 2023.
6) GOLDEN PARNASSUS RESORT SPA
Room rates start from $120 pp/pn
7) CROWN PARADISE
SOLD OUT ALL SPRING BREAK
8) RIU CANCUN
Room rates start from $175 pp/pn
Summer Sale + Resort Credits!!
Book 3-6 nights and receive $850 in Resort Discount Coupons, book 7 nights or more and receive $1360 in Resort Discount Coupons. Coupons valid for Spa Treatments, Weddings, Dinners, Photos, Golf and more. See hotel description for additional details. Restrictions apply. Discounted rates valid for travel May 01 thru December 23, 2023. Book now to save!.
9) HARD ROCK CANCUN
Room rates start from $305 pp/pn
Early Booking Sale – Up to 50% Off!
You have selected a hotel rate that is non-refundable and requires instant purchase. You will be charged today for the hotel portion of your booking and it will be non-refundable, non-transferrable and cannot be changed once your reservation is complete. Kids 4-12 will be charged a minimal fee on select dates. $100 golf/spa credit will be provided per room on select dates. See hotel description for details. Discounted rates valid for travel thru December 31, 2025. Book now to save!
10) BREATHLESS CANCUN SOUL & SPA
Room rates start from $300 pp/pn
Best Year Yet + Resort Coupons!!
Savings up to 62% Off! $200 Resort Coupons per room, per stay: 2x$40 + 1x$20 towards Spa treatments (one coupon can be applied per treatment), $60 towards romantic dining experience 1x$40 + 1x$20 and 4x$10 coupons towards bottles of wine (one coupon can be applied per bottle). Discounted rates valid for travel thru December 22, 2023. Book by May 3, 2023.
Have questions? Want to book? Call us at (888) 537-9797 or contact us here.
When Is Spring Break in Cancun?
In North America "Spring Break" will fall on:
March 7th – March 18th with 3.8 million students on break during those dates.
Here is a breakdown of the numbers to help you better plan your trip to Cancun:
FEB: 
 21-25 (334,196)
28- 4 March (156,026)
MARCH: 
 7-11 (1.7 million)
 14-18 (2.1 million)
21-25 (886,043)
28-1  April (295,922)
Got a question for me? Drop it in the comments section below I'd be happy to help and give you my two cents.
Have an amazing trip, make memories, and drink responsibly.
Book Your All-Inclusive Spring Break Package
You won't find these deals anywhere else.
PlayaDelCarmen.Com offers the best rates on group bookings.
Talk to us today about your Spring Break resort options in Cancun, we're here to help.
Call us on our toll-free number 888-537-9797
or
email us at customercare@playadelcarmen.com
Hurry hotels fill up fast this time of year!
---
Trending Now