My Honest Review of The Riu Palace Mexico (2021)
---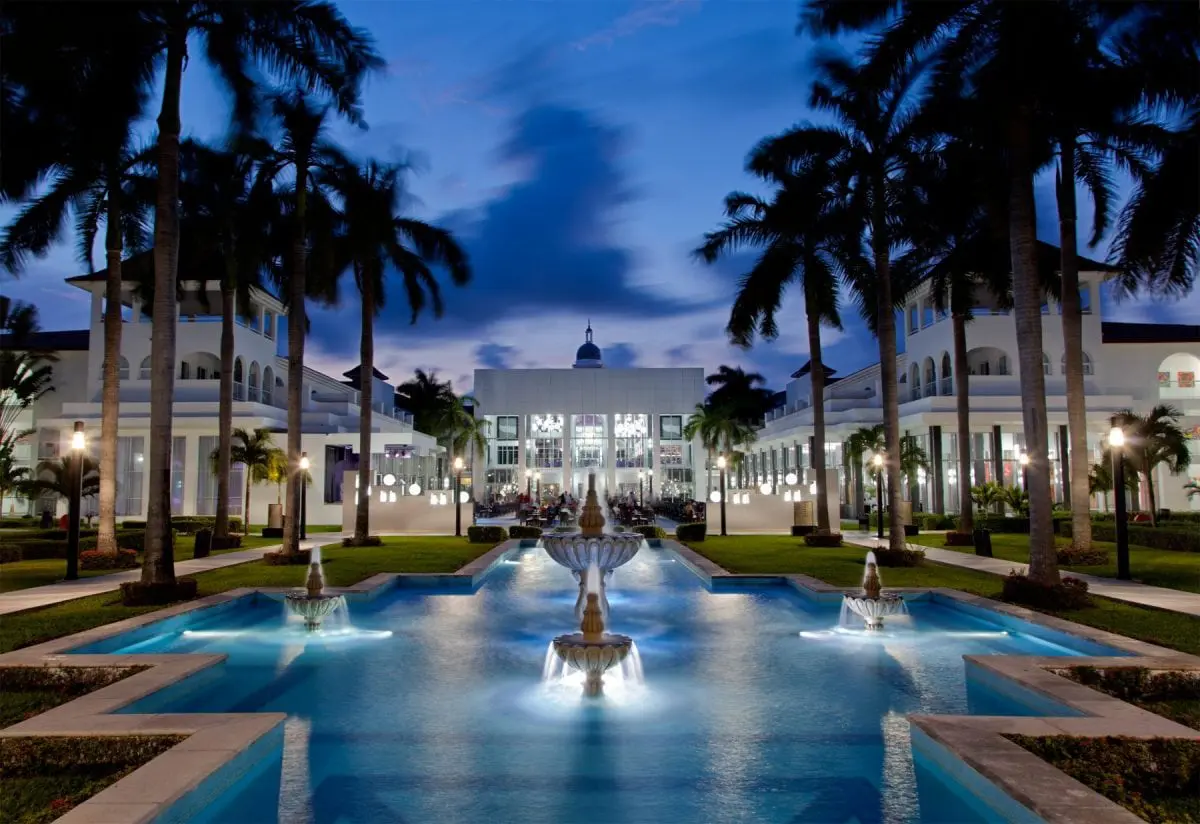 This all-inclusive resort in Playa del Carmen is located in a gated community called Playacar.
The Riu Palace Mexico is walking distance from town, on a stunning beach and steps from a world-class golf course.
This is a very popular hotel in Playa del Carmen and the Riu's are known for have quality food and beverages, great entertainment and friendly staff.
With a few days spent at this resort, here is our hotel review of the Riu Palace Mexico.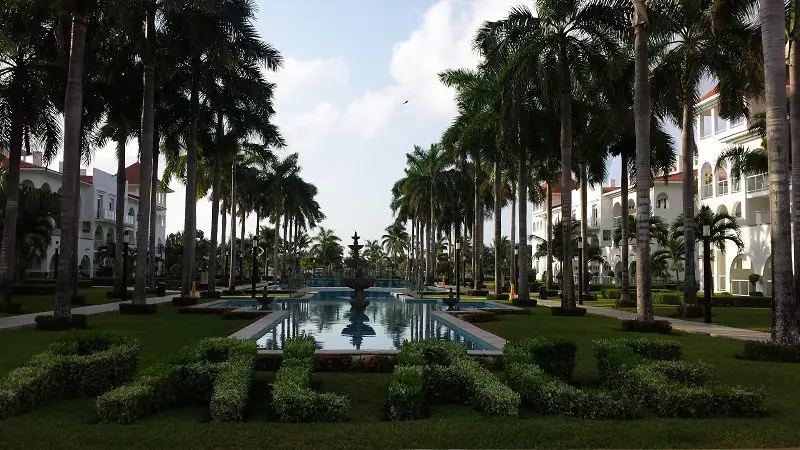 TOP 5 THINGS TO KNOW BEFORE BOOKING
1) Stay at 1, Play at 6!
Within the gated Playacar community there are 6 Riu hotels. With your all-inclusive bracelet, you have access to all 5 resorts.
The hotel asks that you bring your towel from your original hotel and that you return to your hotel for your evening meal, but otherwise, you are free to use the other hotel's services.
See map below..
The Riu Lupita is the most basic hotel being located in the center of Playacar by the golf course. They do have a shuttle that runs back and forth to the beach and beach club, but chances are if you are at the Riu Palace, you will not visit the Riu Lupita.
The Riu Playacar is small and quaint. The Riu Yucatan is located right next door to the Palace Mexico.
The Riu Tequila is across the street. Since it's the only property with a nightclub and also boasts a 24-hour sports bar, you may find yourself hoping over there for some fun.
The Riu Palace Riviera Maya is located along the same stretch less than 10 minutes walk north (turn right once you are on the street).
You could even choose to go to Cancun for the day and spend the day at one of the resorts there.
The services and food at the Riu Palace Mexico are top-notch, but it is always nice to have that option if you want to try something new, especially if you are staying 7 nights or more.
 
2) The Beach is Stunning (but the pools are small)
The beach in Playacar has got to be one of the best beaches in the area. It is long, wide, white and in front of the Riu Palace Mexico there are tons of palm trees for shade as well as areas where you can be fully in the sun.
There are a couple of different pools but the size of the pools did not seem relative to the size of the hotel. But then again, the beach is incredible.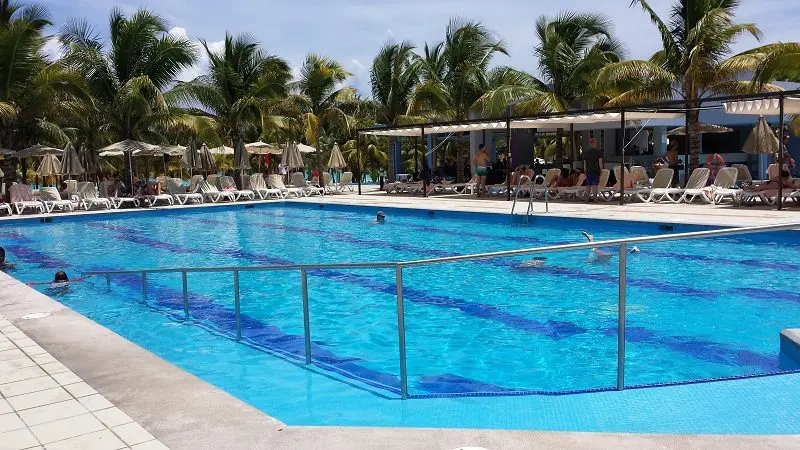 3) You no longer have to make reservations at Riu resorts.
This wasn't always the case, Riu recently updated only just updated their policy to "dine anywhere, anytime".
Before this, it was strictly reservations only. So, good news because there are now no limits. Just how a vacation should be if you ask me.
4) The Rooms
The A/C is not very strong
Normally when I visit a hotel, the first thing I do when I walk into a hotel room is turn the A/C off or on it's lowest setting and i'm sure i'm not alone.
The A/C at this hotel was on HIGH (18 Celsius, 64 Fahrenheit) the entire time and I still found it hot. You do have an individual control in your room, but the A/C system in the hotel does not seem to allow for colder temperatures. If you like your room to be COLD, this may not be the best hotel for you, as the air conditioning system does not allow for it.
There is limited privacy
The bathroom area is open to the rest of the room (yes, the toilet is in an enclosed area). The sinks, Jacuzzi and the area where you step out of the shower are visible from everywhere in the room.
Also, if you opt for two double beds, the beds are stuck together – even if the sheets and bedding are separate. Just something to keep in mind if you are traveling with a travel buddy and or someone you are not completely comfortable with.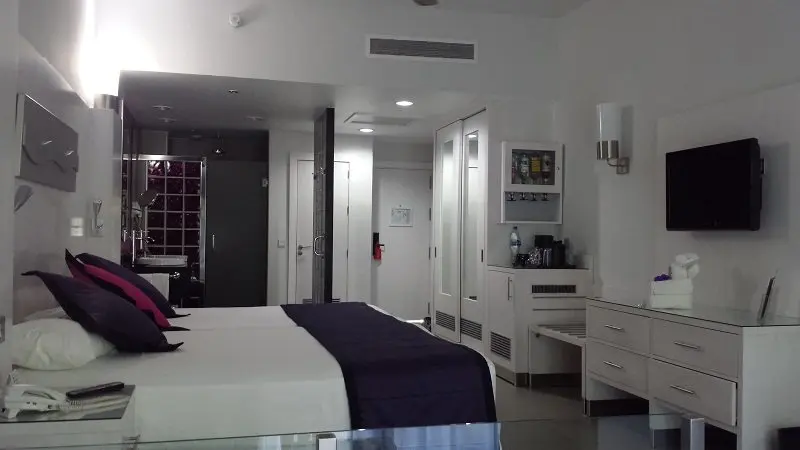 5) The Hotel Decor is Very Modern
If you are coming to Mexico to 'feel' like you are in Mexico, then this hotel will not do it for you.
Don't get me wrong, it is gorgeous, clean, and recently remodeled within the last 2 years. However, it lacks any traditional Mexican influence and other than the staff you would never know that you are in Playa del Carmen.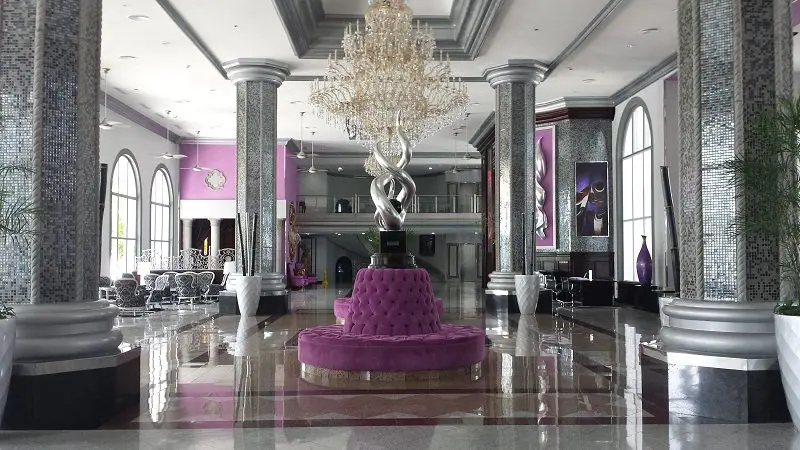 MY PERSONAL TOP 5 LOVES
1) Food
The food was GREAT. Not only was the variety fantastic, the presentation was beautiful and the buffet food temperature was right where it should be.
One of the nights we ate at the buffet was the 'gala night' – including langostine and shrimp. The wait staff is efficient and friendly. The food is fresh and there are tons of different options.
Getting ready to dig into one too many desserts…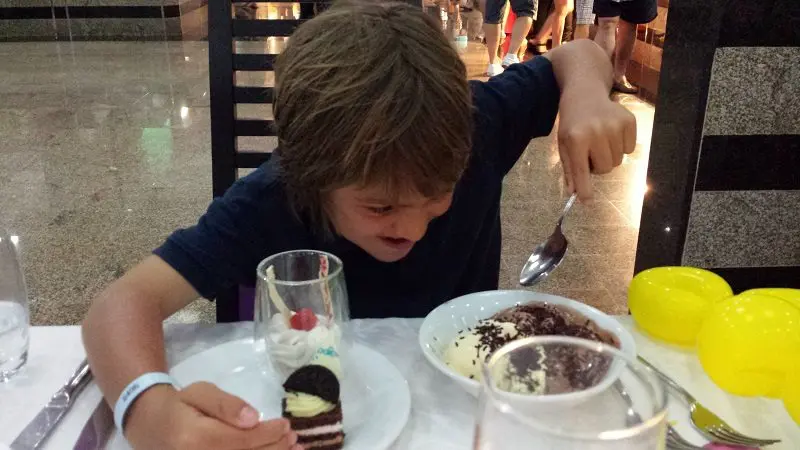 2) Staff
The staff is always very friendly and willing to help. Less than an hour after checking in, we got a call to the room asking if everything was OK. This has never happened to me before in any of the hotels I have stayed at. Anytime I had a question, they had answers.
They were always smiling and available. Even the hotel manager seemed to be everywhere (red Riu polo shirt) checking that everything was running as it should be.
3) Beach
The beach is gorgeous! If you enjoy the beach, like to go for long walks, want to swim in an area that has zero rocks – this is it. One of the best beaches in the Riviera Maya – hands down.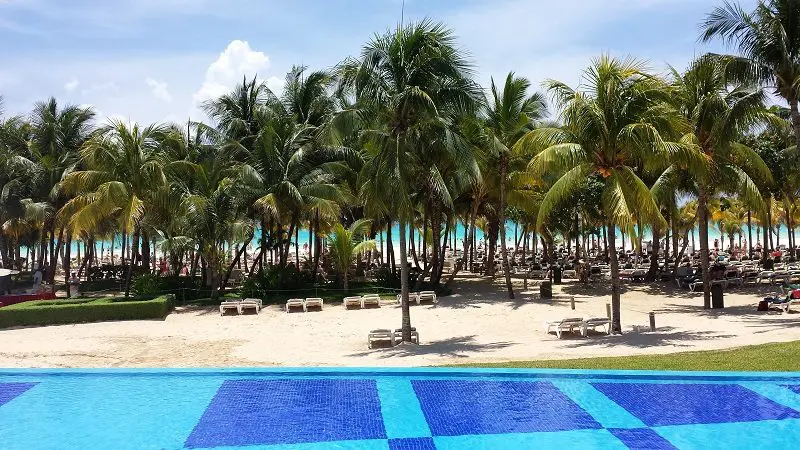 4) Location
There are all inclusive resorts in many different destinations. If you come to Playa del Carmen, then try to leave the resort at least for a little bit and see the town.
You can easily walk into town from the Riu Palace Mexico, or if you prefer to take a taxi, the fare is only $7US. You are also in a gated community with great sidewalks, it is a lovely area for a stroll, run or even a bike ride. Get out and enjoy!
5) Cafe in the lobby
Two of my greatest loves are coffee and sweets. This cafe had cappuccino to rival any of the popular coffee stops today as well as fresh pastries, cookies, muffins and other treats. YUM!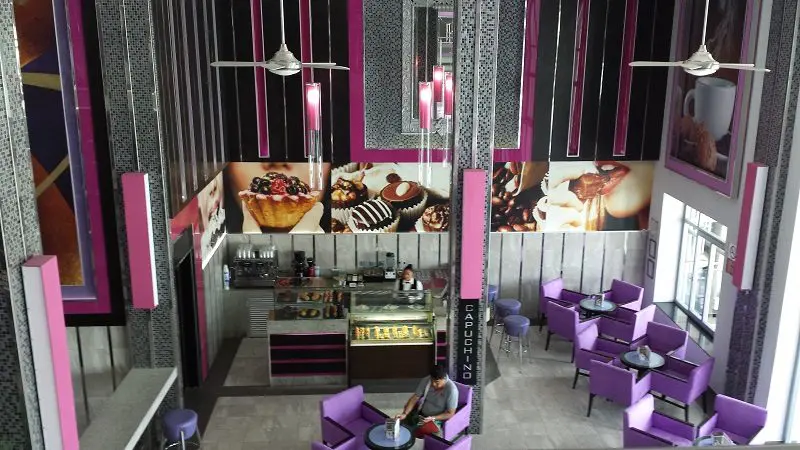 TOP AREAS FOR IMPROVEMENT
1) Air Conditioning
As mentioned, the air conditioning is not cold enough. In our case, we are used to hot temperatures as we live in Mexico and this did not 'ruin'our stay for us. I think that this may be a MAJOR issue for clients that prefer colder temperatures in the room, especially when it comes time to sleep.
2) Room Service
We love room service. It is a treat. We did order room service and it the service was efficient. However, the room service menu is extremely limited (5-6 choices) and the breakfast menu offers only continental.
To top it off, what we did order was GROSS. Yes, that is a harsh word, but the sandwiches were soggy and not well prepared. It's really hard to make a club sandwich gross, but they succeeded.
Major let down for such a highly rated hotel with otherwise excellent food.
3) Maid Service at 10pm
We were there to relax and YES at 9:30 we were in bed. 2 nights in a row, the cleaning staff knocked on our door at 10pm to offer us towels. Why? Why would I need a towel at 10pm? Maybe at 5-6pm when we come in from the beach and get ready for dinner…. What about guests with young kids?
Our door was knocked on repeatedly throughout the day, so if you are in your room trying to relax, the best bet is to keep the do not disturb sign on all the time.
Conclusion
Overall, the Riu Palace Mexico is great value for the money.
It has high quality all around (food, service, rooms, beach) and great reviews. It is one of the only resorts in the area that does not have timeshare on site, so you will never get hassled by sales reps. It is in a prime location that is walking distance to Playa del Carmen.
I would not hesitate to recommend this hotel to our clients and would gladly return.
See rates for the Riu Palace Mexico OR call us to get the scoop…. 888-537-9797 extension 102.
Have you stayed at the Riu Palace Mexico? What did you think? Leave a comment below.
---
Trending Now
You may also like