Sharing Humanity Through Stories: DEmergencia Theater Group Playa del Carmen
---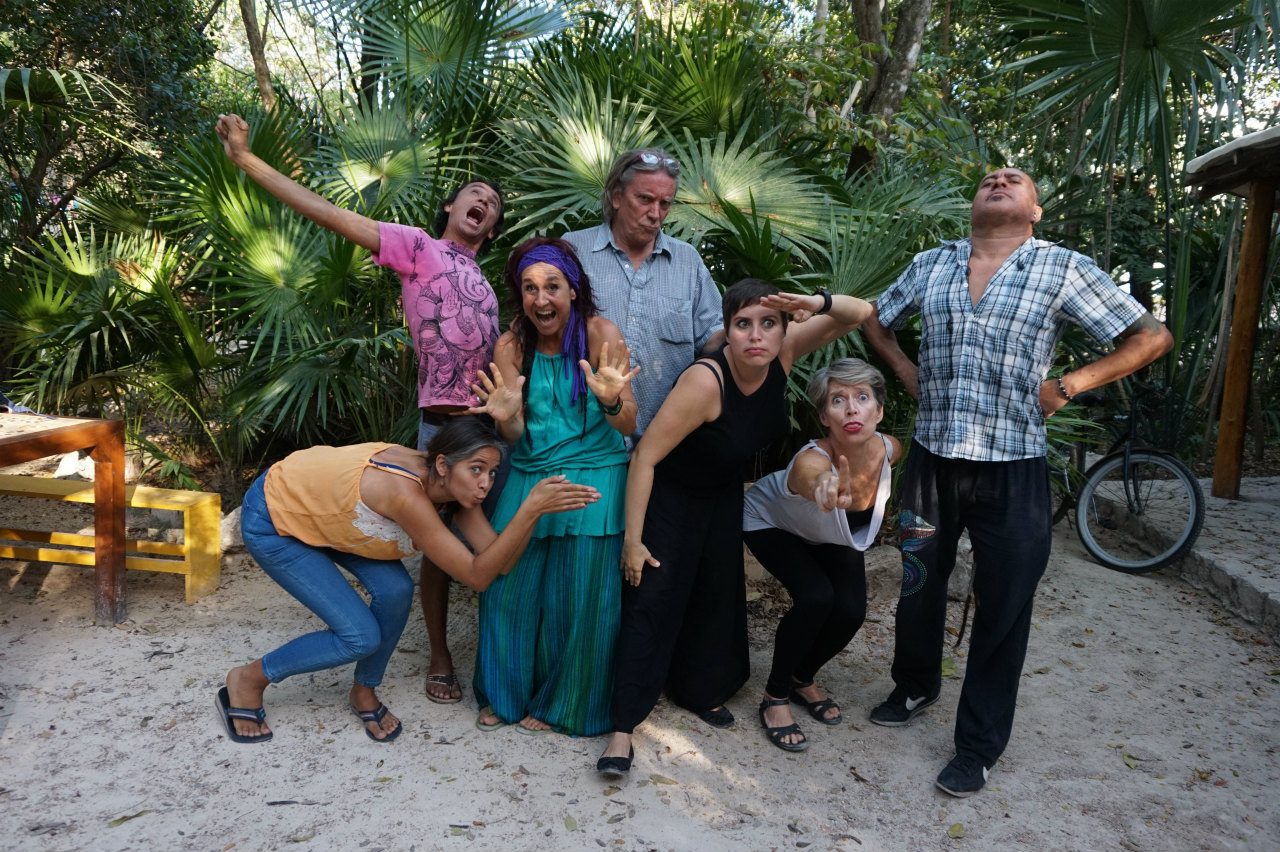 The talented troupe of international actors and actresses of the DEmergencia Theater Group don't need a stage to share their talent.
"We can even perform in a living room," explains Giselle Audirec, founding director of this Playa del Carmen-based ensemble.
Rather than memorizing a script and following the dictates of a director's vision, DEmergencia puts their skills and humanity at the service of the audience.
Through a technique called playback, the troupe asks for stories from the audience which are then recreated through song, words, and movement.
It's raw, spontaneous, and encompassing, transforming individual emotions and experiences into one collective story shared by all.
I recently interviewed this friendly and talented troupe of thespians while meeting up at La Ceiba Park in Playa del Carmen.
It was their turn to become the storytellers, and mine to interpret their story.
About Playback Theater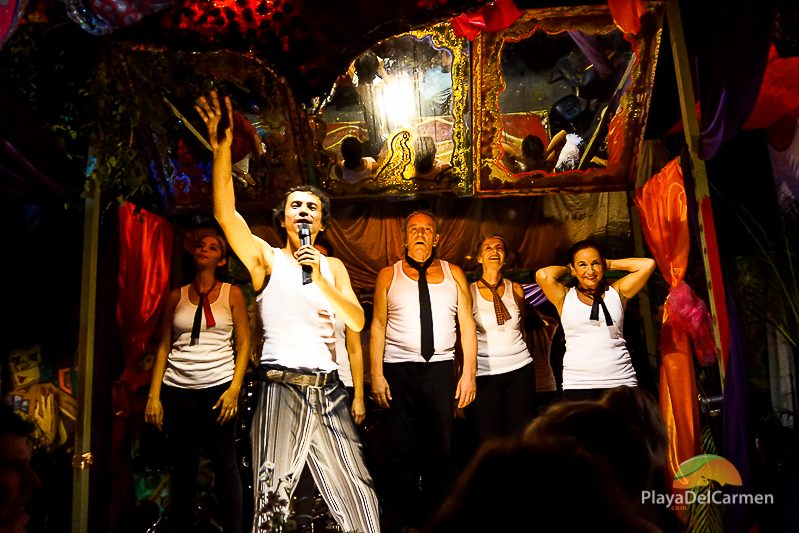 "Playback theater is a technique developed in the 1970's by Johnathan Fox," explains Giselle.
Inspired by the works of Brazilian-born Augusto Boal, founder of the Theater of the Oppressed movement, and Jacob Moreno, the Austrian psychiatrist who formulated a theater-based psychotherapy known as psychodrama, together with Jo Salas, Fox gave birth in 1975 to the Playback Theater Company of New York.
Combining improvisation with storytelling, and audience interaction, playback theater manages to break the bonds of social isolation, thereby creating a sense of community within the audience.
"It's about community integration," says Giselle, "reflecting the emotions of those present while carrying out the functions of theater in its entirety and essence in an immediate and spontaneous manner."
How Playback Theater Works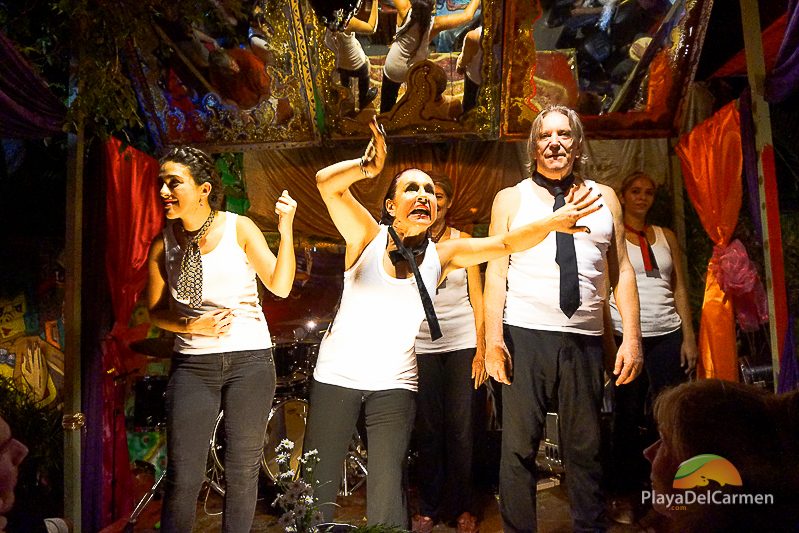 As actors, preparing for playback is not like you would do for a traditional theater piece.
There is no script to follow, no character to develop, no set lines.
"It's more of a workout," explains Rubi Rosado, one of the members of DEmergencia.
"We can't have a rehearsal because no two stories and no two functions are the same."
"We start off with a warm-up and then, depending on the objective we decide to work on, we work on the different forms."
"Each story has its own nuance, and we have forms for each type of story," she continues.
Not everything, however, is just the repetition of the story through theatrical forms such as movements, sounds, and expressions.
Much of the work involves emotions and the actors and actresses perception thereof.
This can be a difficult task, especially if you want to avoid literal interpretations of the story or even the personal interpretations of that story by the individual actors.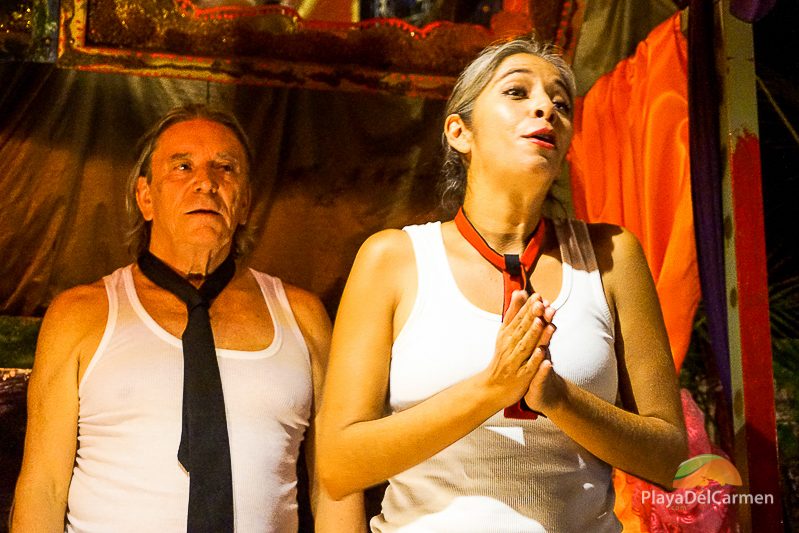 For Regina Lopez, whose background in theater was heavily influenced by the concepts of Jerzy Grotowski, a Polish theater director and theorist who developed the theory of poor theater whereby theatrical resources were reduced to a bare minimum in order to focus on a more intimate relationship between actors and audience, it's about getting down to the essence of a person's story.
"It's not about creating a narrative or telling something just as it is being told to us," she explains, "but about discovering a story's essence and transforming it through emotions, presenting it through corporal movements as well as other elements such as music, whose sounds, rhythms, and movements are great complements to the stories."
"I think the most difficult aspect is not to make a literal interpretation or repeat back what someone tells us," adds DEmergencia member and MC Manuel Sanchez.
Playback As a Tool for Self-Awareness and Integration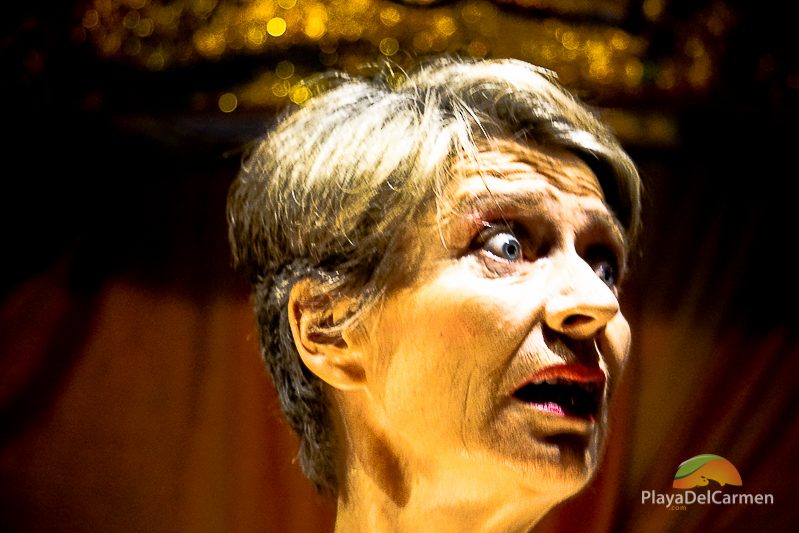 In a multicultural, multilingual town such as Playa del Carmen, DEmergencia doesn't always have the benefit of working in just one language.
This creates a challenge for all involved, but the majority of the pressure resides on the ensemble, who somehow have to interpret the story without perhaps having understood all the words.
So how do they do it?
"Listen with the entire body," says Rubi.
"A person has energy and you receive it with all your senses."
"Even if the language is a barrier, it's precisely what we transform, taking the storyteller's energy to the stage," she added.
And although the purpose of playback theater is not expressly therapeutic, that's often the result.
For Cecilia Vacarri, whose life experience has taken her from her hometown of Buenos Aires in Argentina to Barcelona, Spain, and now Playa del Carmen, this a big reason why she is so attracted to playback theater and the talented troupe from DEmergencia.
"I did community theater back in Argentina," she explains.
"I am very interested in social issues and transformation, which is how I connected with playback."
"It's more about having fun than therapy," she explains, "but we do often realize that it is healing in some sense because it has an impact when people tell their story and have it expressed back to them."
Omar Garcia is one of the musicians in DEmergencia. A child of the rich Mexico City art and culture scene, he's been living in the Riviera Maya for the last five years.
He's been with DEmergencia for the last six months, a time in which he has been able to observe the transformative power of playback storytelling.
"Some people tell stories that may have caused them some type of conflict," he says, "but once they see themselves reflected on stage it opens up alternatives to the fact that there are other visions other than the ones we just have in our heads."
Manuel explains it this way:
"What I like about this type of theater is that, unlike other genres, it's the magic that is created beginning in the moment that we begin to recognize ourselves in the stories of the others, and in the end, we realize that we're all brothers and sisters who feel the same emotions. It creates an identity, connection, and integration after the function is over."
Playback Theater in Action: The Earthquake in Haiti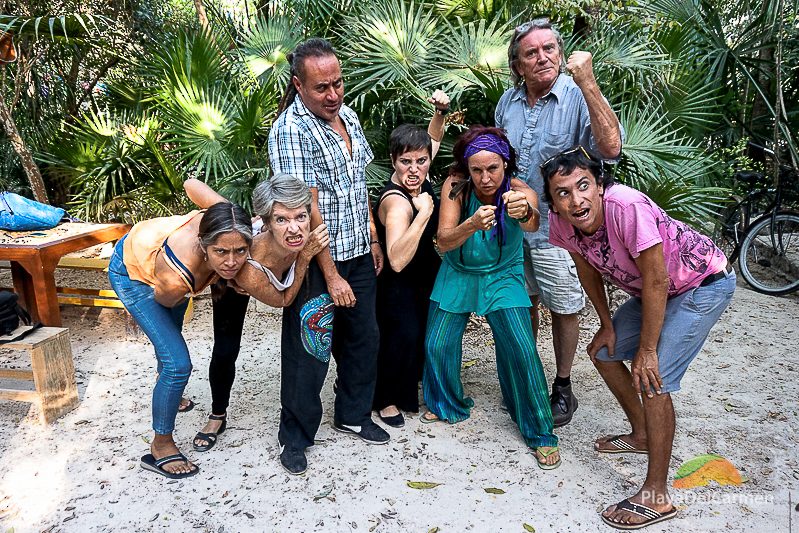 "You can say 'Look at how the world is!' and the response of most people is, 'but what can I do?' as if we were just victims," offers Bernard Fonbute.
Bernard , whose artistic career has taken him through France, Canada, and Mexico, has extensive experience in playback theater in different parts of the world.
"But with playback," he continues, "this is precisely a tool that allows people to see that we're not all isolated and separated from one another."
That theory was put to practice that fateful day in 2010, when 7.0 magnitude earthquake rocked Haiti, creating a massive wave of destruction throughout the country and leaving friends and loved ones abroad with no news of those who remained back home.
Another tragedy had fallen upon the beautiful country of Haiti, and those Haitian immigrants living in Montreal were beside themselves.
Bernard was working in a playback troupe at the time, and some Haitians familiar with the group's techniques invited them to meet with the local community as a means of support to deal with their grief.
"There were a lot of desperate people," he relates, "and many had no news of their family members back home."
"There was so much emotion and tremendous anger."
"It didn't change after the function. We couldn't give them any news about their family members, but they were able to deal with the issue with more serenity," he explains.
"It was very therapeutic."
"People left there with more acceptance of the situation and, rather than just be angry and feeling impotent, they began asking themselves what they can do to change the situation."
Playing Back Playa del Carmen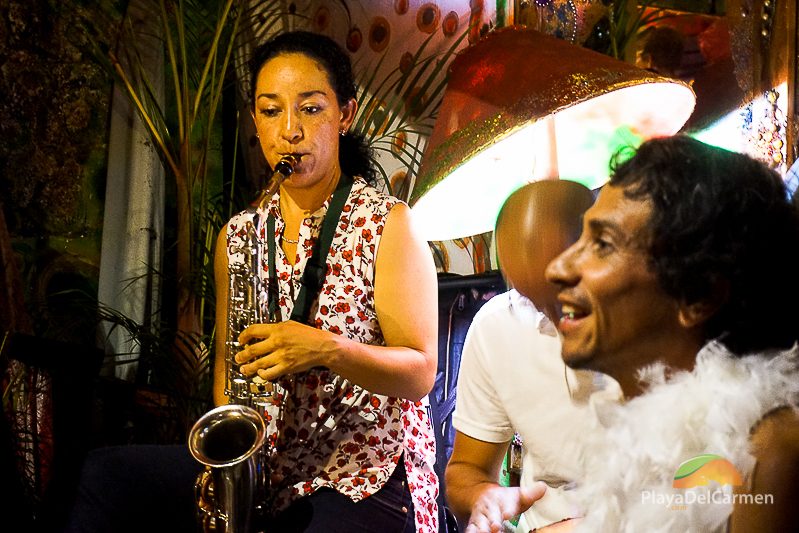 Playa del Carmen is not necessarily a place many people would consider having a budding arts scene.
There are several great initiatives in town, the City Theater, Jardin de Todas, Le Lotus Rouge and more recently Calles Corazon among them.
However, with drastic budget cuts to the arts sector and few spaces to perform, Playa del Carmen is still struggling to establish the space and identity in terms of being a place for arts and culture beyond the tourism scene.
Luckily for DEmergencia, it's not about a question of available spaces as it is the knowledge of this talented theater troupe and what playback is all about.
"I think one of the great things about this type of work is that there are no limits," explains Giselle.
"It's something new and many people are unfamiliar with it. So the difficulty isn't so much about space but about knowing what its all about."
"Because we can work wherever; in a living room or on the street, wherever."
We don't need lights and with well-trained voices we don't even need microphones, so I would say there are no limitations in terms of space."
DEmergencia in Playa del Carmen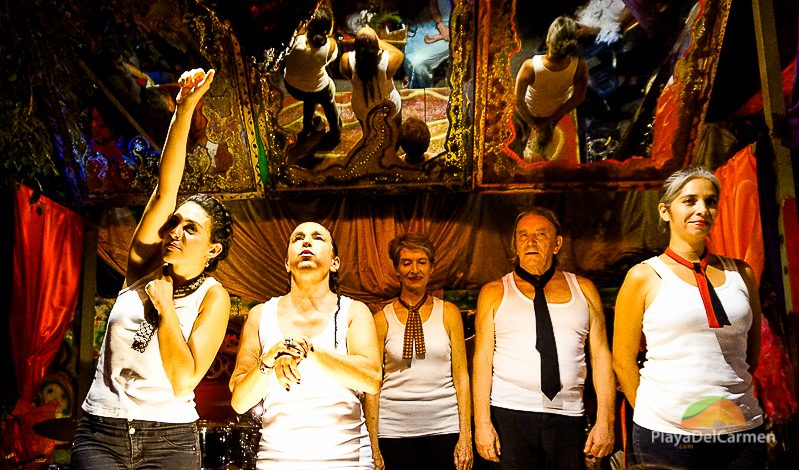 So who are the great thespians who make up DEmergencia?
They are:
Giselle Audirac, Manuel Sánchez, Régina López, Cecilia Vacarri, Bernard Fonbute, Omar García, Rubi Rosado, Joselyn Paulette, and Miriam Jocabeth Ibarra Hernandez.
And how and where can you find these wonderful people who help us see our common humanity through telling stories and sharing emotions?
First, it's important to note that this type of theater is not only entertainment.
As seen above, playback can play a big role in social integration. As such, it's a great option for business meetings, group events, family reunions, and even as an ice-breaking activity for that upcoming wedding or team-building exercise.
The ensemble can be contacted via the DEmergencia Facebook page for upcoming shows and inquiries.
Here are their upcoming events:
Friday, April 21 – Jardin de Todas Market
Saturday, April 22 – Earth Day event at Jardin de Todas
Wednesday, April 26 – Le Lotus Rouge
Saturday, April 29 – Sayab Planetarium
Sunday, April 30 – Punta Esmeralda beach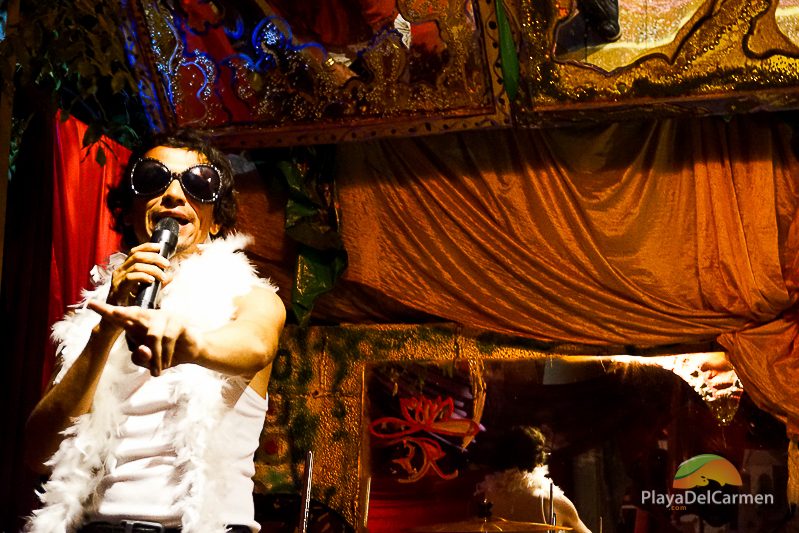 For exact times and dates see the Facebook page above.
And if you're still wondering why you should go out and see and support DEmergencia, we'll leave it in the words of the group's founding director, Giselle:
"I think we do important work with this type of theater."
"It's a way to create curiosity about what it means to be on stage –even if there is no stage as such– but a sacred space in which everyone strives to reflect and recognize one another as human beings," she says.
"That's where we meet, come in contact, and the "I" and the "We" converge in the collective and the collective in the individual. It's something beautiful to share identity."
"That's the grand ritual of theater."
---
Trending Now