4 Tips to Improve your Experience at the Coba Ruins
---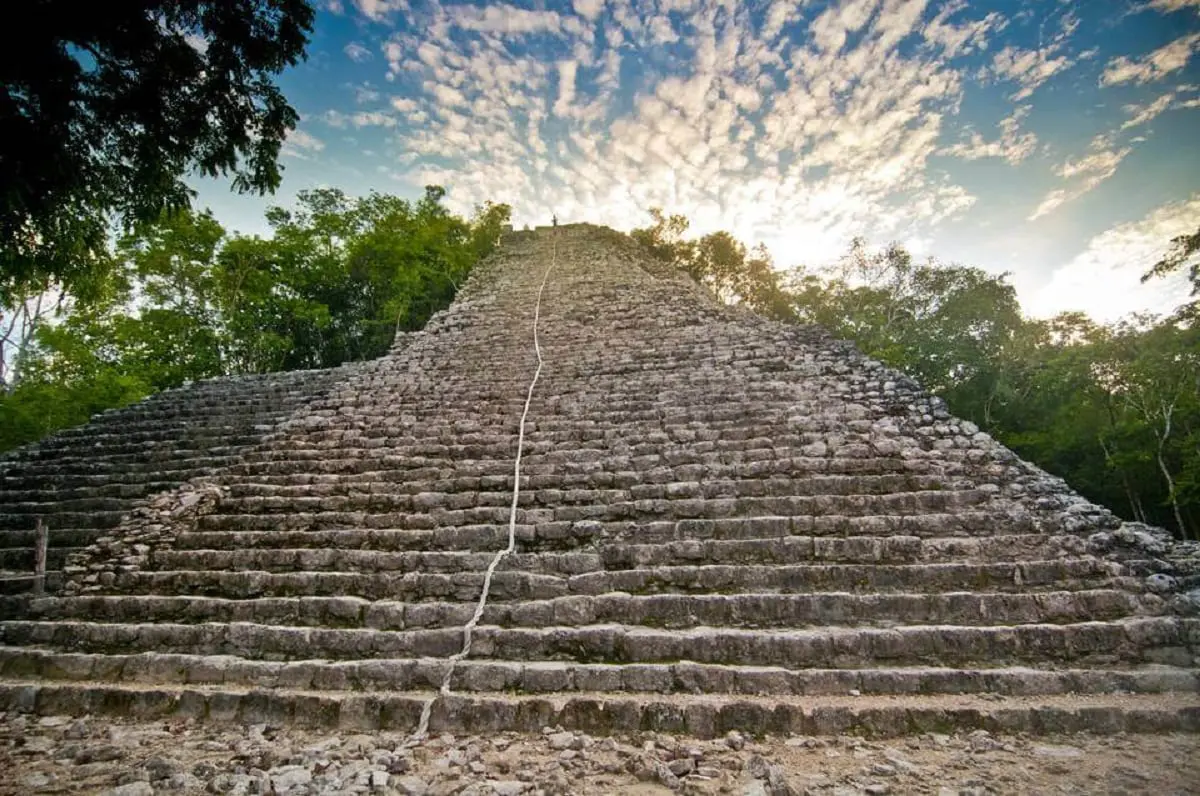 I have always been fascinated with the Mayan culture, from the great temples to the advanced technology. Some might even say they were helped by a higher force. I don't know about that, but I find it fascinating to visit the sites of these ancient people.
If you have traveled to the Riviera Maya, most likely you have heard of both Tulum and Chichen Itza. Although these are the most visited sites, there are other ruins that are equally as fascinating.
One of these sites is Coba, and I had the chance to experience it on the Coba Mayan Encounter.
Each ruin site has their own personality, and this site was no different. If you think all Mayan ruins are the same, you are really missing out. My goal is to see every ruin site in the area, and so far I have a pretty good start.
They picked us up bright and early on our tour day, and we headed out for our Mayan adventure.
The van seated up to 14, and we were almost at full capacity. Everyone was looking forward to the adventure ahead. Rebeca was our guide, and she was fabulous.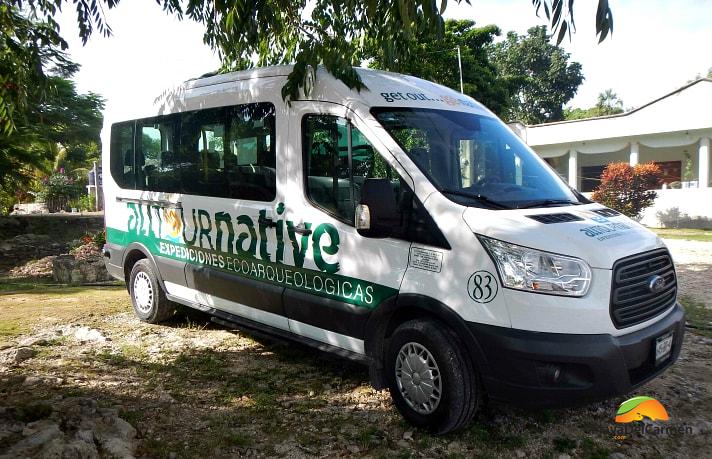 It took us about 2 hours to get from here to Coba (and keep in mind, this time may vary by how many people need to be picked up, and from which hotels).
So if you are in the Playa del Carmen area, the Coba ruins are a little farther than Tulum but closer than Chichen Itza.
Also, this site has the only climbable ruin in the area, and it's the tallest. I was looking forward to this, even though I am deathly afraid of heights.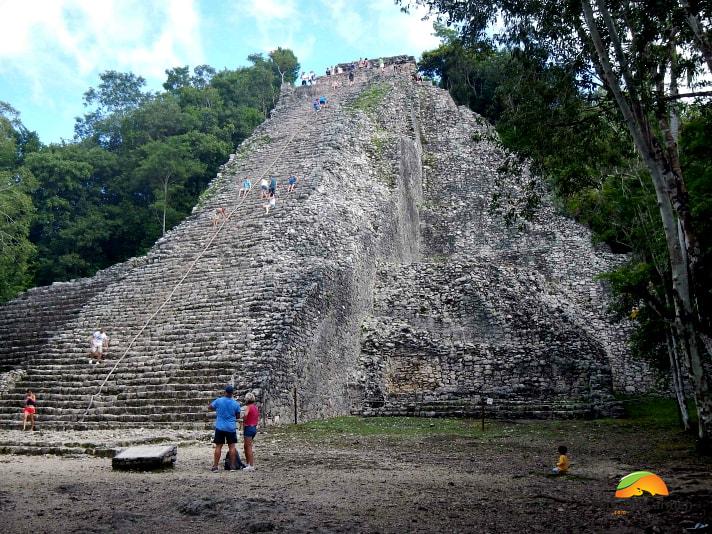 Tip #1 – Bring a Snack
Anyone who reads my blog knows this is always my #1 tip for any tour.
As with most tours, you are picked up early in the morning. Lunch is the last activity of the day, so do yourself a favor and bring snacks.
You will be exploring the ruins, zip lining, canoeing and rappelling, all very physical activities.
If you are like me, you will be mighty hungry by the time lunch time rolls around.
While you are touring the sites, you can lock your stuff in the transport van, so take my advice and bring a snack or two.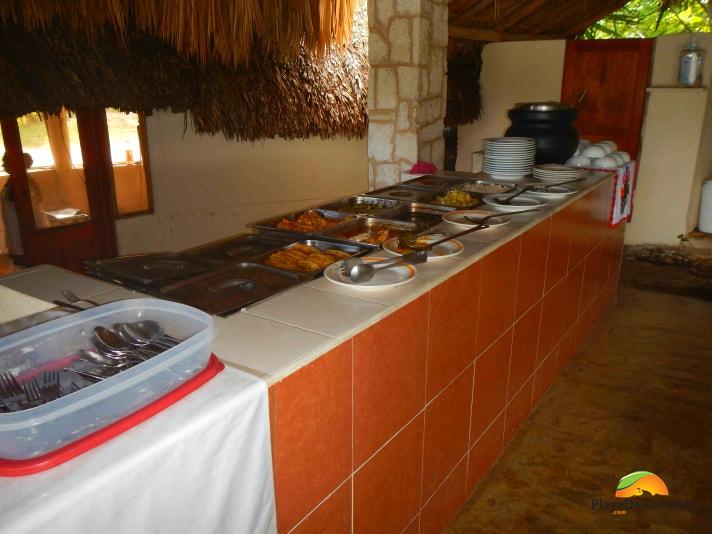 Tip #2 – Comfortable Shoes, Bug Spray and Sunscreen
Although they have bike rentals in Coba (highly recommended) you are still doing a lot of walking on uneven ground.
The ruins aren't too bad, as there are paths, but once you get to the zip line site, you are walking through the untamed jungle.
This area is known for limestone formations, and nothing is harder than trying to walk on it in wet flip flops. Also biodegradable bug spray and sunscreen is highly recommended.
The sun is glaring here, and nothing is worse than getting a bad sunburn at the beginning of your trip.
Also, the mosquitos are plentiful in the jungle, so try to protect yourself.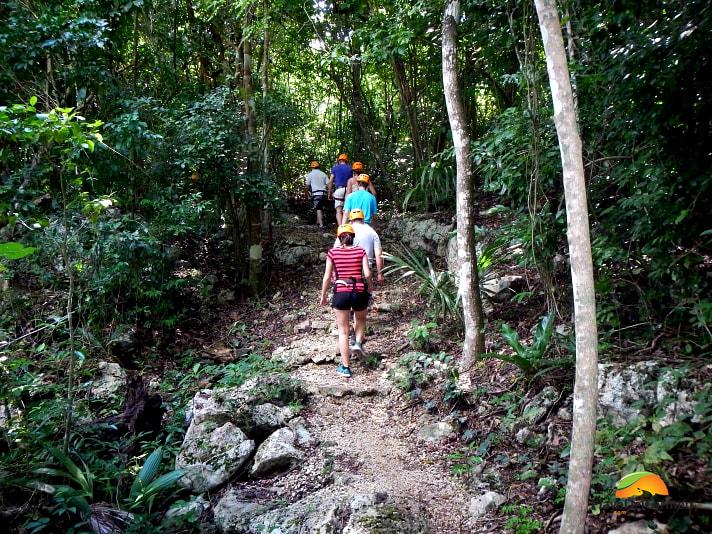 Tip #3 – Take the "Mayan Taxi" in Coba.
Trust me on this, Coba is a huge archeological site.
They have bike rentals available, as well as Mayan taxis, which is a bike with 3 wheels and a seat in front.
Believe me, I felt bad about a very small Mayan guy pedaling the hubs and I around, but it was well worth it, especially if you are going to climb the ruins.
As mentioned, it is the highest ruin site in the Yucatan, and the steps are very narrow and uneven. Not that I am a triathlete or anything, but even if you are in good shape, there's a good chance that your leg muscles will be burning once you have climbed up and down the ruin. Mine felt like rubber, and I was so glad that we hired the taxi. I think we paid about 150 pesos for our transportation. Well worth it, and we tipped extra well because we are not small people by any means. 😀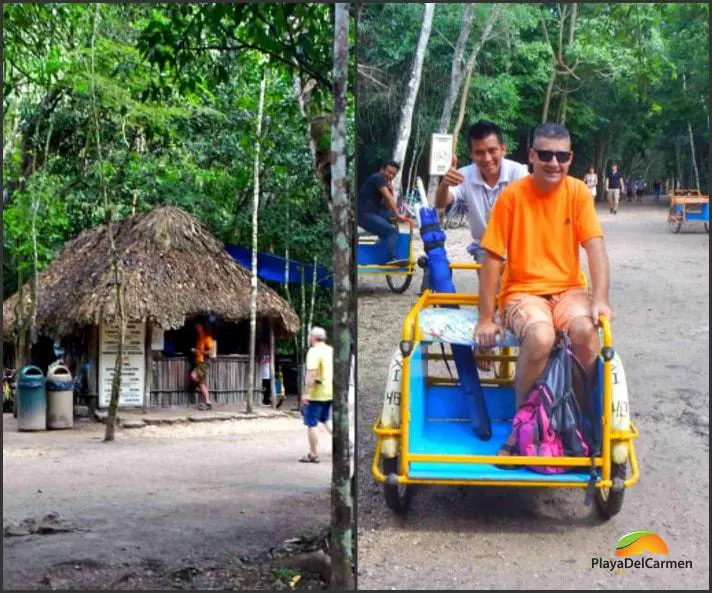 Tip #4 – Take Extra Money for Pictures
At the zip line site, they do not want you taking cameras if you are participating in the zip line and rappel.
I guess it's an insurance issue, as a lot of cameras have been lost or destroyed. In any case, that means if you want pictures you have to buy them. I highly recommend buying them, because how many times are you going to be ziplining through the jungle, or rappelling down into a cenote? If I remember correctly for the whole set was around $40 usd, although I believe you can purchase individual ones if you want.
We really had a great time on this tour. Our guide was fantastic and gave us great insight on the history and ways of the Mayan people. I wasn't sure what to expect from Coba, but I loved it. Of course, it has a different feel than Tulum or Chichen Itza, It felt very "Indiana Jones'ish" as a lot of the ruins were in their natural state. And even though I am deathly afraid of heights, and plunging to my death, I still climbed the ruin (I just had to take 3-4 breaks on the way up and down). There is a rope that you can hang onto if you feel you need it.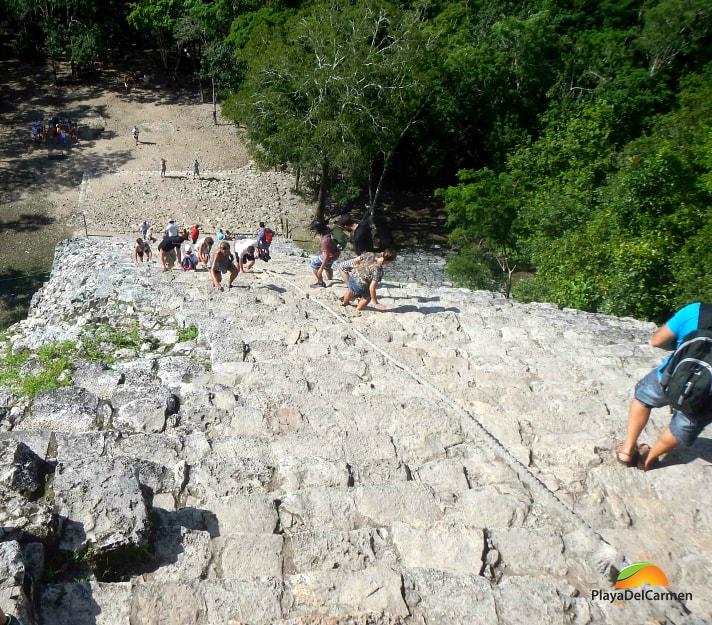 The Mayan village at the zip line site was beautiful. We canoed on a lake to the first zip line station, it reminded me of home, which was nice because looking at beach and palm trees just gets old (okay, not really). But it was nice to see a landscape that reminded me of the beautiful lakes in the States.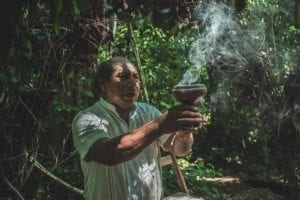 The zip line circuit was fun, not too high or long, so great for beginners.
The towers were maybe 20 feet high, so even if you are afraid of heights, it's not too bad at all. Same with the rappel into the cenote.
Because you are actually dropping into the cenote from ground level, you don't have to climb a huge tower to rappel. And I just love cenotes anyway, if you come here it is a must see.
The shaman ceremony was really interesting, and a great way to take a glimpse into the Mayan culture. And they bless you, which is a nice touch.
They really do a nice variety of activities on this tour. And the lunch was one of the best I have had on a tour. I also bought some honey from one of the locals there, and it was delicious.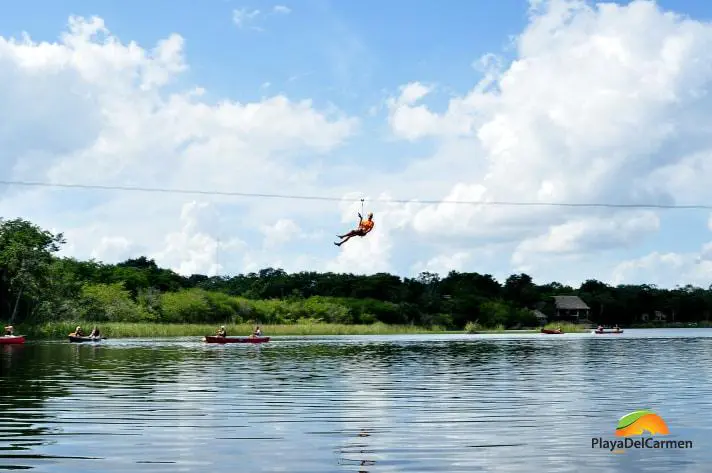 So if you want to do something different, but still see a ruin, I highly recommend this tour. It has more of a natural feel, and you don't feel like you are being herded around like cattle. You go into a real Mayan village and get to experience a little taste of what life is like there. Plus if you have never done a zip line or rappel, this is a great way to get started.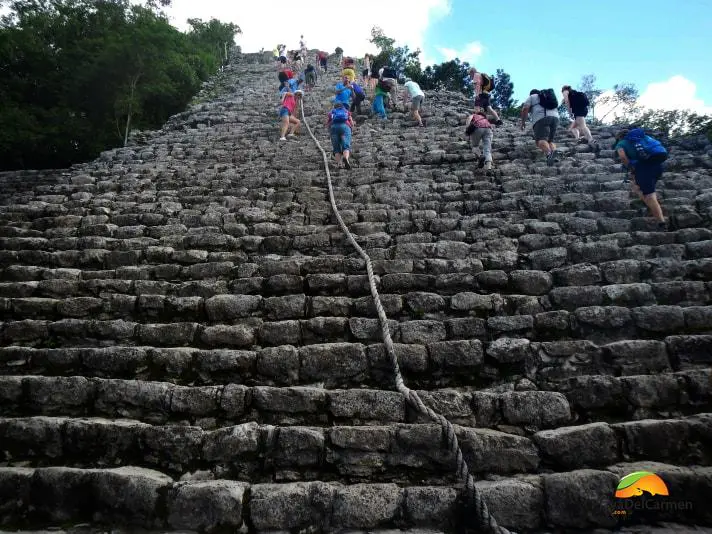 Is climbing Coba on your bucket list?
Have YOU been on this tour before? Give us your feedback in the comments below?
 Have a question for Travel Specialist Linda? Get in touch!
---
Trending Now
You may also like