8 Awesome Playa del Carmen Day Trips You'll Love
---
Are you familiar with the best things to do in Playa del Carmen?
You should be.
Because what makes Playa del Carmen so special are not only its beaches, people, culture, and nightlife but also its proximity to awesomeness.
Here's what you need to know first.
What makes this area so special?
This region, the Yucatan Peninsula, is packed with both history and mind-blowing natural beauty.
With almost no rivers running over the earth's surface, water can be mostly found in underground rivers and cenotes (sinkholes).
On the surface, you'll find jungles, wetlands, lagoons, and mangrove forests.
Mixed in are Mayan ruins, colonial towns, small villages, and hot tourist spots like Cancun or Playa del Carmen.
So what do I recommend seeing? Behold the list.
The 8 Best Playa del Carmen Day Trips
As you can imagine, all of the above provides a lot of great material for day tripping.
So here are some of my favorite tips in no particular order. Why's that? Because they're all good.
#1 Holbox Island
Okay. I lied.
This place is first on the list. Hands down and eyes closed.
A small island in the Gulf of Mexico separated from the mainland by a lagoon, Holbox is a true tropical beauty to behold.
Why I love it?
Almost no cars, white sand streets, cool vibe, and stunning beauty. Did I mention the sunsets? The most spectacular you may ever see!
What to do?
Rent a golf cart or a bicycle and explore the inhabited part of the island from point to point
Take a Classic Tour in the morning to visit the Yalahau Spring, Passion Island, and Bird Island.
Where to Eat?
Have some fresh ceviche at Raices on the beach or lunch at La Isla del Colibri right on the corner of the main plaza. For dinner, be sure to check out El Chapulim.
How to Get There
Drive, hire private transportation or go by bus to the town of Chiquila, which is approximately two hours from Playa del Carmen. From there you'll take a ferry over to Holbox Island.
---
#2 Valladolid
I love Valladolid.
In spite of being a great town with lots to offer, Valladolid still doesn't get a lot of tourism.
It should, however, because it's the gateway between the Riviera Maya and the rest of Yucatan.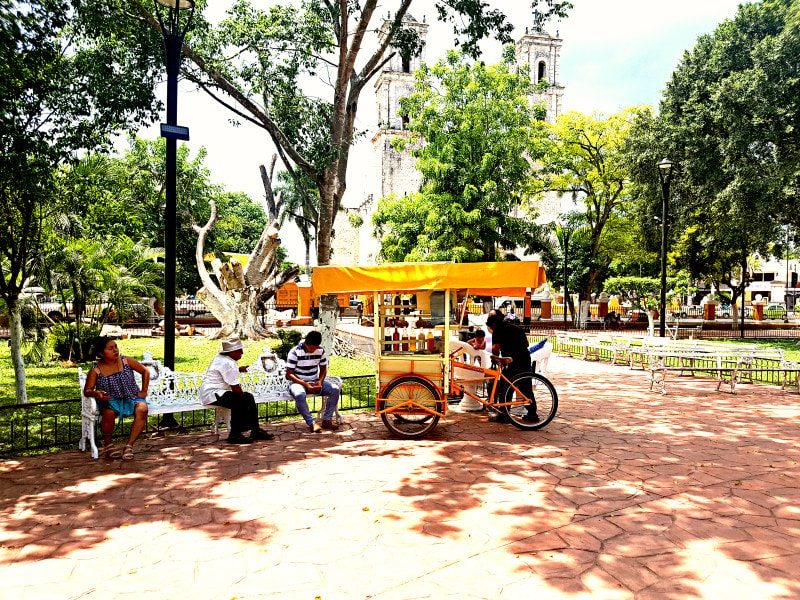 What to do?
Visit the largest private collection of Mexican folk art at La Casa de los Venados.
Take a stroll down the Callejón de los Frailes (Friars' Street)
Take a walk around the main plaza and visit the municipal building whose walls are covered in murals.
Where to eat?
Make sure you make it for breakfast at the municipal market and eat anything and everything you like at Mi Amigo Casiano.
Then, go back for lunch and try something else. In the evening, check out the Taberna de los Frailes.
Be sure to see our post on our day trip to Valladolid for more tips.
How to Get There
Valladolid is the halfway point between pretty much everywhere in the Yucatan Peninsula.
Regular buses leave several times daily from all major cities, and you can always contact us for private transportation from Playa del Carmen.
Travel time is about 1.5 hours.
---
#3 Sian Kaan
Unless you have your own jeep, the best way to visit the Sian Kaan Biosphere on a short day trip is through an organized tour.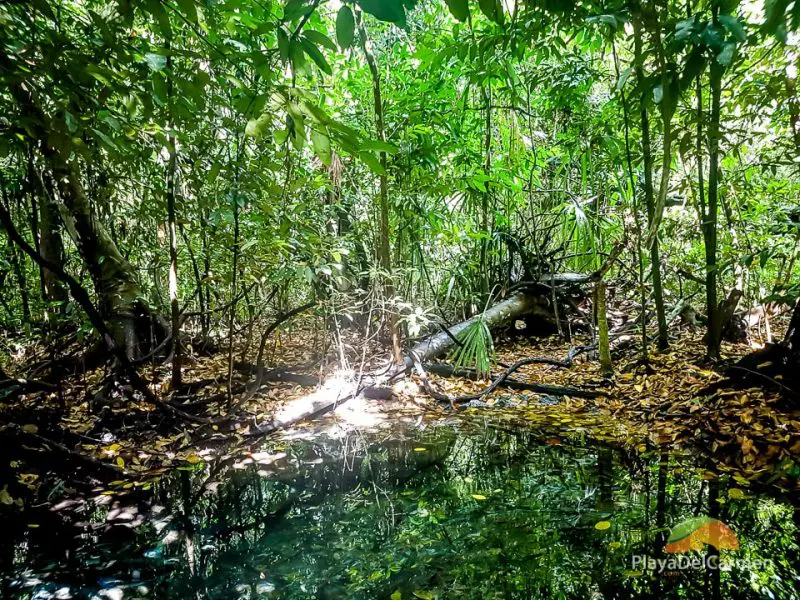 I recently went on the Mayan Eco Adventure Tour and had a blast!
Check out my Sian Kaan tour review on our blog for all the juicy details.
What to do?
Your tour takes you to visit the Mayan ruins of Muyil, take a walk through the jungle, and take a boat ride in the local lagoon before floating down mangrove channels made by the Maya over 1,000 years ago.
Where to eat?
Do you always have to talk about food? I do.
Note that this isn't a foodie tour, but the lunch service at a Tulum beach club after the tour hit the spot with chicken, fish, salad, and of course, rice and beans.
However, you'll still want to take along some snacks for the road on this one.
How to Get There
To visit the Muyil ruins, you'll actually take the road to Coba. From Playa del Carmen, it's about an 80-minute trip. Public transportation is available, but your best best is to take the tour or rent a car.
---
#4 Rio Lagartos & Ek Balam
A long day with a heavy dose of travel, but this guided tour is definitely one of the better combinations in the region.
You'll first visit Rio Lagartos, where you'll take a boat ride through the statuaries, observe flamingos, float in pink-colored water, and take a Mayan mud bath.
Following lunch, you'll be off to Ek Balam.
This site has much fewer visitors than Chichen Itza or Tulum, but it's big, impressive, and you can climb the tallest pyramid.
Take that, Chichen Itza.
What to do?
The Rio Lagartos & Ek Balam tour. You'll be glad you did.
Where to eat?
You'll be treated to a good lunch at Ria Maya, a fantastic local seafood restaurant in Rio Lagartos. Take along some snacks in case you get the munchies during the long journey.
How to Get There
Your journey will first take you on a three-hour drive to Rio Lagartos, passing through Valladolid. From there, it's about a 70-minute drive to Ek Balam.
---
#5 Cancun
Because not everything in life is a tour.
Plus, Cancun has a bad rap as only a place for Spring Breakers and loud Americans.
The beauty of Cancun is that it is that and so much more.
Visit Cancun and let the city defy those stereotypes on its own terms.
What to do?
Where to Eat?
Snack on some "pescadillas" (golden fried tacos filled with fish) at El Galeon right on the lagoon (km 19.5)
You'll have some of the best Yucatecan cuisine around at El Pocito.
Try the esquites (corn kernels covered in lime juice, mayonnaise, cheese, and chili powder), marquesitas (crepe-like creations filled with cream cheese and Edam cheese or Nutella), and quesadillas at Parque La Palapa.
How to Get There
Public transportation leaves frequently from Playa del Carmen.
You can either take a bus, a colectivo van (shared transfers) or hire a private transfer for a day trip to visit certain Cancun attractions and do some shopping. Travel time is approximately one hour.
---
#6 Isla Mujeres
I always enjoy a visit to Isla Mujeres.
It's a charming little island, with a nice but not overbearing downtown tourist area and a great vibe.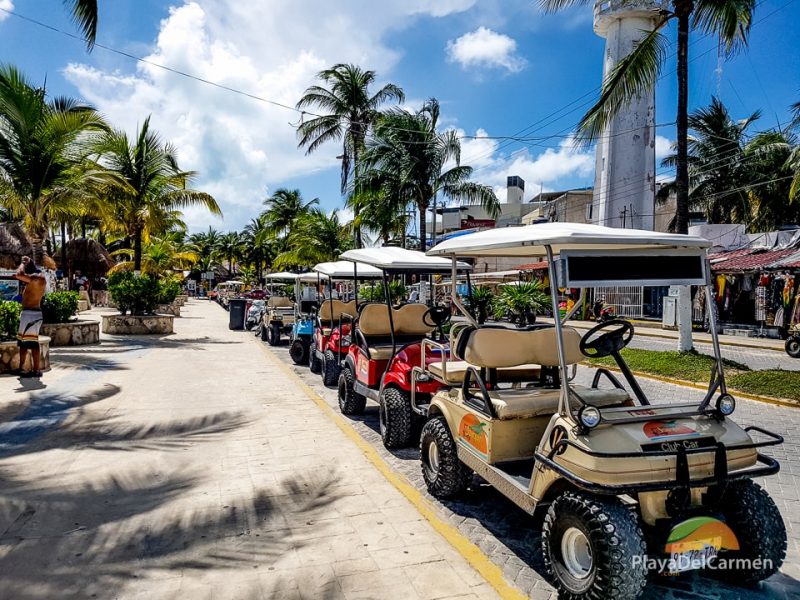 Moreover, Isla Mujeres is home to Playa Norte, considered by many to be one of the best beaches in the entire Caribbean.
Following a short ferry ride from Cancun, you can head out and discover the island and its many attractions.
We recommend you avoid the hassle and go on an organized day trip to Isla Mujeres taking a catamaran instead of a ferry!
What to do?
Rent a golf car or bicycle and travel up and down the island
Pay a visit to the ever-entertaining Richard Sowa and his floating plastic island …. it's worth it.
Next, head to Punta Sur and enjoy the view plus the ancient Mayan ruins of the goddess Ixchel
Now relax, wind down, chill out, and have some cold beers on Playa Norte.
Where to Eat?
The municipal market is a bit hard to find but has good food at outstanding prices; fall in love with the food and the excellent service at Pita Amore; enjoy great seafood at the beachfront restaurant run by local fishing cooperatives, Justicia Social.
How to Get There
Take a ferry from the Hotel Zone in Cancun or from the ferry terminal in Puerto Juarez.
---
#7 Chichen Itza
A New Seven Wonder of the World.
And rightly so.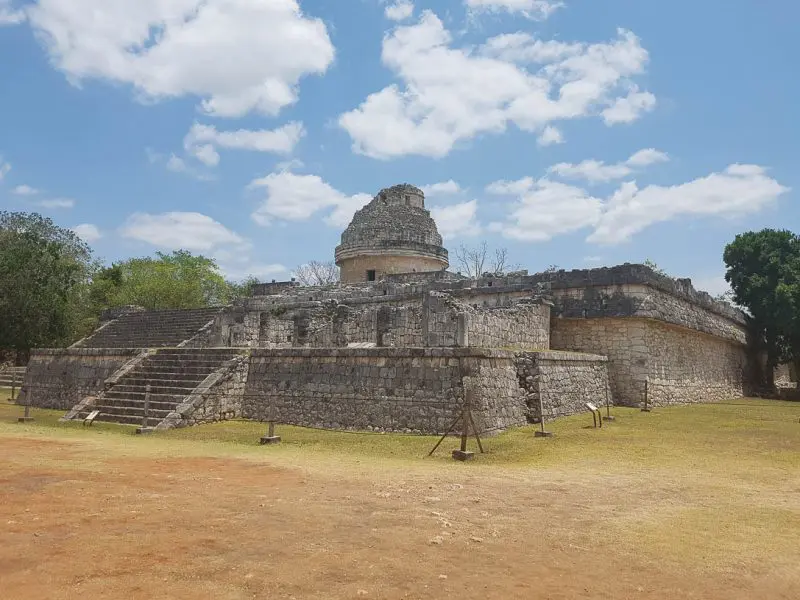 There are some cons to go with the pros when considering a Chichen Itza tour from Playa del Carmen, but the fascinating history, the stunning architecture, and the adventure of it all outweigh things like the heat, a long day, and sometimes insistent vendors.
For more information see our answers to your 15 most frequently asked questions about Chichen Itza.
What to do?
During the tour you'll have the chance to walk around the expansive grounds and learn about the history. Do so
Some people go without a guide, but you simply miss out on too many interesting facts that way.
Also, consider bringing umbrellas to shield you from the heat, and a swimsuit to dive into the crystalline waters of an ancient cenote (sinkhole).
Where to eat?
You'll be treated to a lunch buffet after Chichen Itza and prior to going for a swim in the cenote. Bring some extra snacks just in case for both before and after lunch.
How to Get There
If you do decide to go on your own, your best bet is to rent a car in Playa del Carmen and take the toll-road to Chichen Itza. It's about a 2.5-hour drive.
---
#8 Cozumel Island
A Playa del Carmen day trip to Cozumel Island is probably the simplest of them all.
That's because you can just walk to the ferry terminal in downtown Playa del Carmen and take the 40-minute Caribbean ferry cruise to this gorgeous island.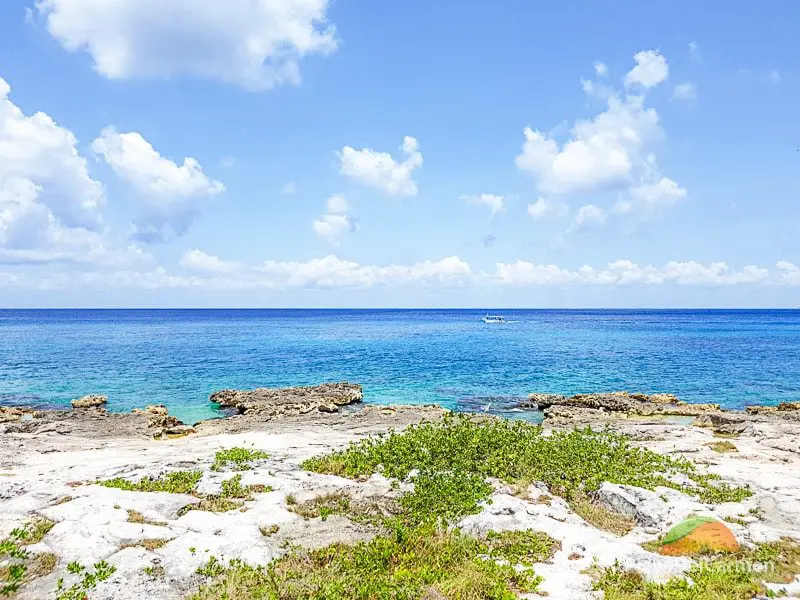 Cozumel is fairly big, and there are quite a few things to do.
In other words, you'll have to make choices about what you're most interested in seeing and/or doing.
Whatever you choose, you'll fall in love with Cozumel's beauty.
What to do?
If you're a diver, this one's a no-brainer as Cozumel is considered one of the best diving regions in the world.
If snorkeling is more your thing, head out to Chankanaab Beach Adventure Park; be sure to rent a car for the day so that you can see more of the island
Take a stroll through the downtown area of Cozumel as well.
Where to eat?
Hungry for burritos? Head out to Crazy King Burritos to quench that appetite; visit the Thirsty Cougar for good food and a few laughs about the name; looking for some place with a view? Say hello to Alberto at Alberto's Beach Bar Restaurant.
Have Questions?
We, PlayaDelCarmen.com, are here to help.
You'll get the best deals on everything Playa del Carmen like all-inclusive hotels, tours and fun things to do.
Call us at 888-537-9797!
Been there, done that? Have other suggestions? Let me know in the comment section!
Photo credit: Feature image courtesy of Singa Hitam
---
Trending Now
You may also like