6 Awesome Hotel Deals for New Year's 2017
---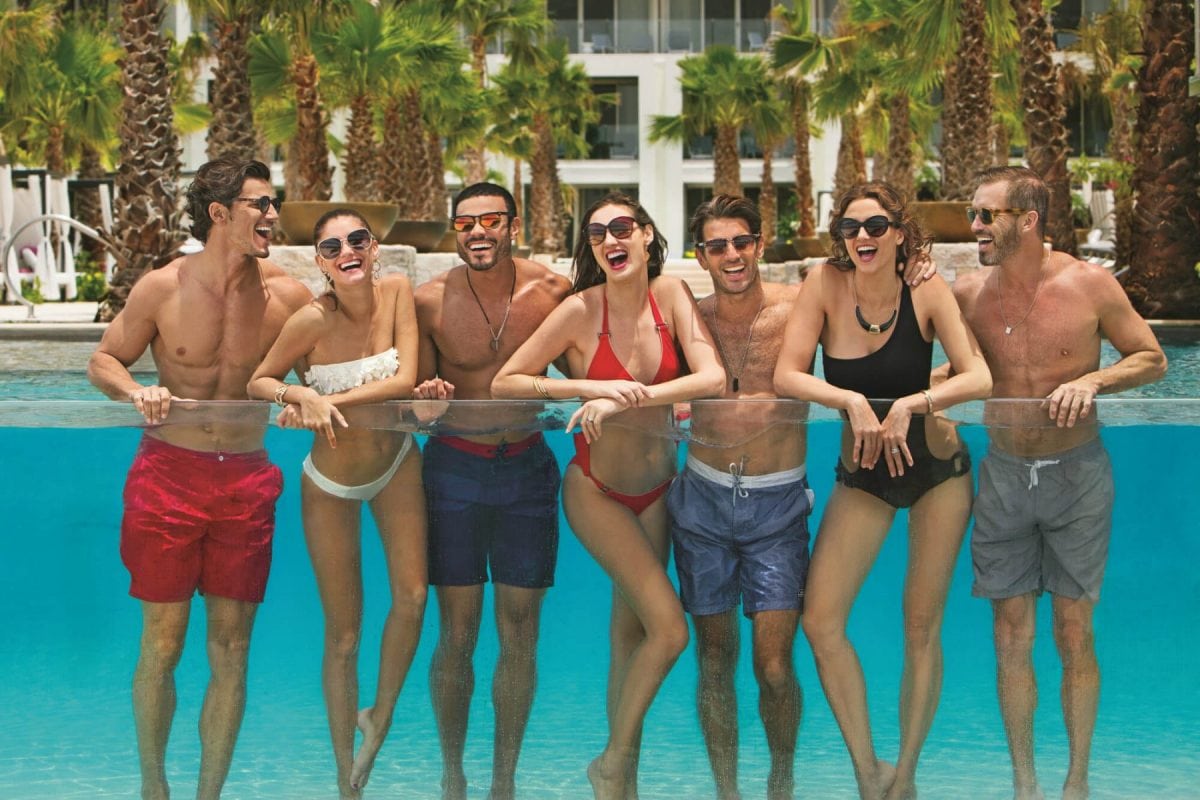 YOU'VE LANDED ON LAST YEARS DEALS. Discover our New Years hotel deals for 2018!
As the clock ticks away on the last days of 2016, so does your window of opportunity for finding a discount on a perfect New Year's Eve getaway to Playa del Carmen.
Lucky for you, we got some good deals…..
Yes, it's not too late to find the perfect Playa del Carmen hotel because we've lined up some awesome packages for you.
In addition to the great deals below, be sure to check out our New Year's Eve guide on where to eat, what to do, and how to celebrate the passing another 365 days of orbiting the sun.
Our New Year's Eve Hotel Packages
The following deals are for….
5-night stay
Check-in on Wednesday, December 28
Check-out on Monday, January 2, 2017
Includes round-trip private airport transfers from Cancun airport to your hotel.
All hotels are all-inclusive!
They're listed in order from least to most expensive.
To keep it easy, we've divided the hotels into 2 categories
Family-friendly
Adults-only.
3 Family-Friendly Hotels for New Year's
Bring the ma, bring the pa, bring the entire family and celebrate that transition in time that for some reason has us dropping giant balls, drinking way more than we should, covering ourselves in confetti and crying large amounts of collective tears.
Just do it in the Caribbean at an all-inclusive, soul-pampering haven that is a family-friendly resort.
1) Grand Riviera Princess – $1187 / person
5-night all-inclusive stay | Check-in December 28 | Check-out January 2, 2017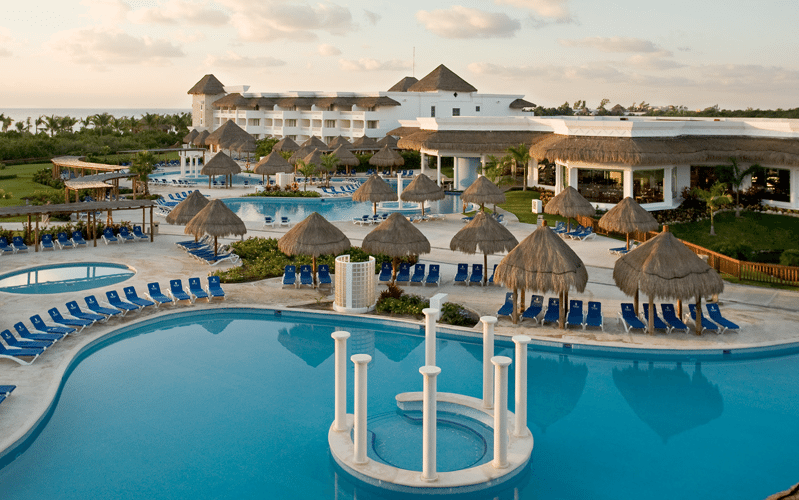 Ring in 2017 with the stunning blues of the Caribbean Sea as your backdrop at this large, family-friendly, all-inclusive resort.
Grand Riviera Princess boasts 687 suites, 12 restaurants and 17 bars to help keep you merry, fed, and well-rested.
With clubs for both kids and teens as well as a fitness center, spa, and myriad of daily activities, Grand Riviera Princess offers a great way to keep the whole family entertained far removed from the cold winter of daily life back home.
---
2) Barcelo Maya Beach – $1695 / person
5-night all-inclusive stay | Check-in December 28 | Check-out January 2, 2017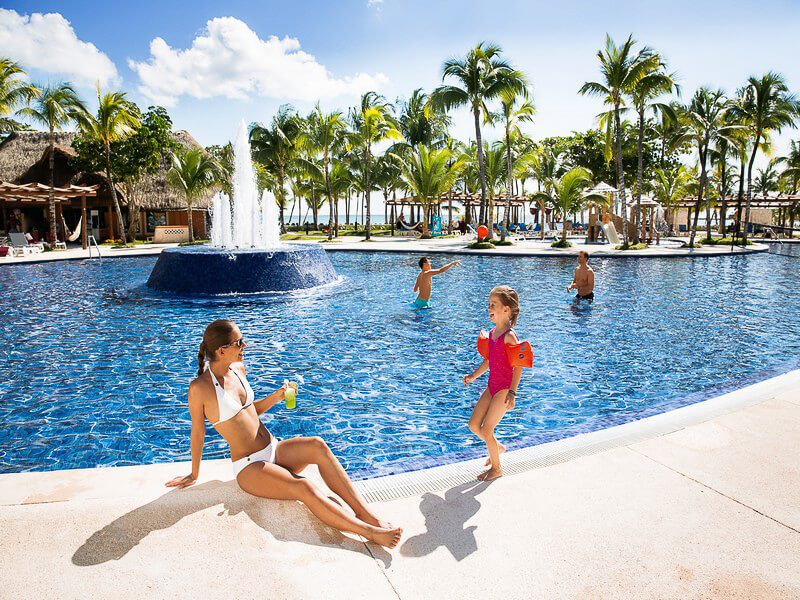 The 630-room Barcelo Maya Beach is part of a mega-complex of adjoining resorts.
The sheer size means guests have an ending array of options in terms of beaches, pools, restaurants, and bars.
To make getting around easier, the resort offers an express train which departs every 20 minutes and transports guests between the properties.
To keep the lil' ones happy their is even an awesome water park.
---
3) Moon Palace Golf & Spa Resort – $1760 / person
5-night all-inclusive stay | Check-in December 28 | Check-out January 2, 2017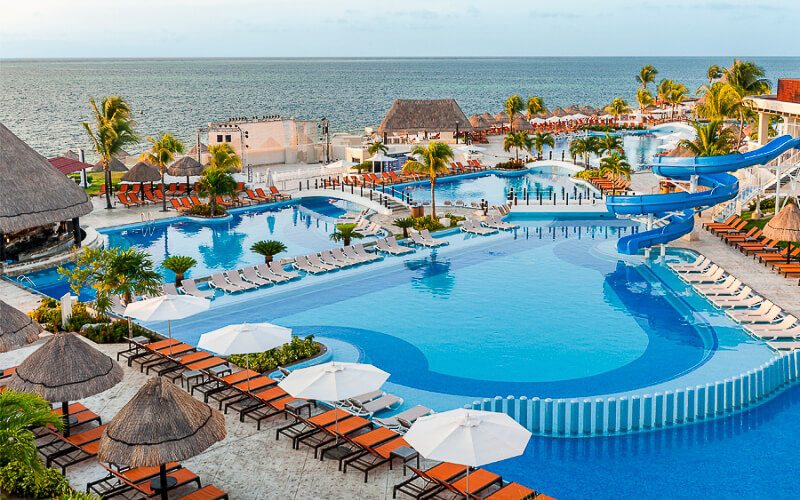 The most expensive and luxurious of the bunch. Moon Palace Cancun is all about elegance and luxury, which can be seen in and around every corner of this massive 2,446-room, all-inclusive, 5-star paradise.
With 16 restaurants and bars, 24-hour room service, clubs for both kids and teens, in addition to the world-class championship golf course, Moon Palace Cancun offers guests a palatial way to say good riddance to 2016.
---
3 Adults-Only Hotels for New Year's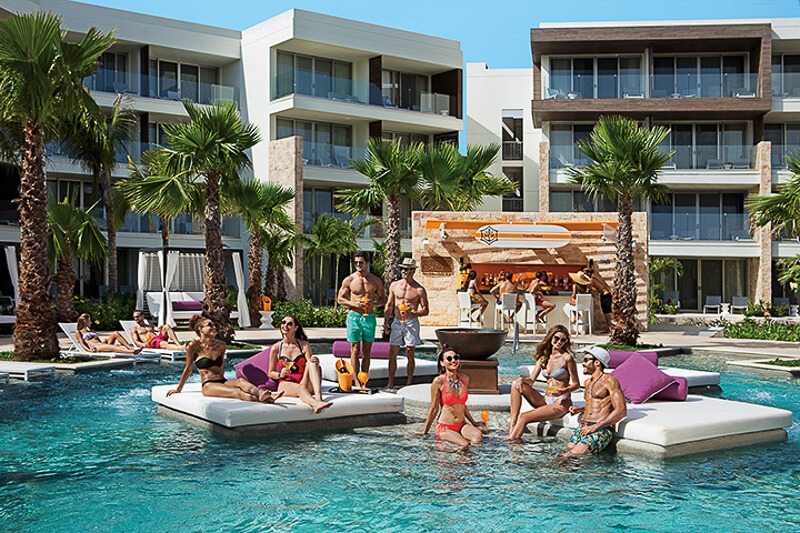 Now that we've put the kids to bed, what's left for us adults?
A plenty. And plenty good.
1) Platinum Yucatan Princess – $1217 / person
5-night all-inclusive stay | Check-in December 28 | Check-out January 2, 2017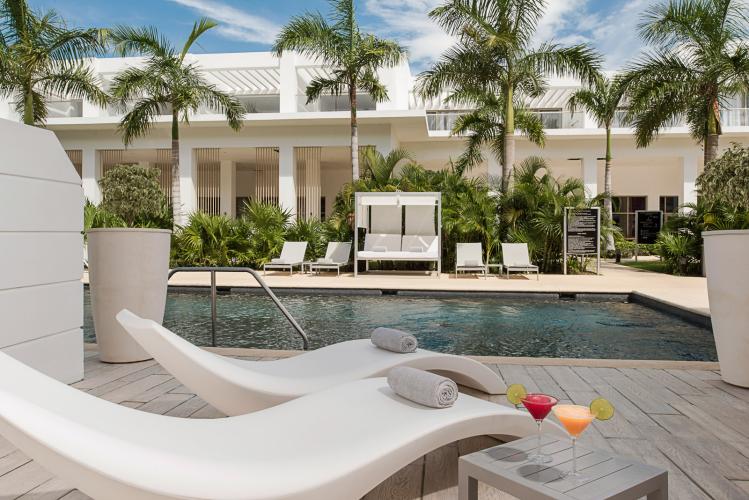 Relax, unwind, and say goodbye to all those months of elections-induced stress with an end of year stay at the adults-only haven that is Platinum Yucatan Princess.
The 472-room, all-inclusive resort has 6 restaurants, 8 bars, and 12 pools where you can live it up like a happy kid without having to actually be around one.
Each suite comes with a separate living and sleeping area to provide that special home-away-from-home feel.
And if you need more room to strut your stuff, you'll also have access to enjoy the amenities of Grand Riviera and Grand Sunset Princess as well.
---
2) Breathless Riviera Cancun – $1733 / person
5-night all-inclusive stay | Check-in December 28 | Check-out January 2, 2017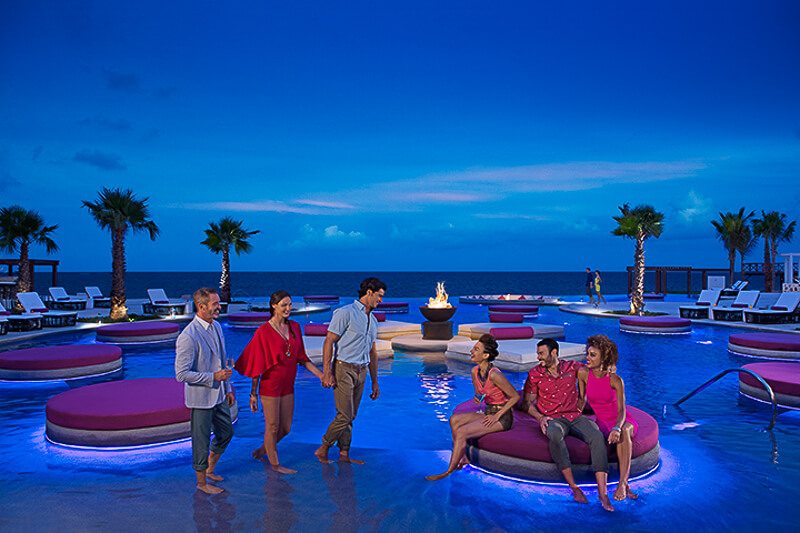 Get your party pants on, and make sure your underwear is the right color, for this fun-filled adults-only getaway.
Breathless is one of the newer resorts, and the whole concept is directed toward creating a more party-like vibe within an Endless Luxury atmosphere of pure Caribbean pampering.
"Live big. Breathe deep," is the slogan of this 526-room, chic resort that boasts 10 restaurants and 10 different bars.
---
3) Hard Rock Heaven – $1917 / person
5-night all-inclusive stay | Check-in December 28 | Check-out January 2, 2017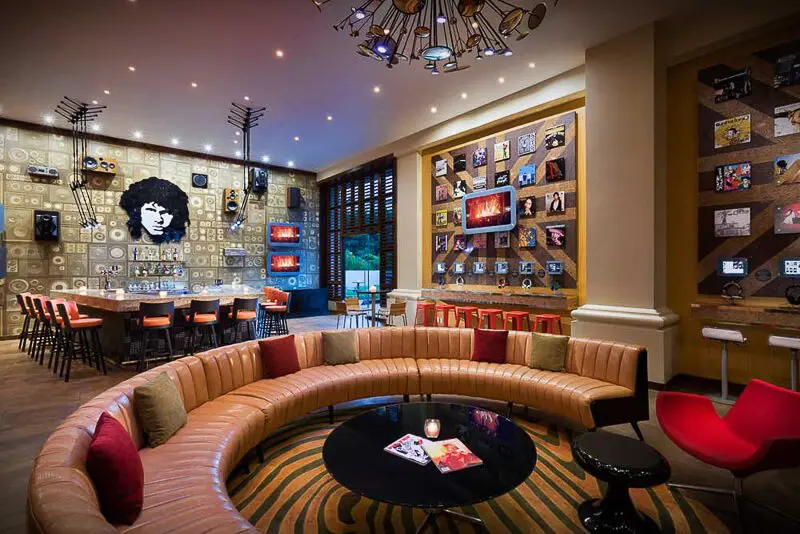 This is the place you'll want to be if you intend to rock into 2017 in style.
You'll be taking this party to eleven as you say goodbye to those lovesick blues of 2016 at a resort built for all you rockers.
Between the adults-only Heaven section on one side and the family-friendly Hacienda on the other, the Hard Rock Hotel is a great option for families and friends traveling in groups in which some may want to stay away from all the screaming and crying not carried out by proper adults.
With over 577 rooms, 2 swimming pools, 5 restaurants (plus six more where the kids roam wild) and three bars, not to mention all the live music you'll find on these special year-end days or the fact that they boast the biggest spa in Latin America, you'll get a bang, drum roll, and riff for your goodbye 2016 buck.

Time to Book
Ready to book your New Year's Eve extravaganza in Playa del Carmen?
Our talented team of travel specialists at PlayaDelCarmen.com will help you get organized with these awesome deals + book flights and activities too.
Call them today toll-free at 888-537-9797 or email them!
Feature photo credit: Breathless Resort & Spa Riviera Cancun
---
Trending Now
You may also like